Roberts Reigns Supreme at Jimmy Anderson Girls'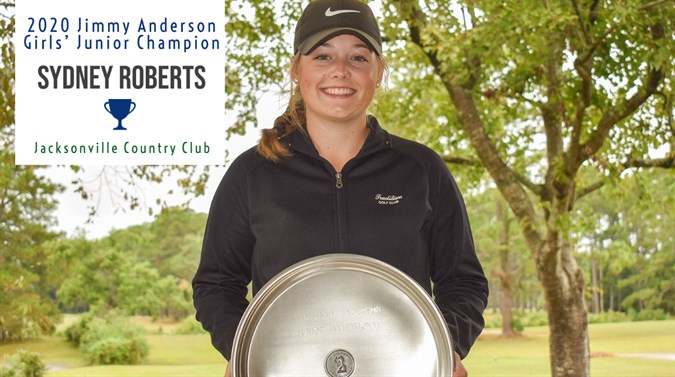 JACKSONVILLE, N.C. (October 4, 2020) -- Final results of the 11th Jimmy Anderson Girls' Junior Invitational at Jacksonville Country Club in Jacksonville, N.C. on Sunday, October 4, 2020. The field competed at 5,969 yards. (35-37--72) (74.5/126)
The CGA conducted this championship under the COVID-19 Tournament Protocols. Learn more here.
Related: Championship Web Site | Full Field | Starting Times | Scoring | History | Photos
With a victory today at the 11th Jimmy Anderson Girls' Junior Invitational, Sydney Roberts of Chesnee, S.C. claims her second win in two weeks. Last week, Roberts earned medalist honors at the Lady Rebel Invitational at River Falls Plantation.
She rode the momentum into this week's event and used that confidence to pull off the victory against a very strong field at Jacksonville Country Club.
"I knew coming into this week, there were a ton of great girls in the field and I knew it would be a good one to win," Roberts said. "Last week definitely helped my confidence and while playing my practice round, I knew the course set up nicely for my eye."
Roberts entered the final round with a one-shot lead over her closest competitors and playing partners for the final round, Kaitlyn Rand of Raleigh, N.C. and Adrian Anderson of Murrells Inlet, S.C.
Roberts and Anderson have played a lot of golf with each other and ultimately it was neck-and-neck down the final stretch between these two competitors.
"I knew it would be tough. I've played with Adrian a ton and I knew she would give me a run for my money," Roberts said. "I just wanted to keep the hammer down and not waste a shot."
Roberts made her first and only bogey of the day after three putting on the par-4, 14th hole. Anderson rolled in a birdie on No. 14 to create a three-shot swing and pull back within two shots of the lead.
"I can be superstitious and I was not gonna look at the leaderboard but I knew we were close," Roberts said. "I knew I wasn't gonna let (the bogey) get the best of me."
She didn't let the bogey get to her. Roberts made a bounce-back birdie on the par-5, 15th hole but Anderson answered back with a birdie on the par-4, 17th hole.
Roberts said she wasn't watching the leaderboard but said she knew she was up by one or two shots going into the final hole - a reachable par 5. Both girls knocked it on the green in two shots to have eagle putts and from there, a two-putt birdie was enough to secure the title for Roberts.
"This one is special. I'm glad I finally pulled off a big win because I've never won a CGA event before," Roberts said.
Roberts finished with a 6-under-par, 138 total to claim her first CGA championship title. Anderson, who won the WSCGA Junior championship earlier this summer, was the only other competitor to finish under par with a 4-under-par, 140 total to finish in solo second place.
Maria Atwood of Holly Springs, N.C., who won the inaugural Mimosa Hills Junior Championship in August, finished in third place with an even par, 144 total.
The CGA would like to extend a thank you to the members and staff of Jacksonville Country Club, specifically to Club President Jerry Allen, Head Golf Professional Holden Abrams and the Jacksonville-Onslow Sports Commission for their hospitality in hosting the 11th Jimmy Anderson Girls' Junior Invitational. We would also like to thank the players and spectators for their understanding and adherence to the new COVID-19 tournament protocols.
11th Jimmy Anderson Girls' Junior Invitational
Jacksonville Country Club, Jacksonville, N.C.
Final Results
| | | | | | |
| --- | --- | --- | --- | --- | --- |
| Pos. | Player | City, State, Grad Year | R1 | R2 | Total |
| 1 | Sydney Roberts | Chesnee, SC, 2022 | 70 | 68 | 138 |
| 2 | Adrian Anderson | Murrells Inlet, SC, 2022 | 71 | 69 | 140 |
| 3 | Maria Atwood | Holly Springs, NC, 2022 | 72 | 72 | 144 |
| 4 | Grace Ridenour | Raleigh, NC, 2025 | 72 | 73 | 145 |
| 5 | Elizabeth Rudisill | Charlotte, NC, 2025 | 75 | 71 | 146 |
| 6 | Christina Cupelli | Fairfax, VA, 2021 | 72 | 75 | 147 |
| 7 | Nicole Nash | Charlotte, NC, 2023 | 76 | 72 | 148 |
| T8 | Ellen Yu | High Point, NC, 2026 | 75 | 74 | 149 |
| T8 | Karsyn Roberts | Pikeville, NC, 2024 | 73 | 76 | 149 |
| T8 | Kiera Bartholomew | Wake Forest, NC, 2023 | 75 | 74 | 149 |
| T8 | Madison Messimer | Myrtle Beach, SC, 2025 | 76 | 73 | 149 |
| T12 | Ava Lucas | Raleigh, NC, 2021 | 74 | 76 | 150 |
| T12 | Grace Holcomb | Wilmington, NC, 2021 | 74 | 76 | 150 |
| T12 | Leah Edwards | Greensboro, NC, 2025 | 72 | 78 | 150 |
| T12 | Paris Fieldings | Suffolk, VA, 2023 | 75 | 75 | 150 |
| T16 | Sanaa Carter | Jacksonville, NC, 2025 | 75 | 76 | 151 |
| T16 | Hannah Altman | Lake City, SC, 2022 | 75 | 76 | 151 |
| T18 | Maya Beasley | Pinehurst, NC, 2023 | 72 | 80 | 152 |
| T18 | Macie Burcham | Greensboro, NC, 2021 | 78 | 74 | 152 |
| T20 | Katelyn Griggs | Lexington, NC, 2022 | 77 | 76 | 153 |
| T20 | Raegan Propes | Charleston, SC, 2022 | 78 | 75 | 153 |
| T20 | Isabella Britt | Chesnee, SC, 2021 | 77 | 76 | 153 |
| T20 | Morgan Ketchum | Winston-Salem, NC, 2022 | 76 | 77 | 153 |
| T20 | Paige Paolucci | Blythewood, SC, 2022 | 75 | 78 | 153 |
| T25 | Regina Perez de Celis | Bluffton, SC, 2022 | 77 | 77 | 154 |
| T25 | Halynn Lee | Cary, NC, 2021 | 79 | 75 | 154 |
| T27 | Madelyn Vogan | New Bern, NC, 2023 | 78 | 78 | 156 |
| T27 | Kayleigh Reinke | Rock Hill, SC, 2021 | 79 | 77 | 156 |
| T27 | Layla Meric | Wesley Chapel, NC, 2021 | 76 | 80 | 156 |
| T30 | Ella Perna | Durham, NC, 2022 | 80 | 77 | 157 |
| T30 | Julie Fiedler | New Bern, NC, 2021 | 79 | 78 | 157 |
| T30 | Mary Sears Brown | Wake Forest, NC, 2021 | 79 | 78 | 157 |
| 33 | Anna Howerton | Winston-Salem, NC, 2023 | 83 | 75 | 158 |
| T34 | Claudia Winterberg | Harrisburg, NC, 2021 | 80 | 79 | 159 |
| T34 | Kasey McIlvaine | Raleigh, NC, 2023 | 79 | 80 | 159 |
| T34 | Saia Rampersaud | Durham, NC, 2025 | 77 | 82 | 159 |
| T34 | Kathryn Ha | Roanoke, VA, 2025 | 82 | 77 | 159 |
| T34 | McKenzie Daffin | Fort Bragg, NC, 2021 | 83 | 76 | 159 |
| T39 | Kaitlyn Rand | Raleigh, NC, 2022 | 71 | 89 | 160 |
| T39 | Gabriela Cruz | High Point, NC, 2021 | 79 | 81 | 160 |
| T39 | Emerson B. Dever | Durham, NC, 2025 | 85 | 75 | 160 |
| T39 | Macy Pate | Boone, NC, 2024 | 81 | 79 | 160 |
| T43 | Shoshana Zuck | Derwood, MD, 2022 | 80 | 81 | 161 |
| T43 | Mattie Padgett | Seneca, SC, 2023 | 84 | 77 | 161 |
| T45 | Lextyn Petz | Columbia, SC, 2021 | 79 | 83 | 162 |
| T45 | Kinsley Smith | Raleigh, NC, 2024 | 82 | 80 | 162 |
| T47 | Katherine Dann | Charlotte, NC, 2023 | 82 | 81 | 163 |
| T47 | Madison Myers | Cary, NC, 2025 | 86 | 77 | 163 |
| T49 | Hanna Grace McCoy | Columbia, SC, 2021 | 79 | 85 | 164 |
| T49 | Emma Hunt | Lake City, SC, 2022 | 82 | 82 | 164 |
| T49 | Jennifer Rials | Florence, SC, 2022 | 82 | 82 | 164 |
| 52 | Olivia Deakins | Dobbs Ferry, NY, 2022 | 84 | 81 | 165 |
| T53 | Tyla McAffity | Raleigh, NC, 2021 | 80 | 86 | 166 |
| T53 | Shea Smith | Charlotte, NC, 2022 | 83 | 83 | 166 |
| 55 | Garland Gould | Raleigh, NC, 2024 | 84 | 83 | 167 |
| T56 | Maddie Peake | Pauline, SC, 2023 | 85 | 83 | 168 |
| T56 | Shyla Brown | Matthews, NC, 2026 | 81 | 87 | 168 |
| T56 | Megan Morris | Cary, NC, 2021 | 83 | 85 | 168 |
| T59 | Chayse Cool | Goose Creek, SC, 2022 | 85 | 84 | 169 |
| T59 | Madelyn Linares | Cary, NC, 2023 | 83 | 86 | 169 |
| T59 | Maddie Elias | Purcellville, VA, 2021 | 88 | 81 | 169 |
| 62 | Sophia Martone | Holly Springs, NC, 2021 | 85 | 85 | 170 |
| T63 | Cameron Hiek | Great Falls, VA, 2023 | 88 | 84 | 172 |
| T63 | Eleanor Burnette | Wrightsville Beach, NC, 2023 | 90 | 82 | 172 |
| T65 | Jenna Rutledge | Beaufort, NC, 2022 | 87 | 86 | 173 |
| T65 | Kate Nyers | Mount Pleasant, SC, 2022 | 83 | 90 | 173 |
| T67 | Ava Gutshall | Winston Salem, NC, 2025 | 87 | 87 | 174 |
| T67 | Melissa Wyman | Waxhaw, NC, 2022 | 83 | 91 | 174 |
| T69 | Haylie George | Cary, NC, 2021 | 84 | 91 | 175 |
| T69 | Katherine Brictson | Raleigh, NC, 2024 | 83 | 92 | 175 |
| 71 | Vivian Shillingsburg | Wake Forest, NC, 2023 | 92 | 85 | 177 |
| T72 | Brooke Smith | Morrisville, NC, 2022 | 97 | 81 | 178 |
| T72 | Lindley Cox | Hampstead, NC, 2023 | 88 | 90 | 178 |
| 74 | Kitson O'Neal | Pinehurst, NC, 2023 | 87 | 92 | 179 |
| 75 | Cate Wellspeak | New Bern, NC, 2025 | 84 | 97 | 181 |
| 76 | Sloane Spessard | Raleigh, NC, 2024 | 88 | 95 | 183 |
| 77 | Aubrey Merryman | Summerville, SC, 2023 | 93 | 91 | 184 |
| 78 | Abigail Loding | Apex, NC, 2021 | 93 | 97 | 190 |
| 79 | Monica Solis | Clemmons, NC, 2021 | 95 | 96 | 191 |
| 80 | Makenzie Norwood | Kiawah, SC, 2022 | 102 | 92 | 194 |
| 81 | Emily Matthews | Swansboro, NC, 2022 | 98 | 97 | 195 |
| 82 | Kyla Callahan | Denver, NC, 2024 | 94 | 104 | 198 |