Conn and Reece Claim the Carolinas Four-Ball Title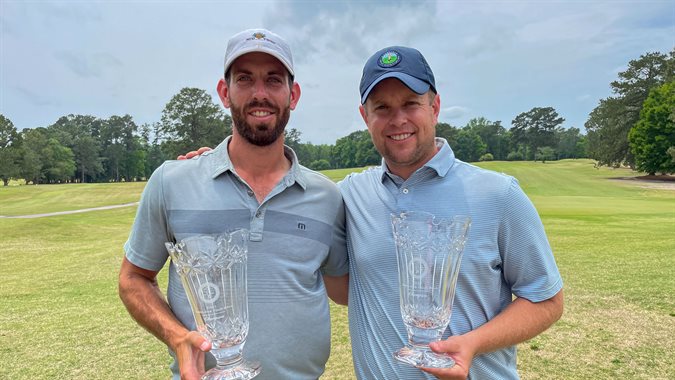 CAMDEN, S.C. (May 3, 2021) -- Final results of the 70th Carolinas Four-Ball Championship at Camden Country Club in Camden, S.C. on May 3, 2021. The field competed at 6,455 yards (par 35-35--70).
The CGA conducted this championship under the COVID-19 Tournament Protocols. Learn more here.
Related: Championship Web Site | Full Field | Starting Times | Scoring | History | Photos
You could not have asked for a more exciting championship match at Camden Country Club today. The head-to-head competition became a horse-race as the sides went birdie for birdie with each other ending in extra holes. Anthony Conn of Raleigh, N.C. and Brandon Reece of Rolesville, N.C. "shot" 32-32--64 and Davis Womble of Winston-Salem, N.C. and Chad Wilfong of Charlotte, N.C. shot 30-34--64 on the day, with two more birdies in extra holes. Ultimately, Conn and Reese won in 21 holes with a par on No. 3.


"I think the biggest thing was to just stay with our game plan today," said Conn. "We used the same clubs on every hole no matter if we were up or down. If the guys were out driving us by 30 yards, it didn't matter we'd still hit irons off tees."


Conn and Reece got off to a hot start after a solid birdie putt on No. 1 from Conn. They kept their game under control and held their position at 1 up or tied through No. 5. Womble and Wilfong started to make a run for it by making birdies on Nos. 5, 6 and 7 to go 2 up through No. 7. Reece remarked, "We were in the same position in our third match. We were two down going into No. 8 so we knew that we could hang in there. I told Anthony, 'hey we are in this spot, just take advantage of it. Throw some darts,' so that is what we did."


The duo made the turn 2 down to Womble and Wilfong, but found their fire with a birdie on No. 10. The rain started to come down and so did the Wake Forest alums' lead. Conn and Reece drained another birdie putt on No. 11 and all they needed was a par putt on No. 12 to take back their 1 up lead.


The match went back and forth from tied through 13, Conn and Reece 1 up through 14, back to tied through 15 and they cruised in tied through No. 18. The match went into extra holes starting on No. 1.


When asked about their mindset entering the playoff Conn said, "I felt like we had already won to be honest with you. We had just grinded them out. I felt good the whole time." That confidence was put to the test on their 19th hole with both Wilfong and Conn staring down 20-foot putts for birdie.


"Even though I was further away, his broke a little bit more than mine. So when I jarred that on the first playoff, I thought it was going to be tough for him to make it," said Conn. "But he sure did and that was really clutch."


After matching pars on the 20th hole, it all came down to the 21st hole, No. 3. After both Reece and Conn laid up for their third shot, two errant second shots from Wilfong and Womble put Reece and Conn in the driver's seat. Thinking that par would win it. Reece was able to put his third on the front of the green. After a beautiful lag to three feet the match was all but over until Wilfong holes his bunker shot for six forcing Reece to make his par. With the pressure on, Reece was able to drain the putt for the win.


"It was fun going in knowing that this was going to be a tough match," said Conn. "This was the best ball striking we have had all week. We didn't play great all week, we just hung in there and made some putts, but today we struck it incredibly well today and that is why we are here."


This is the longest championship match in Carolinas Four-Ball Championship history and it is both Conn and Reece's first CGA championship title. "This is why we practice and why we play. I think we are both capable of winning more so we just have to keep with it," said Reece.


The CGA would like to extend a thank you to the members and staff of Camden Country Club, especially Head Golf Professional, Matt McCarley and Superintendent, Nick Price, for their hospitality in hosting the 70th Carolinas Four-Ball Championship.


70th Carolinas Four-Ball Championship
Camden Country Club, Camden, S.C.
Final Results

Anthony Conn / Brandon Reece def. Chad Wilfong / Davis Womble, 21 holes
About the Carolinas Golf Association (CGA)
The CGA is a 501(c)(3) not-for-profit educational organization that was founded in 1909 to promote and to protect the game of golf in the Carolinas by providing competitions, education, support and benefits to golf clubs and golfers. The CGA is the second largest golf association in the country with over 700 member clubs represented by nearly 150,000 individuals.
The CGA annually conducts 48 championships and five team match competitions for men, women, juniors, and seniors. It also runs over 150 One-Day (net and gross) events as well as qualifying for USGA national championships. The CGA serves golf in the Carolinas with numerous programs such as: the USGA Handicap System; tournament management software and support; course measuring and course/slope ratings; agronomy consultation; answers about the Rules of Golf, Rules of Amateur Status, and Handicapping; Carolinas Golf Magazine; Interclub series; Tarheel Youth Golf Association; Carolinas Golf Hall of Fame; expense assistance for USGA Junior and Girls' Junior qualifiers from the Carolinas; and the Carolinas Golf Foundation (CGF). The CGF has distributed nearly $2,000,000 since 1977 to benefit Carolinas' golf initiatives including junior and women's programs.
For more information about the CGA, visit our website.
##30##