2021 David Parrott Memorial Scholarship Recipients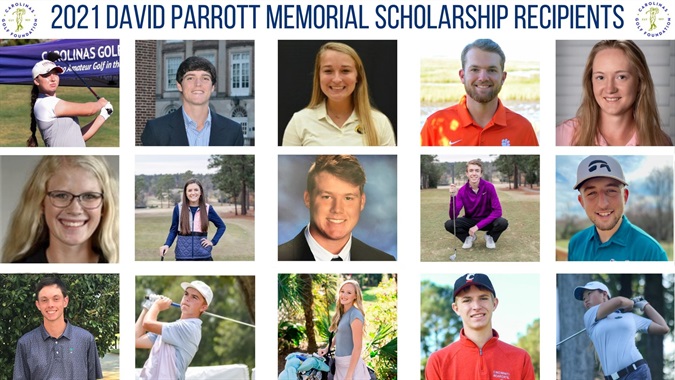 SOUTHERN PINES, N.C. (September 9, 2021) --The Carolinas Golf Association (CGA) in conjunction with the Carolinas Golf Foundation (CGF) is proud to announce the 2021 recipients of the David Parrott Memorial Scholarship. The scholarship is awarded annually to deserving high school seniors from around the Carolinas for their outstanding display of academic achievement, sportsmanship and community service.


"It was a difficult decision for our selection committee to only come up with (16) winners because every one of the candidates was deserving," said CGF Director of Development, Braxton McLennan. "We were all so impressed with the level of commitment to better themselves and at the same time give back to the game that has given them so much."


In 1986, the CGA created the David Parrott Award to recognize a Carolinas Junior Boys' Team member who displayed excellence in academics and sportsmanship. The CGA expanded the award in 2018 to recognize a female member of the Carolinas Junior Girls' Team and to award a $1,000 scholarship to both players.


The CGF continues to honor David's memory by expanding the award to help support these students with their respective college educations by offering $25,000 annually to our CGA and Youth on Course Carolinas members.


This year's recipients of the David Parrott Memorial Scholarship are:


Girls
Sydney Bowers ($5,000)
Emily Beiers ($2,500)
Kelly Campman ($1,000)
Julie Fiedler ($1,000)
Grace Holcomb ($1,000)
Halynn Lee ($1,000)
Mary Talledo ($1,000)


Boys
Mason Tucker ($5,000)
Charlie Beiers ($2,500)
Connor Brown ($1,000)
Josh Lendach ($1,000)
Hunter Moody ($1,000)
Elliott Pope ($1,000)
Andrew Swanson ($1,000)


About David Parrott
David Parrot was diagnosed with leukemia in the spring of 1982. During his brief illness, he participated in the golf camp at Duke University and competed in the SCGA South Carolina Junior Championship finishing third in his flight. He was given the Derek Davis sportsmanship award at the championship for his effort and determination, along with the inspiration he gave to all who knew him. David died July 29, 1982 at the age of 16.
In 1986, the CGA created the David Parrott Award which, to date, has been awarded over 38 times. The CGA expanded the award in 2018 to recognize a female member of the Carolinas Junior Girls' Team.



About the Carolinas Golf Association (CGA)
The CGA is a 501(c)(3) not-for-profit educational organization that was founded in 1909 to promote and to protect the game of golf in the Carolinas by providing competitions, education, support and benefits to golf clubs and golfers. The CGA is the second largest golf association in the country with over 700 member clubs represented by nearly 150,000 individuals.
The CGA annually conducts 48 championships and five team match competitions for men, women, juniors, and seniors. It also runs over 150 One-Day (net and gross) events as well as qualifying for USGA national championships. The CGA serves golf in the Carolinas with numerous programs such as: the USGA Handicap System; tournament management software and support; course measuring and course/slope ratings; agronomy consultation; answers about the Rules of Golf, Rules of Amateur Status, and Handicapping; Carolinas Golf Magazine; Interclub series; Tarheel Youth Golf Association; Carolinas Golf Hall of Fame; expense assistance for USGA Junior and Girls' Junior qualifiers from the Carolinas; and the Carolinas Golf Foundation (CGF). The CGF has distributed nearly $2,000,000 since 1977 to benefit Carolinas' golf initiatives including junior and women's programs.
For more information about the CGA, visit our website.
##30##