Preview: 60th Carolinas Senior Amateur Championship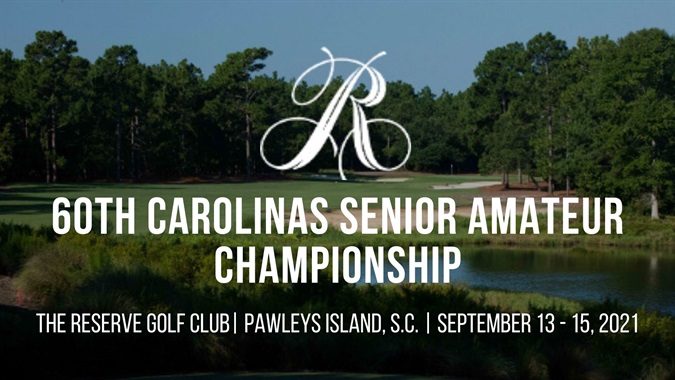 SOUTHERN PINES, N.C. (September 12, 2021) -- The Carolinas Golf Association will conduct the 60th Carolinas Senior Amateur Championship at The Reserve Club in Pawleys Island, S.C. from September 13-15, 2021. The field will compete at 6,688 yards (par 36-36--72).
Related: Championship Web Site | Full Field of Players | Starting Times | Scoring | History
Top-50 Ranked Carolina's Senior Men in the Field:
No. 2 Sherrill Britt of West End, N.C.

No. 3 Eddie Hargett of Blythewood, S.C.

No. 4 Paul Simson of Raleigh, N.C.

No. 5 Todd Hendley of Columbus, S.C.

No. 6 Walter Todd of Laurens, S.C.

No. 7 Pat Thompson of Asheville, N.C.

No. 8 Steve Liebler of Irmo, S.C.

No. 9 Gary Robinson of Fayetteville, N.C.

No. 10 Preston Edmondson of Morrisville, N.C.

No. 11 Geno Berchiatti of Greenville, S.C.

No. 12 Rick Cloninger of Rock Hill, S.C.

No. 13 Rich Weston of Pawleys Island, S.C.

No. 14 Dean Channell of Pinehurst, N.C.

No. 16 Stan Sill of Spartanburg, S.C.

No. 17 Jeff Jamieson of Cary, N.C.

No. 18 James Pearson of Charlotte, N.C.

No. 19 Joe Jaspers of Huntersville, N.C.

No. 23 Doug Ramey of Greer, S.C.

No. 24 Randall Sullins of Claremont, N.C.

No. 25 Duff Wagner of Taylors, S.C.

No. 26 Johnny Elam of Charlotte, N.C.

No. 28 Steve Kidd of Liberty, N.C.

No. 30 Joe Hendrick of Chesterfield, S.C.

No. 31 Doug Owens of Albemarle, N.C.

No. 32 Kelly Stimart of Charlotte, N.C.

No. 33 Tim Teaster of Cayce, S.C.

No. 34 Phil Bland of Waynesville, N.C.

No. 35 Walker Taylor of Wilmington, N.C.

No. 36 Keith Kepley of Charlotte, N.C.

No. 37 Bob Edens of Columbia, S.C.

No. 39 David Brown of Conover, N.C.

No. 43 Rand Mendez of Kiawah Island, S.C.

No. 44 Jeff Brischke of Charlotte, N.C.

No. 45 Brian Westveer of Charlotte, N.C.

No. 46 Mike Arnold of Mooresville, N.C.

No. 47 Allen Peake of Cashiers, N.C.

No. 48 Daran Womack of Aiken, S.C.

No. 49 Lionel Sutton of La Grange, N.C.

No. 50 Mike Caprio of Greer, S.C.
Past Champions in the Field (5):
Todd Hendley, 2018, 2020
Preston Edmondson, 2016, 2017
Pat Thompson, 2015
Rick Cloninger, 2012, 2013
Paul Simson, 2007, 2008
The Reserve Club features a Championship Greg Norman design that is recognized as a top 200 residential golf course in the United States by Golfweek. Norman routed the cross through natural landscapes that included the low country wetlands and landscapes while keeping the natural conservation areas untouched.
The Carolinas Senior Amateur Championship format is 54 holes of stroke play. After 36 holes, the field is cut to the low 60 scores and ties. Entry is open to any male golfer who has reached his 55th birthday by the first round, maintains a residence in North or South Carolina, is a member in good standing of a club which is a member of the Carolinas Golf Association (CGA) and has a current USGA Handicap Index® at a member club that does not exceed 10.4.
Schedule of Rounds:
Monday, September 13
First Round - 18 Holes of Stroke Play
Tuesday, September 14
Second Round - 18 Holes of Stroke Play. Cut to top 60 and ties.
Wednesday, September 15
Final Round - 18 Holes of Stroke Play. Awards immediately after.
About the Carolinas Golf Association (CGA)
The CGA is a 501(c)(3) not-for-profit educational organization that was founded in 1909 to promote and to protect the game of golf in the Carolinas by providing competitions, education, support and benefits to golf clubs and golfers. The CGA is the second largest golf association in the country with over 700 member clubs represented by nearly 150,000 individuals.
The CGA annually conducts 48 championships and five team match competitions for men, women, juniors, and seniors. It also runs over 150 One-Day (net and gross) events as well as qualifying for USGA national championships. The CGA serves golf in the Carolinas with numerous programs such as: the USGA Handicap System; tournament management software and support; course measuring and course/slope ratings; agronomy consultation; answers about the Rules of Golf, Rules of Amateur Status, and Handicapping; Carolinas Golf Magazine; Interclub series; Tarheel Youth Golf Association; Carolinas Golf Hall of Fame; expense assistance for USGA Junior and Girls' Junior qualifiers from the Carolinas; and the Carolinas Golf Foundation (CGF). The CGF has distributed nearly $2,000,000 since 1977 to benefit Carolinas' golf initiatives including junior and women's programs.
For more information about the CGA, visit our website.
##30##