Preview: 9th Creed Junior Boys' Invitational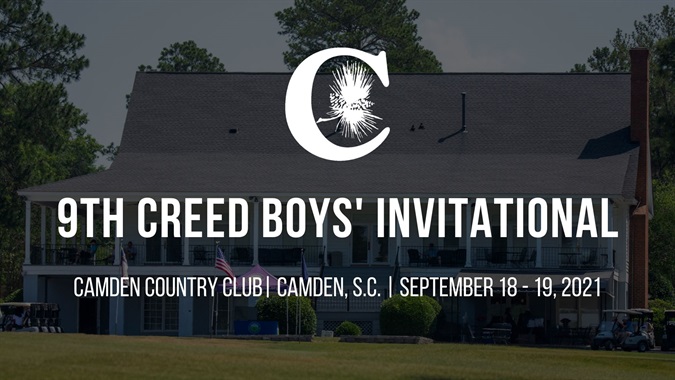 SOUTHERN PINES, N.C. (September 17, 2021) -- The Carolinas Golf Association will conduct the 9th Creed Junior Boys Invitational at Camden Country Club in Camden, S.C. from September 18-19, 2021. The field will compete at 6,403 yards (par 35-35--70).
Related: Championship Web Site | Full Field of Players | Starting Times | Scoring | History
Top-50 Ranked Carolina's Junior Boys in the Field:
No. 2 Owen Kose of Holly Springs, N.C.

No. 4 Rowan Sullivan of Charleston, S.C.

No. 7 Ethan Paschal of Fayetteville, N.C.

No. 8 Major Lenning of Simpsonville, S.C.

No. 9 Gray Mitchum of Winterville, N.C.

No. 10 Kyle Haas of Winston-Salem, N.C.

No. 12 Jerry Bruns of Beaufort, S.C.

No. 13 Branden Boyce of Spring Lake, N.C.

No. 16 Jack Wieler of Waxhaw, N.C.

No. 18 William Webb of Raleigh, N.C.

No. 19 Luke Walmet of Mt. Pleasant, S.C.

No. 21 Keenan Royalty of Raleigh, N.C.

No. 22 Tyler Jones of Jacksonville, N.C.

No. 24 Colin Salema of Matthews, N.C.

No. 25 Spencer Turtz of Charlotte, N.C.

No. 27 Daniel Boone of Fuquay Varina, N.C.

No. 28 Holland Giles of Pinehurst, N.C.

No. 29 Quinlan Polin of Cary, N.C.

No. 30 Pake June of Florence, S.C.

No. 31 Jonathan Honeywell of Whispering Pines, N.C.

No. 32 Logan Lutz of Mount Pleasant, S.C.

No. 35 Aidan Browning of Charlotte, N.C.

No. 36 Smith Summerlin of Raleigh, N.C.

No. 37 Hugh Faulkner of Greenville, S.C.

No. 39 Ryan Jahr of Ocean Isle Beach, N.C.

No. 40 Cornell Beans of Charlotte, N.C.

No. 41 Walker Jennings of Greenville, S.C.

No. 43 Will Hartman of Marvin, N.C.

No. 47 Samuel Mace of Connelly Springs, N.C.

No. 48 Will Spicer of Kings Mountain, N.C.

No. 49 Steven Shea of Charlotte, N.C.

No. 50 Burch Harrison of Columbia, S.C.
The Championship is contested at 36 holes of individual stroke play at Camden Country Club. The Donald Ross design was recently renovated in 2013 by Kris Spence, giving it a challenging, but inviting layout with pristine conditions and scenic landscapes.
Entry is open to any male amateur golfer ages 13 to 18 as of September 17, 2020, who has not started college, has a USGA handicap of 15.0 or lower and maintains a residence in North or South Carolina.
Schedule of Rounds:
Saturday, September 18
First Round - 18 Holes of Stroke Play
Sunday, September 19
Final Round - 18 Holes of Stroke Play. Awards immediately after.
About the Carolinas Golf Association (CGA)
The CGA is a 501(c)(3) not-for-profit educational organization that was founded in 1909 to promote and to protect the game of golf in the Carolinas by providing competitions, education, support and benefits to golf clubs and golfers. The CGA is the second largest golf association in the country with over 700 member clubs represented by nearly 150,000 individuals.
The CGA annually conducts 48 championships and five team match competitions for men, women, juniors, and seniors. It also runs over 150 One-Day (net and gross) events as well as qualifying for USGA national championships. The CGA serves golf in the Carolinas with numerous programs such as: the USGA Handicap System; tournament management software and support; course measuring and course/slope ratings; agronomy consultation; answers about the Rules of Golf, Rules of Amateur Status, and Handicapping; Carolinas Golf Magazine; Interclub series; Tarheel Youth Golf Association; Carolinas Golf Hall of Fame; expense assistance for USGA Junior and Girls' Junior qualifiers from the Carolinas; and the Carolinas Golf Foundation (CGF). The CGF has distributed nearly $2,000,000 since 1977 to benefit Carolinas' golf initiatives including junior and women's programs.
For more information about the CGA, visit our website.
##30##