The CGA is looking for new Volunteer Course Raters!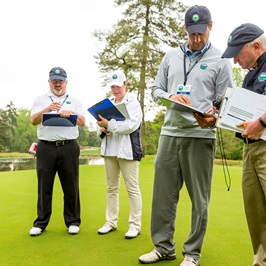 ***Thank you everyone for the pleasantly overwhelming response! We currently have enough people, but we will re-post in the future as new positions open.***
Would you be interested in volunteering a day or two a month to help rate golf courses in North Carolina?
While you do get to play some great courses as part of the rating, the rating itself is quite intensive and numerically oriented. Check out this link for a deeper dive: http://www.usga.org/handicapping-articles/course-rating-primer-e5bf725f.html
(Note that the article has not been updated yet to reflect some 2019 Rules of Golf changes, but is still pretty much spot-on.)
If you made it through reading that article and are still interested, consider yourself a candidate! The CGA has got about a dozen course rating teams across North Carolina with 8-12 people on each team. Typically they will take about 6-9 people to each rating and on average will do one course a month. The courses that each team rates are usually no more than an hour and a half drive away.
As golf courses tend to be busiest on weekends, most ratings take place during the week. Due to the inexact timing of courses completing renovations and weather concerns (we don't rate in the rain, the on-course forms being filled out get too sloppy), rating dates are usually only scheduled a couple weeks in advance, so flexibility in your personal schedule is needed. We certainly don't expect a volunteer to participate in every rating your team does, but fairly consistent participation is a must.
While it can vary due to limited daylight hours in the winter, most teams will get to the course early in the morning to do the rating, which takes around 3-4 hours, and then have a lunch provided by the club. In the afternoon, they play the course to validate their numbers.