Brady and Harwell Win the Carolinas Senior Four-Ball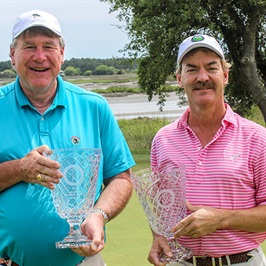 Patrick Brady (left) and Steve Harwell (right) are the 51st Carolinas Senior Four-Ball Champions
DATAW ISLAND, S.C. (April 17, 2019) – Final results of the 51st Carolinas Senior Four-Ball Championship at the Dataw Island Club (Cotton Dike), Dataw Island, S.C. on Wednesday, April 17, 2019.
Related: Championship Web Site | Full Field of Players | Starting Times | Scoring | History

The lead changed hands several times during the final round of the Carolinas Senior Four-Ball Championship but when the dust settled it was Patrick Brady of Reidsville, N.C. and Steve Harwell of Mooresville, N.C. took home the hardware.
Brady and Harwell, who first met 35 years ago as roommates playing for the Guilford College golf team, shot a final round 6-under, 66 to finish the championship at 12-under-par, 204.
Brady said their strategy was to play aggressively early and see if they could get back into contention. They did exactly what they needed to get back in it, making six birdies and three pars in route to a 30 on the first nine.
"We saw the scores after nine and saw that we'd gotten back in the tournament," Brady said. "So, we played the back side a little tighter than we did the front."
The duo played their second nine at even par, making two birdies and two bogeys, to win the championship by one shot.
35 years after they first met at Guilford College, the two are still playing together every chance they get. Their first CGA four-ball title came at the 2006 Island Four-Ball Championship.
"We've played together for years and years playing four-balls all over the country together," Harwell said. "We just know each other's games so well. We help each other out when we need it and we've just learned each other tendencies. We know when it's time to step up."
Both men have been part of a winning Carolinas Four-Ball Championship team but never as partners. Harwell won the Carolinas Four-Ball Championship in 1997 with partner Macon Moye. Brady won in 2011 with partner Scott Harvey. Brady's father, Pat Foy Brady, won the inaugural North Carolina Amateur Championship at Wilson Country Club in 1961.
Three teams tied for second place at 11-under, 205, including Dean Channell of Cary, N.C. and Preston Edmonson of Morrisville, N.C. who's final round of 7-under, 65 tied for the lowest round of the championship.
The defending champions, Stan Sill of Spartanburg, S.C. and Mike Gravley of Greer, S.C., who had pulled within one shot of the lead after round two, also finished one shot off the lead after shooting a 5-under, 67 in the final round.
Our round one and round two leaders, Walter Todd Sr. of Laurens, S.C. and Todd Hendley of Columbus, N.C., finished with a 1-under, 71 in the final round of the championship.
The CGA wishes thank the members and staff at Dataw Island Club, especially Director of Golf, Dave Britton, Head Superintendent, Brian Hollingsworth, General Manager, Ted Bartlett, Food and Beverage General Manager, Phil Satterfield and Director of Marketing and Communications, Laura McCarthy.
51st Carolinas Senior Four-Ball Championship
Dataw Island Club (Cotton Dike) | Dataw Island, S.C.
Final Results
| | | | | | | | |
| --- | --- | --- | --- | --- | --- | --- | --- |
| Pos. | Team | City, State | R1 | R2 | R3 | Total Score | To Par |
| 1 | Brady / Harwell | Reidsville, NC / Mooresville, NC | 71 | 67 | 66 | 204 | -12 |
| T2 | Channell / Edmondson | Cary, NC / Morrisville, NC | 72 | 68 | 65 | 205 | -11 |
| T2 | Sill / Gravley | Spartanburg, SC / Greer, SC | 72 | 66 | 67 | 205 | -11 |
| T2 | Todd / Hendley | Laurens, SC / Columbus, NC | 65 | 69 | 71 | 205 | -11 |
| 5 | Turner / Pope | Greenville, SC / Honda Path, SC | 70 | 69 | 67 | 206 | -10 |
| T6 | Detweiler / Simson | Raleigh, NC | 68 | 71 | 69 | 208 | -8 |
| T6 | Elam / Stimart | Charlotte, NC | 72 | 69 | 67 | 208 | -8 |
| T6 | Nimmer / Taylor | Okatie, SC / Greenville, SC | 70 | 71 | 67 | 208 | -8 |
| T9 | Berchiatti / Hargett | Greenville, SC / Blythewood, SC | 71 | 70 | 68 | 209 | -7 |
| T9 | Mills / Kirby | Charlotte, NC | 68 | 67 | 74 | 209 | -7 |
| 11 | Wrenn / Dennis | Greenville, SC | 72 | 70 | 68 | 210 | -6 |
| T12 | Pearson / Grainger | Charlotte, NC | 72 | 69 | 70 | 211 | -5 |
| T12 | Morrison / Plyler | Charlotte, NC | 72 | 71 | 68 | 211 | -5 |
| T12 | Reece / Granger | Fort Mill, SC / Granite Falls, NC | 73 | 71 | 67 | 211 | -5 |
| 15 | Golden / Moye | Charlotte, NC / Southern Pines, NC | 76 | 66 | 70 | 212 | -4 |
| 16 | Carey / Byler | Hilton Head Island, SC | 72 | 71 | 70 | 213 | -3 |
| T17 | Teem / Roller | Okatie, SC | 70 | 71 | 73 | 214 | -2 |
| T17 | Bouguennec / Kelley | Pinehurst, NC | 72 | 73 | 69 | 214 | -2 |
| T17 | Eaker / Wilson | Forest City, NC / Wilmington, NC | 76 | 69 | 69 | 214 | -2 |
| T20 | Nevins / McAvoy | Kiawah Island, SC / Johns Island, SC | 71 | 70 | 74 | 215 | -1 |
| T20 | Nichols / Motsinger | Reidsville, NC / Boomer, NC | 71 | 70 | 74 | 215 | -1 |
| T20 | Desjardins / Boles | Matthews, NC / Wilson, NC | 73 | 72 | 70 | 215 | -1 |
| T20 | Edens / Horne | Columbia, SC | 69 | 74 | 72 | 215 | -1 |
| T20 | Hoffman / Kabas | Greenville, SC | 74 | 68 | 73 | 215 | -1 |
| T20 | Hunter / Nance | Georgetown, SC / Pinehurst, NC | 69 | 74 | 72 | 215 | -1 |
| T26 | Caprio / Hendrickson | Greer, SC / Charlotte, NC | 70 | 75 | 71 | 216 | E |
| T26 | Clough / Houghton | Columbia, SC | 72 | 74 | 70 | 216 | E |
| T26 | Dietz / Dufresne | Saint Helena Island, SC / Dataw Island, SC | 73 | 73 | 70 | 216 | E |
| 29 | Goodson / Helms | Lincolnton, NC / Mt. Holly, NC | 72 | 73 | 73 | 218 | +2 |
| 30 | Weiner / Ackerman | Kiawah Island, SC / Charleston, SC | 75 | 71 | 74 | 220 | +4 |
| 31 | Salerno / Barnes | Charlotte, NC | 71 | 74 | 78 | 223 | +7 |
| | | The following teams did not make the cut | | | | | + |
| CUT | Fisk / Eberhard | Seabrook Island, SC / Johns Island, SC | 77 | 70 | | 147 | +3 |
| CUT | Fitzgerald / Williamson | Wilmington, NC | 74 | 73 | | 147 | +3 |
| CUT | Gianoukos / Gianoukos | Charleston, SC | 73 | 75 | | 148 | +4 |
| CUT | Parks / Pike | Asheboro, NC / Kernersville, NC | 75 | 73 | | 148 | +4 |
| CUT | Murphy / Fulton | Hilton Head Island, SC | 76 | 72 | | 148 | +4 |
| CUT | Souza / Smunk | Simpsonville, SC / Port Royal, SC | 73 | 75 | | 148 | +4 |
| CUT | Sumrow / Bishop | Charlotte, NC | 73 | 75 | | 148 | +4 |
| CUT | Padgette / Moore | North Charleston, SC / Isle of Palms, SC | 74 | 75 | | 149 | +5 |
| CUT | Tyler / Goodwin | Chapin, SC / Swansea, SC | 75 | 74 | | 149 | +5 |
| CUT | Galbavy / Farley | Seabrook Island, NC / Hanahan, SC | 76 | 73 | | 149 | +5 |
| CUT | Odiorne / Shealy | Blythewood, SC / Columbia, SC | 77 | 73 | | 150 | +6 |
| CUT | Pope / Carpenter | Spartanburg, SC / Creedmoor, NC | 76 | 74 | | 150 | +6 |
| CUT | Parrott / Rankin | Raleigh, NC | 77 | 73 | | 150 | +6 |
| CUT | Teaster / Wallace | Cayce, SC / Columbia, SC | 76 | 74 | | 150 | +6 |
| CUT | Grantham / Clark | New Bern, NC / Trent Woods, NC | 75 | 76 | | 151 | +7 |
| CUT | Politi / Arnold | Hilton Head Island, SC | 76 | 75 | | 151 | +7 |
| CUT | Burgess / Hammersla | Murrells Inlet, SC / Greenville, SC | 78 | 74 | | 152 | +8 |
| CUT | Burnette / Armistead | Raleigh, NC | 77 | 76 | | 153 | +9 |
| CUT | Hodges / Smunk | Charlotte, NC / Kingstree, SC | 76 | 77 | | 153 | +9 |
| CUT | Wertz / McGowan | Saint Helena Island, SC | 77 | 78 | | 155 | +11 |
| CUT | George / Rogers | Mullins, SC | 76 | 79 | | 155 | +11 |
| CUT | Evans / Morris | Okatie, SC | 80 | 76 | | 156 | +12 |
| CUT | McLauchlan / Rathman | Fuquay Varina, NC / Gastonia, NC | 81 | 76 | | 157 | +13 |
| CUT | McCallie / Thomas | Durham, NC | 77 | 81 | | 158 | +14 |
| CUT | Glenn / Baker | Conover, NC / Valdese, NC | 79 | 79 | | 158 | +14 |
| CUT | Garrison / Bost | Hickory, NC | 80 | 79 | | 159 | +15 |
| CUT | Ronalter / Adams | Pinehurst, NC | 82 | 79 | | 161 | +17 |
| CUT | Buie / Eynon | Columbia, SC | 86 | 80 | | 166 | +22 |
| WD | Whipple / Mullinax | Marietta, SC / Travelers Rest, SC | 78 | WD | | WD | - |
Schedule of rounds:
Monday, April 15
Round 1 - Tee times off #1 and #10 tees (8:00AM/12:30PM)
Lunch provided for all players
Tuesday, April 16
Round 2 - Tee times off #1 and #10 tees (8:00AM/12:30PM)
Cut to low 30 teams and ties
Wednesday, April 17
Round 3 - Tee times off #1 and #10 (8:00AM)
Awards ceremony following play at scoreboard