Two Carolinians Take Lead at the US Women's Am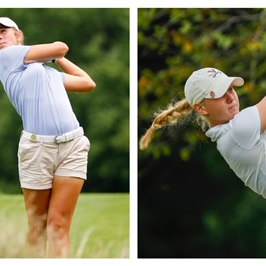 After more than 10 months and a series of cancellations and postponements due to COVID-19, USGA championships returned on Monday with Round 1 of the 120th U.S. Women's Amateur at Woodmont Country Club in Rockville, Md.
Two Carolinians, Rachel Kuehn and Riley Smyth, both playing in their first Women's Amateur, carded 4-under 68s, weathering long rough and fast greens to lead the way as Hurricane Isaias barreled up the Eastern Seaboard, ready to make landfall. Because of a 2-hour and 16-minute weather delay on Monday, play was postponed due to darkness with two golfers still on the course.
Kuehn, 19, of Asheville, N.C., birdied six of her first 11 holes at Woodmont, continuing the torrid play that led her to victories in the North & South Women's Amateur in Pinehurst on July 18 and the Ladies National Golf Association Amateur Championship on July 29. Kuehn and Jensen Castle of Columbia, S.C. teamed up earlier in July to take down the Carolinas Women's Four-Ball Championship.
"I feel in control over the golf ball," said Kuehn, a sophomore at Wake Forest University whose older brother Corrie is caddying for her this week. "It's just a confidence thing, and I'm putting pretty well right now. I've been glad to be able to put myself in position to make some birdies and then being able to convert some of those."
Smyth, 20, of Cary, N.C., made a 15-foot birdie putt on the 337-yard fourth to jump-start her day, following it with four additional birdies and just one bogey over the 6,553-yard, par-72 layout.
"That putt really got my day going," said Smyth, a junior at the University of Virginia. "It built up a lot of confidence in my putting and most of my birdies came from some pretty good putts."
Kuehn and Smyth are two of 51 competitors playing in their first U.S. Women's Amateur this week, which equates to just under 40 percent of the field. But don't confuse a lack of experience with an inability to make a deep run at Woodmont.
"It was definitely nerve-wracking at the beginning," said Smyth, who was runner-up at both the CGA Carolinas Women's Amateur and Women's Match Play in 2019. "I was trying to let the experience take over my mind and just let that be only thought."
Due to the forecasted arrival of Hurricane Isaias overnight, which is expected to drop upwards of 4 inches of rain in the Washington, D.C., metro area, play has been postponed for the entirety of Tuesday and is scheduled to resume on Wednesday morning.
Notable
By postponing play until Wednesday morning, this is believed to be just the third time in championship history that play has been called off for a full day. The other two instances are the semifinal round in 1990 and the championship match in 1925.

Three players in the top 10, including both leaders, are from North Carolina: Kuehn (T-1) from Asheville; Smyth (T-1) from Cary; and Emilia Migliaccio (T-7) from Cary.

Kuehn's mother, Brenda, who is in attendance this week to watch her daughter, competed in 13 U.S. Women's Amateurs, nine U.S. Women's Opens and two Curtis Cups. She played her final Women's Open in 2001 at Pine Needles when she was eight months pregnant with Rachel.

In Round 1, green speeds started the day at 11 feet, 5 inches and the primary rough was cut to 3 inches.​​​​​​​

To this point in Round 1, Woodmont's back nine (38.07) played nearly a stroke harder than its front nine (37.18). Nearly 20 percent of the players who have finished their rounds (25 of 130) scored four strokes or more lower on the front nine, led by USGA champions Erica Shepherd (seven strokes) and Megan Stasi (nine strokes).​​​​​​​

Round 1 was suspended at 4:27 p.m. EDT due to dangerous weather. Play resumed at 6:43 p.m. EDT and completed for the day with two golfers still on the course. ​​​​​​​

Thus far in Round 1, the stroke average is 75.25, with the 426-yard, par-4 ninth hole playing as the most difficult (4.50). The easiest hole was the 334-yard, par-4 11th, which played to an average of 3.86.
Rockville, Md. – Results from Monday's first round of stroke play at the 2020 U.S. Women's Amateur Championship, played at par-72 Woodmont Country Club (North Course).
Rachel Kuehn, Asheville, N.C. - 32-36--68
Riley Smyth, Cary, N.C. - 33-35--68
Maria Fernanda Escauriza, Paraguay - 34-35--69
Rachel Heck, Memphis, Tenn. - 33-36--69
Megan Schofill, Monticello, Fla. - 35-34--69
Phoebe Brinker, Wilmington, Del. - 34-36--70
Ela Anacona, Argentina - 33-38--71
Valery Plata, Colombia - 36-35--71
Maria Bohorquez, Colombia - 34-37--71
Kaleigh Telfer, South Africa - 35-36--71
Raquel Olmos Ros, Spain - 35-36--71
Emilia Migliaccio, Cary, N.C. - 37-34--71
Aneka Seumanutafa, Emmitsburg, Md. - 35-36--71
Megha Ganne, Holmdel, N.J. - 37-34--71
Gabriela Ruffels, Australia - 34-38--72
Katherine Smith, Detroit Lakes, Minn. - 33-39--72
Addie Baggarly, Gainesville, Fla. - 35-37--72
Mychael O'Berry, Hoover, Ala. - 33-39--72
Catherine Park, Irvine, Calif. - 38-34--72
Julia Becker, Las Vegas, Nev. - 36-36--72
Marissa Kirkwood, New Castle, Pa. - 33-39--72
Brooke Matthews, Rogers, Ark. - 37-35--72
Zoe Antoinette Campos, Valencia, Calif. - 35-37--72
Kirsty Hodgkins, Australia - 35-38--73
Emily Mahar, Australia - 36-37--73
Aline Krauter, Germany - 37-36--73
Valeria Mendizabal, Guatemala - 36-37--73
Giovanna Fernandez, Paraguay - 35-38--73
Teresa Toscano Borrero, Spain - 37-36--73
Vanessa Knecht, Switzerland - 34-39--73
Virunpat Olankitkunchai, Thailand - 37-36--73
Pimnipa Panthong, Thailand - 35-38--73
Micheala Williams, Brownsboro, Ala. - 37-36--73
Kelly Sim, Edgewater, N.J. - 37-36--73
Alyaa Abdulghany, Malaysia - 37-36--73
Libby Winans, Richardson, Texas - 34-39--73
Ellie Slama, Salem, Ore. - 36-37--73
Cecilie Finne-Ipsen, Denmark - 36-38--74
Katherine Zhu, San Jose, Calif. - 38-36--74
Cory Lopez, Mexico - 38-36--74
Isabella Fierro, Mexico - 35-39--74
Kaitlyn Papp, Austin, Texas - 38-36--74
Sadie Englemann, Austin, Texas - 37-37--74
Katie Chipman, Canton, Mich. - 37-37--74
Jensen Castle, Columbia, S.C. - 36-38--74
Louise Yu, Duluth, Ga. - 37-37--74
Rose Zhang, Irvine, Calif. - 37-37--74
Therese Warner, Kennenwick, Wash. - 35-39--74
Hailey Borja, Lake Forest, Calif. - 37-37--74
Hailee Cooper, Montgomery, Texas - 35-39--74
Talia Campbell, New York, N.Y. - 36-38--74
Reagan Zibilski, Springfield, Mo. - 35-39--74
Megan Furtney, St. Charles, Ill. - 37-37--74
Clara Manzalini, Italy - 37-38--75
Sera Tadokoro, Japan - 38-37--75
Sofia Garcia, Paraguay - 36-39--75
Lei Ye, People's Republic of China - 35-40--75
Kennedy Swann, Austin, Texas - 37-38--75
Caroline Canales, Calabasas, Calif. - 40-35--75
Haylin Harris, Carmel, Ind. - 38-37--75
Tyler Akabane, Danville, Calif. - 36-39--75
Lauren Hartlage, Elizabethtown, Ky. - 37-38--75
Erica Shepherd, Greenwood, Ind. - 34-41--75
Malia Nam, Kailua, Hawaii - 36-39--75
Kenzie Wright, McKinney, Texas - 35-40--75
Anika Varma, India - 38-37--75
Ellen Port, St. Louis, Mo. - 38-37--75
Anne Chen, Sugar Land, Texas - 38-37--75
Ami Gianchandani, Watchung, N.J. - 38-37--75
Briana Chacon, Whittier, Calif. - 35-40--75
Marissa Wenzler, Dayton, Ohio - 35-40--75
Karen Fredgaard, Denmark - 40-36--76
Pilar Echeverria, Guatemala - 37-39--76
Yurika Tanida, Japan - 36-40--76
Natasha Andrea Oon, Malaysia - 38-38--76
Lauren Greenlief, Ashburn, Va. - 38-38--76
Bentley Cotton, Austin, Texas - 38-38--76
Amanda Sambach, Charlotte, N.C. - 37-39--76
Kelly Xu, Claremont, Calif. - 38-38--76
Gina Kim, Durham, N.C. - 36-40--76
Mika Jin, Fremont, Calif. - 36-40--76
Courtney Dow, Frisco, Texas - 40-36--76
Christine Wang, Houston, Texas - 38-38--76
Michaela Morard, Huntsville, Ala. - 37-39--76
Allisen Corpuz, Kapolei, Hawaii - 37-39--76
Alexa Pano, Lake Worth, Fla. - 37-39--76
Jacqueline Putrino, Lakewood Ranch, Fla. - 36-40--76
Ashley Kim, Redondo Beach, Calif. - 39-37--76
Brynn Walker, Saint Davids, Pa. - 39-37--76
Grace Summerhays, Scottsdale, Ariz. - 37-39--76
Anna Morgan, Spartanburg, S.C. - 39-37--76
Auston Kim, St. Augustine, Fla. - 37-39--76
Brigitte Thibault, Canada - 40-37--77
Jasmine Ly, Canada - 39-38--77
Kaitlin Milligan, Goldsby, Okla. - 40-37--77
Lauren Beaudreau, Lemont, Ill. - 39-38--77
Brooke Riley, Manteca, Calif. - 40-37--77
Allysha Mae Mateo, Mililani, Hawaii - 40-37--77
Amari Avery, Riverside, Calif. - 37-40--77
Nicole Whiston, San Diego, Calif. - 36-41--77
Renate Grimstad, Norway - 35-43--78
Morgan Baxendale, Windemere, Fla. - 39-39--78
Lois Kaye Go, Philippines - 37-41--78
Julia Gregg, Farmers Branch, Texas - 38-40--78
Gurleen Kaur, Houston, Texas - 38-40--78
Hanna Alberto, Kingwood, Texas - 38-40--78
Emily Hawkins, Lexington, N.C. - 39-39--78
Lauren Cox, Orange, Texas - 41-37--78
Kelsey Chugg, Salt Lake City, Utah - 39-39--78
Brianna Navarrosa, San Diego, Calif. - 38-40--78
Brooke Seay, San Diego, Calif. - 40-38--78
Siripatsorn Patchana, Thailand - 39-39--78
Jillian Bourdage, Tamarac, Fla. - 40-38--78
Jackie Rogowicz, Yardley, Pa. - 37-41--78
Chanikan Yongyuan, Thailand - 41-38--79
Julia Potter-Bobb, Indianapolis, Ind. - 40-39--79
Ivy Shepherd, Peachtree City, Ga. - 40-39--79
Julia Johnson, St. Gabriel, La. - 37-42--79
Celeste Dao, Canada - 41-39--80
Marta Perez Sanmartin, Spain - 45-35--80
Jackie Lucena, Chico, Calif. - 39-41--80
Sophia Bae, Norwood, N.J. - 39-41--80
Kajal Mistry, South Africa - 41-40--81
Meghan Stasi, Fort Lauderdale, Fla. - 36-45--81
Shannon Johnson, North Easton, Mass. - 40-41--81
Kennedy Pedigo, Fort Worth, Texas - 40-41--81
Ashley Gilliam, Manchester, Tenn. - 40-42--82
Angela (Yilin) Liu, Irvine, Calif. - 43-40--83
Paris Hilinski, Los Angeles, Calif. - 44-39--83
Siarra Stout, Franklin, Tenn. - 43-42--85
Siyun Liu, People's Republic of China - 39-NC--NC
Bohyun Park, Republic of Korea - 36-NC--NC