In Memoriam: CGA Champion, Len Calvert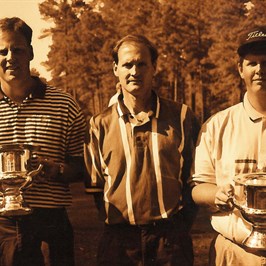 (Photo L-R David Lamb, Ben Hynson (Director of Golf MacGregor Downs CC), Len Calvert)
The CGA was saddened to hear the passing of our former CGA champion Len Calvert. "Porkchop" as he was so affectionately referred to, lost his battle with cancer at the age of the 51. Back in 1994, Porkchop (then an amateur) teamed with professional David Lamb of Smithfields Country Club to capture the 1994 CGA Club Championship at MacGregor Downs Country Club in Cary, NC. The duo shot a record-setting 12-under-par 60 and did so in the rain! No team has ever matched that score before or since.
Many of us have great memories of Len including CGA staff member Torey Johnson whose dad Terry worked alongside Len as a golf professional. See her tribute below.
"My dad was pretty lucky when it came to Assistant Professionals. But one of the best was Len, or as pretty much everyone knew him "Pork Chop." I will never forget how MAD I would get when he would beat me at putting competitions, and to be honest he always did; he had a shakey hand but it NEVER phased him. He was a tremendous golfer and teacher and would challenge you on and off the golf course. I always trusted him when I couldn't get to my swing coach or refused to listen to my dad (I was a teenager so that was majority of the time). First thing he would say, "well, what did your dad say?" And after I told him he'd just laugh, knowing he was about to tell me the same thing.
RIP Chop, you will be missed. ❤️"