Tanglewood Wins Senior Interclub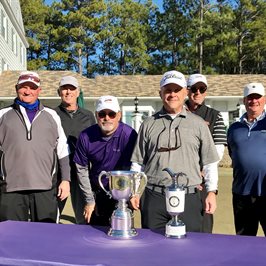 SOUTHERN PINES, N.C. (January 20, 2021) – Final results of the 5th CGA Senior Interclub at Mid Pines Inn and Golf Club in Southern Pines, N.C. on Wednesday, January 20, 2021.

Related: Championship Web Site | Final Results

After months of intense interclub competition, the team representing Tanglewood Park in Clemmons, N.C. claims the title of the 5th CGA Senior Interclub Champions.

Tanglewood faced off against defending champions NorthStone Country Club of Huntersville, N.C. in the final CGA Senior Interclub match of the season. Each teamed pitted their four best four-ball teams against the other an 18-hole final match on Wednesday morning. When the dust settled, Tanglewood won by seven points (43½-36½) over Northstone.

"This is special for us. To win it at both Pine Needles in 2018 and now at Mid Pines," said Tanglewood's Team Captain, Mark Robson. "Our group works really hard and it's great to have it pay off."

Tanglewood got off to a great start by winning the first match of the day by seven points. In the second match, Tanglewood took an early lead but ultimately held on to finish with a tie.

The third match and fourth match proved critical as Tanglewood won one of their final two holes in each match to force a tie and prevent NorthStone from gaining a crucial two bonus points for winning the match.

With over 95 teams competing in the fifth season of the CGA Senior Interclub, Tanglewood Park have put their mark for a second time on the Thomas J. Thorpe trophy, named for the CGA Executive Committee member instrumental in the administration of the Carolinas Interclub seasons.

"The program is still growing and is catching on with clubs throughout the Carolinas," said CGA Interclub Administrator Tom Thorpe. "It's a wonderful benefit to being a CGA member and it's only going to get bigger."

In the programs inaugural year, 45 teams participated in the CGA Senior Interclub. This year, over 95 teams participated at the start of the season.

The CGA wishes to thank the members and staff of Mid Pines Inn and Golf Club, especially the General Manager and Director of Golf, Graham Gilmore, Head Golf Professional, Brett Harless and Director of Golf Course Maintenance, David Fruchte.