US Senior Amateur Qualifying - High Point CC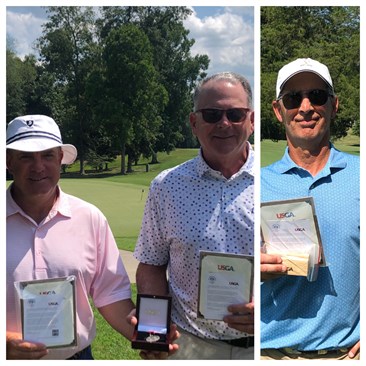 HIGH POINT, N.C. (August 3, 2022) -- Final results from U.S. Senior Amateur Qualifying at High Point Country Club's Willow Creek course in High Point, N.C. on Wednesday, August 3, 2022. (6,747 yards, par 72).
Three qualifying spots and two alternate spots were available at this qualifying site.
Ryan Fox of Pinehurst, N.C. and Daniel Neveu of Pinehurst, N.C. shared medalist honors with rounds of three-under-par 69. Harrison Rutter of Winston-Salem, N.C. and Joe Jaspers of Huntersville, N.C. both shot two-under-par 70 to tie for the final qualifying position and a playoff was needed to break the tie. After 5 playoff holes, Rutter made birdie to claim the third and final qualifying positon. Jaspers will be the first alternate. Four players shot one-under-par and went to a playoff to determine the second alternate. Kelly Stimart of Charlotte, N.C.
The qualifiers will advance to the 67th U.S. Senior Amateur Championship at The Kittansett Club in Marion, Mass. from August 27 – September 1, 2022.
Hole-by-hole scoring can be viewed here.
US Senior Amateur Qualifying Results
High Point Country Club (Willow Creek), High Point, N.C.
August 3, 2022
Pos.

Player

Affiliation

To Par

Total Score

Details

T1

Ryan Fox

West End, North Carolina

-3

69

T1

Daniel Neveu

Pinehurst, North Carolina

-3

69

3

Harrison Rutter

Winston-salem, North Carolina

-2

70

The following players did not make the cut

CUT

Joe Jaspers

Huntersville, North Carolina

-2

70

First Alternate

CUT

Kelly Stimart

Charlotte, North Carolina

-1

71

Second Alternate

CUT

Gary Robinson

Fayetteville, North Carolina

-1

71

CUT

John Rudolph

Charlotte, North Carolina

-1

71

CUT

Jeff Jamieson

Cary, North Carolina

-1

71

CUT

Dean Channell

Pinehurst, North Carolina

E

72

CUT

James Pearson

Charlotte, North Carolina

E

72

CUT

Pat Thompson

Asheville, North Carolina

E

72

CUT

Stephen Fox

Pinehurst, North Carolina

E

72

CUT

Mike Arnold

Mooresville, North Carolina

1

73

CUT

Kyle Klawetter

High Point, North Carolina

1

73

CUT

Trent Gregory

Wake Forest, North Carolina

1

73

CUT

Nolan Mills

Charlotte, North Carolina

2

74

CUT

Paul Jett

Southern Pines, North Carolina

2

74

CUT

Don Whittemore

Temple Terrace, Florida

2

74

CUT

Dale Bouguennec

Pinehurst, North Carolina

2

74

CUT

Macon Moye

Southern Pines, North Carolina

3

75

CUT

Sean Paolino

Pinehurst, North Carolina

3

75

CUT

Sherrill Britt

West End, North Carolina

3

75

CUT

John Olsen

Mooresville, North Carolina

3

75

CUT

Phil Bland

Sherrills Ford, North Carolina

3

75

CUT

Tim Dinwiddie

Afton, Tennessee

3

75

CUT

Al Dickens

Charlotte, North Carolina

3

75

CUT

Paul Wharton

Woodhall Spa

4

76

CUT

Paul Slomkowski

Colfax, North Carolina

4

76

CUT

Dale Fuller

Raleigh, North Carolina

4

76

CUT

Preston Edmondson

Morrisville, North Carolina

4

76

CUT

George Harris

Harrisburg, North Carolina

4

76

CUT

Ken Nurse

Advance, North Carolina

4

76

CUT

Joseph Sadowski

Hickory, North Carolina

5

77

CUT

Stephen Sharpe

Greensboro, North Carolina

5

77

CUT

Christopher Oconnor

Pinehurst, North Carolina

5

77

CUT

Robby Kirby

Charlotte, North Carolina

5

77

CUT

Kenny Wilson

Murfreesboro, Tennessee

6

78

CUT

Todd Hendley

Columbus, North Carolina

6

78

CUT

Robert Ferrel

Durham, North Carolina

6

78

CUT

Gray Tuttle

Pinehurst, North Carolina

6

78

CUT

Bill Morrissett

Charlotte, North Carolina

7

79

CUT

Stephen Parks

Beaufort, South Carolina

7

79

CUT

Edward Parnell

Altamonte Springs, Florida

7

79

CUT

Bill Long

Southern Pines, North Carolina

8

80

CUT

Ronald Graham

Old Hickory, Tennessee

8

80

CUT

Bill Bierman

Marvin, North Carolina

8

80

CUT

Chuck Parker

Raleigh, North Carolina

9

81

CUT

Casey Alexander

Harrisburg, North Carolina

9

81

CUT

J Vann Parker

Emerald Isle, North Carolina

9

81

CUT

Chip Williamson

Wilmington, North Carolina

9

81

CUT

Steven Kidd

Liberty, North Carolina

9

81

CUT

Rick Riddle

Charlotte, North Carolina

9

81

CUT

Jeffrey Barczak

Apex, North Carolina

10

82

CUT

Richard Lee

Charlotte, North Carolina

10

82

CUT

James Popp

Mooresville, North Carolina

10

82

CUT

Hill Adams

Katy, Texas

10

82

CUT

Steve Saye

Pinehurst, North Carolina

11

83

CUT

Patrick Brady

Reidsville, North Carolina

11

83

CUT

Mark Kozel

Chapel Hill, North Carolina

11

83

CUT

Paul Townsley

Chesapeake, Virginia

12

84

CUT

Steve Schiro

Long Beach, California

12

84

CUT

Brooks Carey

Charlotte, North Carolina

12

84

CUT

Joe Maher

Tignall, Georgia

14

86

CUT

Dick Stimart

Charlotte, North Carolina

14

86

CUT

Bubba Aughtry

Concord, North Carolina

16

88

CUT

Dana Blalock

Statesville, North Carolina

21

93

WD

Russ Perry

Winston Salem, North Carolina

-

WD

WD

Benjamin Peeler

Metairie, Louisiana

-

WD

WD

Paul Bitler

Roaring Gap, North Carolina

-

WD

WD

Kevin King

Bluffton, South Carolina

-

WD

CUT

Eric Weintraub

Virginia Beach, Virginia

-

DNF