US Mid-Am Qualifying - Dataw Island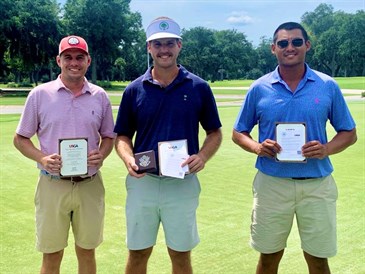 ST HELENA ISLAND, S.C. (August 15, 2022) -- Final results from U.S. Mid-Amateur Qualifying at Dataw Island Club in St Helena Island, S.C. on Monday, August 15, 2022 (6,787 yards, par 72).
Three qualifying spots and two alternate spots were available at this qualifying site.
Weston Bell of Piedmont, S.C. won medalist honors with a round of six-under-par 66. Jon Weiss Jr. of Florence, S.C. finished at five-under-par 67. Osborn Theam of Jacksonville, FL shot four-under-par 68. Five players finished at one-under-par 71 and headed to a playoff to break the ties for alternates. Cole Isban of Charlotte, N.C. will be the first alternate and Patrick Beste of St. Augustine, FL will be the second alternate.
The qualifiers will advance to the 41st U.S. Mid-Amateur Championship at Erin Hills in Erin, Wisconsin from September 10-15, 2022.
Hole-by-hole scoring can be viewed here.
US Mid-Amateur Qualifying Results
Dataw Island Club, St Helena Island, S.C.
August 15, 2022
Pos.

Player

Affiliation

To Par

Total Score

Details

1

Weston Bell

Piedmont, South Carolina

-6

66

2

Jon Weiss Jr.

Florence, South Carolina

-5

67

3

Osborn Theam

Jacksonville, Florida

-4

68

The following players did not make the cut

CUT

Cole Isban

Charlotte, North Carolina

-1

71

First Alternate

CUT

Patrick Beste

Ponte Vedra Beach, Florida

-1

71

Second Alternate

CUT

Scott Mccoy

Overland Park, Kansas

-1

71

CUT

Martin Ureta

-1

71

CUT

Chris Cox

Greensboro, North Carolina

-1

71

CUT

John Obrien

Columbia, South Carolina

E

72

CUT

Coley Davis

Bluffton, South Carolina

E

72

CUT

Matt Jackson

Millen, Georgia

E

72

CUT

Chris Epperson

Bluffton, South Carolina

E

72

CUT

Daniel Keddie

E

72

CUT

Bill Anderson

Deltona, Florida

E

72

CUT

Austin Morgan

Charleston, South Carolina

1

73

CUT

Jeff Dennis

Jacksonville, Florida

1

73

CUT

Ross Robison

Charlotte, North Carolina

1

73

CUT

Thomas Bradshaw

Johns Island, South Carolina

1

73

CUT

Allen Caldwell

Charleston, South Carolina

1

73

CUT

Blair Scurlock

Roswell, Georgia

1

73

CUT

Will Durrett

Aiken, South Carolina

1

73

CUT

Broc Nell

Callahan, Florida

2

74

CUT

Raymond Wooten

Clemson, South Carolina

2

74

CUT

Whitten Meares

Charleston, South Carolina

2

74

CUT

Logan Harrell

Mooresville, North Carolina

2

74

CUT

Nikhil Desai

Winterpark, Florida

3

75

CUT

David Reynolds

St Augustine, Florida

3

75

CUT

Rex Riley

Charleston, South Carolina

3

75

CUT

David Cline

Charlotte, North Carolina

3

75

CUT

Scott Sullivan

Blythewood, South Carolina

3

75

CUT

Barry Dyche

Charlotte, North Carolina

3

75

CUT

Rhett Anderson

Savannah, Georgia

3

75

CUT

Lee Jakobsen

Charleston, South Carolina

4

76

CUT

Alex Luxenburg

Savannah, Georgia

4

76

CUT

Freddy Henriquez

Blythewood, South Carolina

4

76

CUT

Kevin Duffy

Suwanee, Georgia

4

76

CUT

Will Oldham

Charlotte, North Carolina

4

76

CUT

Michael Morgan

Scottsdale, Arizona

4

76

CUT

Donald Taylor

Columbia, South Carolina

4

76

CUT

Ryan Reynolds

Camden, South Carolina

5

77

CUT

Jeff Wong

Bluffton, South Carolina

5

77

CUT

Alan King

Columbia, South Carolina

5

77

CUT

Cody Sundberg

Chicago, Illinois

6

78

CUT

Jordan Zylstra

Grand Rapid, Michigan

6

78

CUT

Jeremy Boggs

Fort Mill, South Carolina

6

78

CUT

Keenan Hickton

Atlanta, Georgia

6

78

CUT

Philip Gunn

St. Simons Island, Georgia

7

79

CUT

Dermot Mcelhennon

San Francisco, California

7

79

CUT

Marion Moore Jr.

Georgetown, South Carolina

7

79

CUT

Michael Hutchison

Charleston, South Carolina

7

79

CUT

Brewer Bradshaw

Seneca, South Carolina

7

79

CUT

Jayson Jennings

Fuquay-varina, North Carolina

7

79

CUT

David Foster

Charleston, South Carolina

7

79

CUT

Jacob Johnson

Savannah, Georgia

8

80

CUT

Matt Shawd

Charlotte, North Carolina

8

80

CUT

Peter Galloway

Savannah, Georgia

8

80

CUT

Chris Dayton

Charlotte, North Carolina

9

81

CUT

Toshi Hirata

Jacksonville, Florida

9

81

CUT

Jordan Brock

Fayettteville, North Carolina

10

82

CUT

Toshi Hirata

Pooler, Georgia

11

83

CUT

Austin Adams

Greenville, South Carolina

11

83

CUT

Howard Hickey

Savannah, Georgia

12

84

CUT

Matt Wilson

Spartanburg, South Carolina

12

84

CUT

Jason Debuhr

Mint Hill, North Carolina

13

85

CUT

Rick O'neill

Canton, Georgia

13

85

CUT

Jason Henley

Atlanta, Georgia

13

85

CUT

Brian Spencer

Melbourne, Florida

14

86

CUT

Spencer Hurteau

Charleston, South Carolina

15

87

CUT

Nate Leech

Charleston, South Carolina

15

87

CUT

Joe Reese

Columbus, Georgia

19

91

CUT

Daniel Mcclain

Lexington, South Carolina

21

93

CUT

Garrett Kachellek

Charlotte, North Carolina

-

DNF

CUT

Skip Heidrich

Winter Park, Florida

-

DNF

NS

Chris Drose

Charleston, South Carolina

-

NS