US Four-Ball Qualifying - CC of Lexington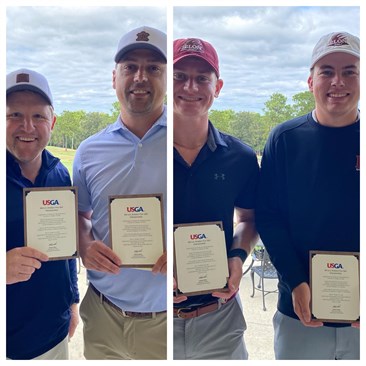 LEXINGTON, S.C. (October 3, 2022) -- Final results from U.S. Amateur Four-Ball Qualifying at the Country Club of Lexington, S.C. on Monday, October 3, 2022 (6,654 yards, par 72).
Two qualifying sides and two alternate sides were available at this qualifying site.
The side of John Eades of Charlotte, N.C. and Matt Schall of Matthews, N.C. won medalist honors with a round of ten-under-par 62. Matthew Doyle of Summerville, S.C. and Garrett Risner of Holly Springs, N.C. claimed the second qualifying spot with a round of nine-under-par 63. The sides of Stuart Moore of Gainesville, GA and David Denham of Athens, GA, and Jordan Sease of Columbia, S.C. and Kyle Bearden of Barnwell, S.C. both shot rounds of eight-under-par 64. In the playoff, the team of Moore and Denham won the first alternate positon and Sease and Bearden will be the second alternates.
The qualifiers will advance to the 8th U.S. Amateur Four-Ball Championship at Kiawah Island Club's Cassique and River courses in Kiawah Island, S.C. from May 20-24, 2023.
Hole-by-hole scoring can be viewed here.
US Amateur Four-Ball Qualifying Results
Country Club of Lexington, Lexington, S.C.
October 3, 2022
Pos.

Players

Affiliation

To Par

Total Score

Details

1

John Eades + Matt Schall

Charlotte, North Carolina, Matthews, North Carolina

-10

62

2

Matthew Doyle + Garrett Risner

Summerville, South Carolina, Holly Springs, North Carolina

-9

63

The following players did not make the cut

CUT

Stuart Moore + David Denham

Gainesville, Georgia, Athens, Georgia

-8

64

First Alternate

CUT

Jordan Sease + Kyle Bearden

Columbia, South Carolina, Barnwell, South Carolina

-8

64

Second Alternate

CUT

Davis Hall + Jordan Johnstun

Evans, Georgia, Augusta, Georgia

-7

65

CUT

Brent Delahoussaye + Charles Warren

Greenville, South Carolina

-6

66

CUT

Ian Campbell + Brandon Twigg

Charleston, South Carolina

-6

66

CUT

Alec Barker + Ashton Eubanks

Morehead, Kentucky, Lexington, South Carolina

-6

66

CUT

Harry Jones + Matthew Larkin

Augusta, Georgia, Atlanta, Georgia

-6

66

CUT

Daniel Sloan + Dustin Adair

Greenville, South Carolina, Spartanburg, South Carolina

-5

67

CUT

Zachary Herold + Sam Jackson

Gilbert, South Carolina, West Columbia, South Carolina

-4

68

CUT

Brewer Bradshaw + Thomas Bradshaw

Seneca, South Carolina, Johns Island, South Carolina

-4

68

CUT

Nicholas Beiers + Taylor Ingle

Harstsville, South Carolina, Winnsboro, South Carolina

-4

68

CUT

Harrison Vance + Ethan Bean

Blythewood, South Carolina, Elgin, South Carolina

-4

68

CUT

Joe Jaspers + Bubba Aughtry

Huntersville, North Carolina, Concord, North Carolina

-4

68

CUT

Brent Roof + Paul Tucker

Columbia, South Carolina, Waxhaw, North Carolina

-4

68

CUT

Mike Griffin + Ross Bell

Raleigh, North Carolina

-4

68

CUT

Tip Price + Major Lenning

Greenville, South Carolina, Simpsonville, South Carolina

-4

68

CUT

Dixon Walker + Gavin Gillespie

Columbia, South Carolina, Lexington, South Carolina

-4

68

CUT

Matt Moore Jr. + Nick Green

Covington, Georgia

-4

68

CUT

Walt Todd Jr. + Neal Todd

Piedmont, South Carolina, Laurens, South Carolina

-3

69

CUT

Sam Morgan + Andrew Hickman

Atlanta, Georgia, Durham, North Carolina

-3

69

CUT

Jeremy Revis + Chris Eassy

Greenville, South Carolina, Simpsonville, South Carolina

-3

69

CUT

Paul Mangieri + John Keller

Keysville, Georgia, Waynesboro, Georgia

-3

69

CUT

Brandon Truesdale + Will Long

Rock Hill, South Carolina, Charlotte, North Carolina

-3

69

CUT

David Lott + William Edsall

Barnwell, South Carolina, Warrenville, South Carolina

-2

70

CUT

Nick Claudio + Sean Snell

Charlotte, North Carolina

-2

70

CUT

Sam Little + Jeremy Moore

Charleston, South Carolina, Mt Pleasant, South Carolina

-2

70

CUT

Lee Taylor + Ross Vandyck

Greer, South Carolina, Greenville, South Carolina

-2

70

CUT

Kyle Weiland + Phillip Gramling

Charleston, South Carolina

-2

70

CUT

Allie Bates + Andrew Flaskerud

Columbia, South Carolina, Charlotte, NC

-1

71

CUT

Nathan Price + Evan Phillips

Lexington, South Carolina, Columbia, South Carolina

-1

71

CUT

Jared Crane + Matthew Mead

South Carolina, South Carolina, Greer, South Carolina

-1

71

CUT

James Konduros + Nolan Miller

Lexington, South Carolina, Seneca, South Carolina

-1

71

CUT

Jonathan Strauss + Joshua Dewees

Columbia, South Carolina

-1

71

CUT

Carson Spears + Patrick Moseley

Augusta, Georgia

E

72

CUT

Michael Sims + Jay Mcallister

Lexington, South Carolina, Myrtle Beach, South Carolina

E

72

CUT

John Obrien + Jarrett Grimes

Columbia, South Carolina

E

72

CUT

Robbie Biershenk + Nick Biershenk

Boiling Springs, South Carolina, Duncan, South Carolina

E

72

CUT

Daniel Keddie + James Barber

Charleston, South Carolina

E

72

CUT

Marcus Grumbles + Shane Grumbles

Greenville, South Carolina, Tayo, South Carolina

1

73

CUT

Nicholas Brown + Bern Gregory

Lenoir, North Carolina, Mooresville, North Carolina

1

73

CUT

Andrew Zarkadas + Brittain Cherry

Brookhaven, Georgia, Mount Pleasant, South Carolina

1

73

CUT

Garrett Kachellek + Chris Sharp

Charlotte, North Carolina

2

74

CUT

Steve Tretter + Louis Muir

Summerville, South Carolina, Mount Pleasant, South Carolina

2

74

CUT

Grey Raines + David Tart

Florence, South Carolina, Mount Pleasant, South Carolina

5

77

CUT

Kyle Mattila + William Braude

Charlotte, North Carolina

7

79

CUT

Lee Jakobsen + Alva Wendland

Charleston, South Carolina, Hollywood, South Carolina

7

79

WD

Brandon Muir + Danny Brooker

Charleston, South Carolina, Washington, District Of Columbia

-

WD

WD

Donald Taylor + Matthew Musolf

Columbia, South Carolina, Martinez, Georgia

-

WD

WD

Ryan Blair + Greg Rooney

Charlotte, North Carolina, Mooresville, North Carolina

-

WD

WD

Dustin Mccrary + Jakin Fox

Statesville, North Carolina

-

WD

WD

Kevin Driggers + Blake Williamson

Mt Pleasant, South Carolina, Anderson, South Carolina

-

WD