US Four-Ball Qualifying - Cardinal by Pete Dye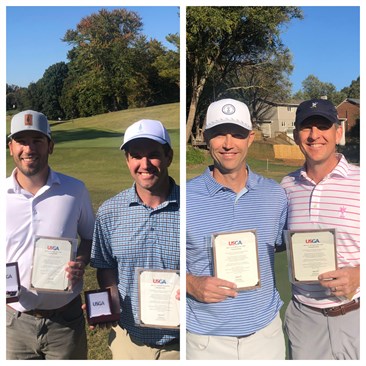 GREENSBORO, N.C. (October 10, 2022) -- Final results from U.S. Amateur Four-Ball Qualifying at the Cardinal by Pete Dye in Greensboro, N.C. on Monday, October 10, 2022 (6,654 yards, par 72).
Two qualifying sides and two alternate sides were available at this qualifying site.
The side of Jeremy Ray of Pfafftown, N.C. and Joseph Cansler of Clemmons, N.C. won medalist honors with a round of six-under-par 65. The sides of Brett Boner and Stephen Woodard, both of Charlotte, N.C. and Andrew Stineman of Chicago, Illinois and Matthew Ferriero of Charlotte, N.C. both shot rounds of four-under-par 67 and went to a playoff to determine the final qualifying position. The side of Boner and Woodard won the final qualifying spot and the side of Stineman and Ferriero will be the first alternates. The side of Lucas Tabor of Talbot, Tennessee and Lucas Armstrong of Church Hill, Tennessee outlasted three other sides in a four-for-one playoff to earn the second alternate position.
The qualifiers will advance to the 8th U.S. Amateur Four-Ball Championship at Kiawah Island Club's Cassique and River courses in Kiawah Island, S.C. from May 20-24, 2023.
Hole-by-hole scoring can be viewed here.
US Amateur Four-Ball Qualifying Results
Cardinal by Pete Dye, Greensboro, N..C.
October 10, 2022
Pos.

Players

Affiliation

To Par

Total Score

Details

1

Jeremy Ray + Joseph Cansler

Pfafftown, North Carolina, Clemmons, North Carolina

-6

65

2

Brett Boner + Stephen Woodard

Charlotte, North Carolina

-4

67

The following players did not make the cut

CUT

Andrew Stineman + Matthew Ferriero

Chicago, Illinois, Charlotte, North Carolina

-4

67

First Alternate

CUT

Lucas Tabor + Lucas Armstrong

Talbott, Tennessee, Church Hill, Tennessee

-3

68

Second Alternate

CUT

Preston Dembowiak + Chris Watters

Kernersville, North Carolina, Encinitas, California

-3

68

CUT

Chris Cassetta + Thomas Bonney

High Point, North Carolina, Greensboro, North Carolina

-3

68

CUT

Joe Poole + Hunter Howell

Pinehurst, North Carolina, Raleigh, North Carolina

-3

68

CUT

Evan Boyer + Alexander Hall

Morrisville, North Carolina, Durham, North Carolina

-1

70

CUT

Brad Mangum + Joe Kastelic

Iron Station, North Carolina, Newton, North Carolina

-1

70

CUT

Dustin Moore + Thomas Monahan

Burlington, North Carolina

E

71

CUT

Reeves Zaytoun + Bill Smith

Raleigh, North Carolina

E

71

CUT

David Richardson + Patrick Loeffler

Charlotte, North Carolina

E

71

CUT

Antoine Le Saux + Sam Lyons

Charlotte, North Carolina, Pooler, Georgia

E

71

CUT

Andrew Carter + John Grimes

Greensboro, North Carolina, Pinehurst, North Carolina

E

71

CUT

Brandon Dembowiak + Max Mckay

Kernersville, North Carolina, Jacksonville, Florida

1

72

CUT

Dermot Mcelhennon + Austin Doerr

Wake Forest, North Carolina, Raleigh, North Carolina

1

72

CUT

Reid Waller + Rand Williams

Athens, Georgia, Raleigh, North Carolina

1

72

CUT

Matthew Younts + Derek Paschal

Summerfield, North Carolina, Landis, North Carolina

1

72

CUT

Olof Bengtsson + Matthew Kilgo

Charlotte, North Carolina

1

72

CUT

Ryan Dunn + Jack Wieler

Waxhaw, North Carolina

1

72

CUT

Blake Meek + Jacob Golliday

Charlotte, North Carolina

2

73

CUT

Chris Cox + Zachary Griffith

Greensboro, North Carolina

2

73

CUT

Anthony Conn + Mark Olbrych

Raleigh, North Carolina

2

73

CUT

William Buchanan + Jacob Garner

Greensboro, North Carolina, Wilmington, North Carolina

2

73

CUT

Paul Carpenter + Dennis Long

Denver, North Carolina, Statesville, North Carolina

2

73

CUT

Scotty Trogdon + Coray Mitchell

Summerfield, North Carolina, Kernersville, North Carolina

2

73

CUT

Jack Mcclelland + Miller Robins

Southern Pines, North Carolina, Cary, North Carolina

2

73

CUT

Jason Wilburn + Bart Garrett

Hillsborough, North Carolina, Charlotte, North Carolina

3

74

CUT

Robert Gefaell Iii + Kyle Haas

Winston-salem, North Carolina, Winston Salem, North Carolina

3

74

CUT

Tim Manyatis + Brad Nobles

Raleigh, North Carolina

3

74

CUT

Scott Adams + Aaron Klimchuk

Asheville, North Carolina

3

74

CUT

Alec Lloyd + Josh Bryan

Greensboro, North Carolina, Chapel Hill, North Carolina

3

74

CUT

Boddie Bible + Jeff Cranford

Newport, Tennessee, Morristown, Tennessee

3

74

CUT

Brandon Belisle + James D'alessandro

Wilmington, North Carolina

3

74

CUT

Stephen Lavenets + Clay Watkins

Willow Spring, North Carolina, Mebane, North Carolina

4

75

CUT

Jeff Montgomery + Skip Corneliussen

Greensboro, North Carolina, Summerfield, North Carolina

5

76

CUT

Garrett Morgan + Ross Alberghini

Charlotte, North Carolina

6

77

CUT

Jim Mcleod + Andy Crisp

Charlotte, North Carolina

6

77

CUT

Derek Lipe + William Little

Salisbury, North Carolina, Kannapolis, North Carolina

6

77

CUT

Michael Nulty + Clayton Holland

Greensboro, North Carolina

6

77

CUT

Rich Roy + Charlie Burgwyn

Cary, North Carolina

6

77

CUT

David Shambley + Will Shambley

Cary, North Carolina, Wilmington, North Carolina

6

77

CUT

Bobby Dean + Scott Burnett

Charlotte, North Carolina, Mint Hill, North Carolina

7

78

CUT

Matthew Mcintyre + James Mishoe

Garner, North Carolina, Cary, North Carolina

7

78

CUT

Andrew Cajka + Brendan Garay

Charlotte, North Carolina, Chartlotte, North Carolina

7

78

CUT

Tom Newlon + Tyler Johnson

Lawrenceville, Georgia, Charlotte, North Carolina

7

78

CUT

Jeffrey Pearce + Louis Letellier Iv

Matthews, North Carolina, Jacksonville Beach, Florida

7

78

CUT

Ilan Szulik + Chris Finn

Durham, North Carolina, Wake Forest, North Carolina

10

81