Pellerin and Kuehn Crowned at the Carolinas Collegiate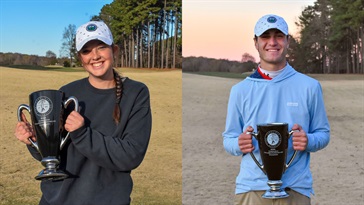 GREENSBORO, N.C. (November 20, 2022) -- Final results of the 3rd Carolinas Collegiate Showcase at Grandover Resort in Greensboro, N.C. on November 20, 2022.


Related: Championship Website | Starting Times | Scoring | Photos


Battling frigid temperatures, two challenging courses and a strong field, Olivia Pellerin of Greenville, S.C. and Taylor Kuehn of Asheville, N.C. captured their first CGA Championship titles at the 3rd Carolinas Collegiate Showcase.


The field competed on two different courses at Grandover Resort, the East Course and the West Course. The West Course had a scoring average of 80.6, while the East Course had an average of 83.3. Pellerin played her final round on the West Course, which she remarked was a positive way to finish the showcase.


"We got to play a different course today [West Course], which I think was a huge advantage to have that new opportunity," said Pellerin. "I came out and started off strong with a birdie and just kept that momentum up."


Pellerin followed up her first birdie with three more on Nos. 6, 7 and 9 to extend her one stroke lead to five strokes and make the turn at 3-under-par, 33.


"I just had good approach shots into the green and I left myself a lot of birdie chances," said the future Anderson University Trojan. "Yesterday it was more of a short game, up-and-down kind of day, but today I had a lot of opportunities and I really took advantage of them.


Pellerin carded three more birdies on the back nine rounding it out with a final birdie on No. 18 for a total of seven birdies on the day. She ultimately captured her first CGA Championship title by seven strokes at 1-under-par, 143 overall.


"I knew that I was 3-under and I wanted to finish strong. I started with a birdie and I just gave myself an opportunity to finish it the same way," said the newly-minted champion. "I am super excited. I wanted to come out and play well this weekend and I did so I am just so glad it all turned out well."


Hallie Wilson of Lewisville, N.C. fired off the only other round under par in the girls' division with a final round of 3-under-par, 69 which moved her three positions up the leaderboard to earn runner-up. Kasey McIlvaine of Raleigh, N.C. earned third at 8-over-par, 152.


While Pellerin took the girls' division by storm, the race to the boys' division title was much tighter. Kuehn started the day tied with Logan Atkins of Dunn, N.C. at 4-under-par, 68 after playing their opening round on the West Course.


"I got off to a slow start with eight pars and a bogey on the front. I couldn't get the putts to drop, but then on the back nine I really picked it up," said Kuehn.


While Kuehn struggled to get the same momentum back that he had in the opening round, Colin Salema of Matthews, N.C. started heating up. Salema birdied Nos. 2, 4 and 7 to take a one stroke lead over Kuehn at the turn.


"Colin [Salema] was playing really well on the front and I was trying to just block it out. I can only control what I can control so I just took it one shot at a time," the future Samford Bulldog remarked. "After the turn I started hitting greens and making putts again."


Kuehn birdied Nos. 10, 12 and 14 to earn back his one stroke lead over Salema and ultimately capture his first CGA Championship title at 4-under-par, 140. Salema earned runner-up at 3-under-par, 141 and Atkins claimed third at 1-over-par, 145.


"I have seen a bunch of my friends win tournaments and my sister [Rachel Kuehn, 2-time Curtis Cup Champion and 3-time CGA Champion] always talks about that winning feeling so it's really cool to be a CGA Champion now," said Kuehn. "My mom and my sister are huge inspirations to me and to be able to relate to them in this way is amazing.


The CGA would like to thank the staff at Grandover Resort for graciously hosting us on both their East and West courses for the 3rd Carolinas Collegiate Showcase.
3rd Carolinas Collegiate Showcase
Grandover Resort, Greensboro, N.C.
Final Round Results
About the Carolinas Golf Association (CGA)

The CGA is a 501(c)(3) not-for-profit educational organization that was founded in 1909 to promote and to protect the game of golf in the Carolinas by providing competitions, education, support and benefits to golf clubs and golfers. The CGA is the second largest golf association in the country with over 700 member clubs represented by nearly 150,000 individuals.
The CGA annually conducts 48 championships and five team match competitions for men, women, juniors, and seniors. It also runs over 150 One-Day (net and gross) events as well as qualifying for USGA national championships. The CGA serves golf in the Carolinas with numerous programs such as: the USGA Handicap System; tournament management software and support; course measuring and course/slope ratings; agronomy consultation; answers about the Rules of Golf, Rules of Amateur Status, and Handicapping; Carolinas Golf Magazine; Interclub series; Tarheel Youth Golf Association; Carolinas Golf Hall of Fame; expense assistance for USGA Junior and Girls' Junior qualifiers from the Carolinas; and the Carolinas Golf Foundation (CGF). The CGF has distributed nearly $2,000,000 since 1977 to benefit Carolinas' golf initiatives including junior and women's programs.
For more information about the CGA, visit our website.
##30##