Another Successful Carolinas Golf Reunion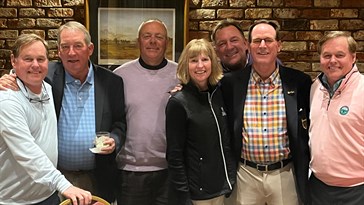 70 players representing 14 teams competed in the Carolinas Golf Foundation's event (CGF), The Reunion, at Pine Needles Golf Club in Southern Pines, N.C. on November 14th.
After a Sunday-evening gathering, Monday kicked off the event which was played at one-low net plus one-low gross per hole. Those emerging on top were Robby Kirby, George Kornegay, Steve Wilkinson, Russell Kornegay and Will Straub. The reigning North Carolina Mid-Amateur Champion Ryan Nagy, Mark Raynor, David McClure, Kevin Kornegay and Kyle Simpson earned runners-up. Present and past PGA Tour players competing included Harold Varner, III and Clarence Rose.
"This event has brought many of us golf-lovers together to celebrate the game in the Carolinas and to raise some money for some good causes," said former PGA Tour winner and 1978 North Carolina Amateur Champion Clarence Rose. "The CGA has been a big part of my life since childhood and this is a great way to see old friends and continue to support their great work."
The event, in its 11th year, raises money for the CGF which donates monies annually to Youth on Course, CGF college scholarships, and 20+ golf-related Carolinas-based golf initiatives. The CGF celebrates its 44th year this year having donated over $2,500,000 to these worthy causes. A big thank you goes out to Pine Needles Resort, site of four U.S. Women's Open Championships, for hosting this event.
Pos. Team To Par Total
1 Robby Kirby, George Kornegay, Steve Wilkinson, Russell Kornegay, Will Straub -18 (124)
T2 Ryan Nagy, Mark Raynor, David McClure, Kevin Kornegay, Kyle Simpson -16 (126)
T2 Lee Ott, Mike Rogers, Press McPaul, Harold Varner III, Winn Fisher -16 (126)
4 Ned Austin, Michael Teague, Bill Baker, Zack Zediker, Keith Bell -10 (132)
T5 Macon Moye , Bill Nance, Brent Parrish, Evan Johnson, Smokey Norris -9 (133)
T5 Jeff Norris, Greg Norris, Patty George, Larry George, Randy Johnson -9 (133)
7 Chris Narveson, Douglas Labrosse, Chase Allen, Tyler Hager, Tyler Johnson -8 (134)
T8 Ken Bass, Philip Fulghum, Tom Boals, Clarence Rose, Peter Borland -6 (136)
T8 Sherrill Britt , Mike Smith, Andy Sturge, David Hampton, Lawrence Hicks -6 (136)
T10 Barry Faircloth, Richard Maloy, David Eagan, Andrew Boston, Ben Hough -4 (138)
T10 Ed Ham, Nolan Mills, John Porter, Jeff Peck, Chris Hughes -4 (138)
T12 Dick Dosek, Frank Brenner, Mike Brenner, Todd Smith, Freddy Robinson -3 (139)
T12 Jack Lorbacher, Jarrod Lichty, Andrew Wilkinson, Matt Roberts, Jason Harris -3 (139)
WD Jack McClelland, Frank Golden, Kelly Miller, Blair Miller WD