US Open Final Qualifying - Old Chatham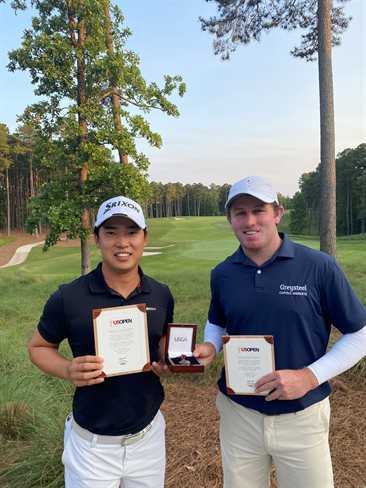 DURHAM, N.C. (June 5, 2023) -- Final results from U.S. Open Final Qualifying at Old Chatham Golf Club in Durham, N.C. on Monday, June 5, 2023. (7,150 yards, par 72).
Five qualifying spots and two alternate spots were available at this qualifying site.
Yuto Katsuragawa of Japan and Patrick Cover of Charlotte, N.C. shared medalist honors with two-round totals of twelve-under-par 132. Katsuragawa fired rounds of 64 and 68 and Cover shot 67 and 65 to punch their ticket. Three players finished at eleven-under-par 133 to claim the other qualifying spots. Paul Barjon of France shot 69 and 64, McClure Meissner of Dallas, Texas shot 67 and 66 and Frankie Capan of North Oaks, Minnesota shot 67 and 66. Chan Kim of Gilbert, Arizona birdied his last hole of the day to shoot 64 and finish at ten-under-par 134 to earn the first alternate position. Four players finished nine-under-par at 135 and played off for the second alternate position. Doc Redman of Raleigh, N.C. won the spot.
The qualifiers will advance to play in the championship at Los Angeles Country Club from June 14-18.
Hole-by-hole scoring can be viewed here.
US Open Final Qualifying Results
Old Chatham Golf Club, Durham, N.C.
June 5, 2023
Pos.

Player

Hometown

Total

R1

R2

Total Score

Details

T1

Yuto Katsuragawa

Japan

-12

64

68

132

T1

Patrick Cover

Charlotte, N.C.

-12

67

65

132

T3

Paul Barjon

France

-11

69

64

133

T3

Mcclure Meissner

Dallas, Texas

-11

67

66

133

T3

Frankie Capan

North Oaks, Minn.

-11

67

66

133

The following players did not make the cut

CUT

Chan Kim

Gilbert, Ariz.

-10

70

64

134

Alternate 1

CUT

Doc Redman

Raleigh, N.C.

-9

67

68

135

Alternate 2

CUT

Rico Hoey

Rancho Cucamonga, Calif.

-9

66

69

135

CUT

Cristobal Del Solar

Chile

-9

69

66

135

CUT

Jamie Wilson

Mt. Pleasant, S.C.

-9

72

63

135

CUT

David Sanchez

Charlotte, N.C.

-8

66

70

136

CUT

Harold Varner III

Gastonia, N.C.

-8

67

69

136

CUT

Chase Seiffert

Panama City Beach, Fla.

-8

69

67

136

CUT

Kaito Onishi

Japan

-8

68

68

136

CUT

Chandler Phillips

Huntsville, Texas

-7

71

66

137

CUT

Josh Teater

Lexington, Ky.

-7

69

68

137

CUT

John Augenstein

Owensboro, Ky.

-7

70

67

137

CUT

Brandon Hagy

Charlotte, N.C.

-6

70

68

138

CUT

Brandon Harkins

Scottsdale, Ariz.

-6

71

67

138

CUT

Rylee Reinertson

Gibbon, Neb.

-6

70

68

138

CUT

Jake Knapp

Costa Mesa, Calif.

-6

70

68

138

CUT

Cooper Dossey

McKinney, Texas

-6

71

67

138

CUT

Paul Peterson

Sea Island, Ga.

-5

68

71

139

CUT

Joel Thelen

Fort Worth, Texas

-5

66

73

139

CUT

Dylan Menante (a)

Carlsbad, Calif.

-5

72

67

139

CUT

Augusto Nunez

Argentina

-5

72

67

139

CUT

Parker Gillam

Saint Simons Island, Ga.

-5

70

69

139

CUT

Rafael Campos

Puerto Rico

-5

71

68

139

CUT

Michael Johnson

Birmingham, Ala.

-5

70

69

139

CUT

JT Griffin

Wilson, N.C.

-4

71

69

140

CUT

Jared Wolfe

Ponte Vedra Beach, Fla.

-4

72

68

140

CUT

Bryce Hendrix

Apex, N.C.

-4

73

67

140

CUT

Sean O'hair

Lubbock, Texas

-4

69

71

140

CUT

William Frodigh

Westwood, Mass.

-4

71

69

140

CUT

Sam Saunders

Atlantic Beach, Fla.

-3

70

71

141

CUT

Hampton Roberts (a)

Cary, N.C.

-3

71

70

141

CUT

Xinjun Zhang

People's Republic of China

-3

71

70

141

CUT

Jorge Fernandez Valdes

Argentina

-3

70

71

141

CUT

Taylor Dickson

Gastonia, N.C.

-3

69

72

141

CUT

Zachary Herold (a)

Lexington, S.C.

-3

73

68

141

CUT

Bo Van Pelt

Tulsa, Okla.

-3

69

72

141

CUT

Chesson Hadley

Raleigh, N.C.

-3

69

72

141

CUT

Spencer Ralston

Gainesville, Ga.

-3

70

71

141

CUT

Jackson Van Paris (a)

Pinehurst, N.C.

-2

74

68

142

CUT

Oliver Mast

Indianapolis, Ind.

-2

71

71

142

CUT

Michael La Sasso (a)

Raleigh, N.C.

-2

70

72

142

CUT

Cody Blick

Jacksonville, Fla.

-2

68

74

142

CUT

Noah Connor (a)

Reidsville, N.C.

-1

73

70

143

CUT

Ben Haggin (a)

Lexington, Ky.

-1

73

70

143

CUT

Brian Murtagh

Republic of Ireland

E

74

70

144

CUT

Jimmy Zheng (a)

New Zealand

1

74

71

145

CUT

Mark Anderson

Beaufort, S.C.

2

73

73

146

CUT

Smith Summerlin (a)

Raleigh, N.C.

2

73

73

146

CUT

Thomas Bass

Wilmington, N.C.

2

75

71

146

CUT

Graham Chase (a)

Charlotte, N.C.

2

74

72

146

CUT

Tyler Johnson

Knoxville, Tenn.

3

72

75

147

CUT

Spencer Levin

Elk Grove, Calif.

3

73

74

147

CUT

Owen Kose (a)

Holly Springs, N.C.

3

73

74

147

CUT

Max Theodorakis

Danbury, Conn.

3

75

72

147

CUT

Peter Skirpstas

Medina, Ohio

3

77

70

147

CUT

Jackson Koivun (a)

Chapel Hill, Calif.

4

75

73

148

CUT

Scott Gutschewski

Elkhorn, Neb.

4

72

76

148

CUT

Austin Morgan (a)

Charleston, S.C.

4

74

74

148

CUT

Cory Martin

North Myrtle Beach, S.C.

5

72

77

149

CUT

Collin Adams (a)

Charlotte, N.C.

6

74

76

150

CUT

Cameron Hall

Kings Mtn., N.C.

11

77

78

155

CUT

Luke Block (a)

Bluffton, S.C.

16

83

77

160

WD

Ryan Blaum

Coral Gables, Fla.

-

70

WD

WD

WD

Jeremy Paul

Germany

-

71

WD

WD

WD

Rhein Gibson

Australia

-

71

WD

WD

WD

Scott Brown

Aiken, S.C.

-

72

WD

WD

WD

Kris Ventura

Norway

-

73

WD

WD

WD

Alex Weiss

Pickerington, Ohio

-

73

WD

WD

WD

Billy Tom Sargent

Georgetown, Ky.

-

74

WD

WD

WD

Shad Tuten

Aiken, S.C.

-

74

WD

WD

WD

Tom Whitney

Dallas, Texas

-

78

WD

WD