Carolinas Super Senior Titles Claimed by Pearson & Boles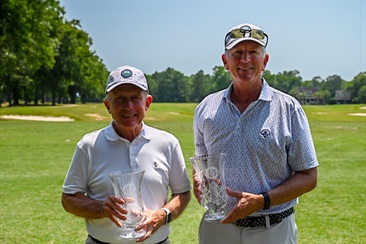 Event: 15th Carolina Men's Super Senior
Host Site: The Links at Stono Ferry, Hollywood, SC

Playing Dates: June 5-6, 2023
Social Media: @CGAgolf1909
Related: Championship Website | Scoring | History | Photos
On two beautiful days in Hollywood, SC, two winners from both age groups of the Carolinas Super Senior Tournament were awarded. James Pearson of Charlotte, NC, came off an excellent performance shooting a 70-72, two-under part to win the 65+ section. William Boles of Wilson, NC, shot a 72-66, giving him a six-under par total, propelling him to a win for the men's 70 and over division.
Pearson started hot in round one, shooting a 70, putting him in a great position to claim the tournament on day two. Pearson found himself in a tricky situation on the final hole when his tee shot caught the pine needles, putting his chance of beating Bob Edens of Columbia, SC, who was in second, at risk. However, Pearson pulled off an awe-inspiring attempt to land it on the island green close to the hole, which was enough to secure him the Men's 65 and over title.
"It was a fight out there," Pearson said. "It was nip and tuck starting around the back nine. Bob was on 15 and knocked in the water, which made the difference in the end. I had one little three-putt from 12 feet, and one missed iron shot, but otherwise had a really great day of golf."
William Boles added eight birdies, including six in a seven-hole streak on his final round, dominating the day and leading to an impressive scorecard to win the 70 and over championship by eight strokes over John Long of Muurrells Inlet, SC, in second place.
"I actually can't believe the round, I only made one mistake in 18 holes," said Boles. "That's a very rare day when you hit the right club every hole, you make all your short putts and everything else. It was a very good day for me. It was probably as good as I can play," added Boles.
Both men played their prospective games and garnished a great win for both age brackets making the Carolinas Super Senior event a success.
The Carolinas Golf Association would like to thank the Links at Stono Ferry and its staff, especially General Manager Greg Wood, Pete Skirpstas of Golf Operations, and Course Superintendent Michael Eargle for graciously hosting the 15th Carolinas Super Senior.
About the Carolinas Golf Association (CGA)
The CGA is a 501(c)(3) not-for-profit educational organization founded in 1909 to promote and protect the game of golf in the Carolinas by providing competitions, education, support, and benefits to golf clubs and golfers. The CGA is the second largest golf association in the country, with over 700 member clubs represented by nearly 150,000 individuals.
The CGA annually conducts 48 championships and five team match competitions for men, women, juniors, and seniors. It also runs over 150 One-Day (net and gross) events as well as qualifying for USGA national championships. The CGA serves golf in the Carolinas with numerous programs such as: the USGA Handicap System; tournament management software and support; course measuring and course/slope ratings; agronomy consultation; answers about the Rules of Golf, Rules of Amateur Status, and Handicapping; Carolinas Golf Magazine; Interclub series; Tarheel Youth Golf Association; Carolinas Golf Hall of Fame; expense assistance for USGA Junior and Girls' Junior qualifiers from the Carolinas; and the Carolinas Golf Foundation (CGF). The CGF has distributed nearly $2,000,000 since 1977 to benefit Carolinas' golf initiatives, including junior and women's programs.
For more information about the Carolinas Golf Association, follow @cgagolf1909 on Instagram, Twitter, Facebook, and TikTok or visit our website www.carolinasgolf.org/
#30#