Mathews Wins Carolinas Women's Match Play Just Before Start of Freshman Year Season at Virginia Tech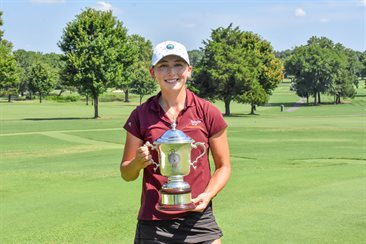 Event: 25th Carolinas Women's Match Play Championship
Host Site: Cedarwood Country Club, Charlotte, N.C.
Playing Dates: August 2-5, 2023
Social Media: @CGAgolf1909
LOCATION – Charlotte, N.C.
Congratulations to Emily Mathews of Mebane, N.C. on winning the 25th Carolinas Women's Match Play Championship at Cedarwood Country Club in Charlotte, N.C. Mathews won the Championship Match 3 & 2 on Saturday, defeating Layla Meric of Wesley Chapel, N.C.
This event began with 32 players, separated into foursomes to compete in Group Play. There were two rounds of Group Play on Wednesday, followed by the final round of Group Play on Thursday. After Thursday, the field was cut to eight players as the top player in each Group Play foursome advanced to Bracket Play beginning Friday. Mathews earned the highest amount of points possible in Group Play – one point in each round since she won all three of her matches. Her three total points gave her a spot in Bracket Play.
Quarterfinal matches were Friday morning, and Mathews was up against Maria Atwood of Holly Springs, N.C. to see who would advance to the Semifinals in the afternoon. Mathews fired two birdies to start the round and go 2 up after two holes. She continued to make birdie putts and par saves to remain 2 up throughout a majority of the round. After a birdie on hole 15 to go 3 up, and tying hole 16 with a par to remain 3 up, Mathews earned herself a spot in the Semifinals.
Heading into the afternoon on Friday, it was Ashleigh Mead of Bluffton, S.C. going head to head with Mathews, and Kiera Bartholomew of Wake Forest, N.C. going head to head with Meric in the Semifinals matches. Mathews beat Mead 3 & 2, and again was up throughout the entire round. Mathews was 1 up through the first few holes, but then started dropping putts for birdies on holes 4, 5, 7, and even an eagle on hole 8 to be 3 up at the turn. Mathews and Mead bounced back and forth winning holes on the back nine, putting Mathews either 3 or 4 up. Tying hole 16 while Mathews was 3 up allowed her to win the match 3 & 2, and she was ready to advance to the Championship Match the next morning.
Meric beat Bartholomew in the Semifinals 2 & 1 to move forward to the Championship Match. After being tied through three holes, Meric kicked it into high gear and won two holes on the front to be 2 up going into the back nine. Bartholomew won hole 12 to make Meric only 1 up, but Meric won hole 14 to go back to 2 up, and she fought hard to keep herself at 2 up until she won the match.
"I didn't really have that many expectations going into it, I just wanted to go out and play my game and just have a good, carefree couple of rounds and just see where I end up," Meric said regarding her mindset throughout the week.
After the Semifinals on Friday, Mathews said her game feels solid heading into the Championship Match tomorrow. "My swing feels like it's in a really good place. I think if I trust my process and trust my ability and take it one shot at a time I'll be good to go," Mathews said.
This is exactly what Mathews did on Saturday in the Championship Match. Mathews was competing against Meric for the title, and after Mathews made a birdie on the first hole to start the match 1 up, she retained the lead throughout the rest of the match. Even after about 100 holes of golf this week, Mathews was not losing steam as she carded six birdies in the Championship Match alone. Mathews was 2 up at the turn, and went 3 up after winning hole 13 with a birdie. Mathews stuck it out and tied the next three holes with Meric to ultimately take home the trophy.
With so much golf being played this week, Mathews said she stayed strong because "match play is super mental. I've gotten up early in my matches every time and it's so beneficial, because you get the momentum early and then just ride the wave and make sure you minimize mistakes and put pressure on when you can. Then it's just trusting your game and trusting your ability."
Mathews played a very impressive week of golf, never letting one of her opponents get up in a match throughout Bracket Play.
Emily's brother Nick played in the 14th North Carolina Amateur Match Play Championship also at Cedarwood Country Club on Wednesday and Thursday, and came out to support his sister in her matches on Friday and Saturday. Alongside him was their mom walking each match and cheering her on as well. Mathews said "they show me endless support. Hearing my brother clap after my good shots is a great feeling. It's really nice to have them out here".
Mathews has had a great season this year, winning the 2023 Vicki DiSantis Junior Girls' Championship back in May, finishing second at the 2023 Carolinas Women's Amatuer in June, and she's now heading into her freshman year at Virginia Tech. She starts her season in just a couple weeks, and this win was a great way to end the summer season before she starts her first college golf season.
When asked what the win means to hear, Mathews said "it feels amazing. It's always an honor to play in CGA events, and the win feels great. It's definitely a confidence boost heading into my first season at Virginia Tech".
The Carolinas Golf Association would like to thank Course Superintendent Kyle Manus, Head Golf Professional Adam Szoke, General Manager/Director of Golf Maury Clodfelter, Assistant General Manager Brandon Robertson, and the rest of the staff at Cedarwood Country Club for helping us to host an incredible tournament for our players.
About the Carolinas Golf Association (CGA)
The CGA is a 501(c)(3) not-for-profit educational organization founded in 1909 to promote and protect the game of golf in the Carolinas by providing competitions, education, support and benefits to golf clubs and golfers. The CGA is the second largest golf association in the country with over 700 member clubs represented by nearly 150,000 individuals.
The CGA annually conducts 48 championships and five team match competitions for men, women, juniors, and seniors. It also runs over 150 One-Day (net and gross) events and qualifying for USGA national championships. The CGA serves golf in the Carolinas with numerous programs such as: the USGA Handicap System; tournament management software and support; course measuring and course/slope ratings; agronomy consultation; answers about the Rules of Golf, Rules of Amateur Status, and Handicapping; Carolinas Golf Magazine; Interclub series; Tarheel Youth Golf Association; Carolinas Golf Hall of Fame; expense assistance for USGA Junior and Girls' Junior qualifiers from the Carolinas; and the Carolinas Golf Foundation (CGF). The CGF has distributed nearly $2,000,000 since 1977 to benefit Carolinas' golf initiatives including junior and women's programs.
For more information about the Carolinas Golf Association, follow @cgagolf1909 on Instagram, Twitter, Facebook, and TikTok or visit our website www.carolinasgolf.org/
#30#