US Senior Amateur Qualifying - CC of Lexington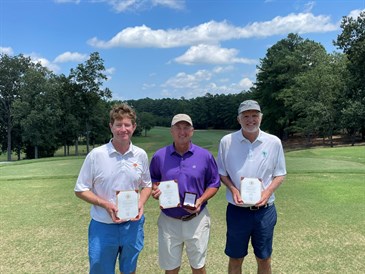 LEXINGTON, S.C. (August 7, 2023) -- Final results from U.S. Senior Amateur Qualifying at the County Club of Lexington in Lexington, S.C. on Monday, August 7, 2023. (6,985 yards, par 72).
Three qualifying spots and two alternate spots were available at this qualifying site.
Todd White of Spartanburg, S.C. won medalist honors with a round of three-under-par 69. Buddy Patch of Kiawah Island, S.C. and Walter Todd of Laurens, S.C. both shot rounds of one-under-par 71 to claim the second and third qualifying spots. Four players finished at one-over-par 73 and went to a playoff to determine the alternates. Chris Culler of Camden, S.C. will be the first alternate and Jeff Pope of North Augusta, S.C. will be the second alternate.
The qualifiers will advance to play in the championship at the Martis Camp Club in Truckee, California from August 26-31.
Hole-by-hole scoring can be viewed here.
US Senior Amateur Qualifying Results
Country Club of Lexington, Lexington, S.C.
August 7, 2023
Pos.

Player

Hometown

To Par

Total Score

Details

1

Todd White

Spartanburg, South Carolina

-3

69

T2

Buddy Patch

Kiawah Island, South Carolina

-1

71

T2

Walter Todd

Laurens, South Carolina

-1

71

The following players did not make the cut

CUT

Chris Culler

Camden, South Carolina

1

73

First Alternate

CUT

Jeff Pope

North Augusta, South Carolina

1

73

Second Alternate

CUT

Dan Sullivan

Columbia, South Carolina

1

73

CUT

Jeff Knox

Augusta, Georgia

1

73

CUT

Richard Rebholz

Johns Island, South Carolina

2

74

CUT

Tim Dunlavey

Spartanburg, South Carolina

2

74

CUT

Yancey Johnson

Simpsonville, South Carolina

2

74

CUT

Frank Remmes

Lilburn, Georgia

2

74

CUT

Stan Rawl

Lexington, South Carolina

3

75

CUT

Scott Park

Charlotte, North Carolina

3

75

CUT

William Deebo Kelly

Camden, South Carolina

3

75

CUT

Scott Ferrell

Saint Simons Island, Georgia

3

75

CUT

Mark Nickerson

Greensboro, Georgia

3

75

CUT

Paul Jett

Southern Pines, North Carolina

4

76

CUT

Michael O'donnell

Brookhaven, Georgia

4

76

CUT

Ron Schroder

Seneca, South Carolina

4

76

CUT

Doug Stiles

Athens, Georgia

4

76

CUT

Todd Sagmoe

Charlotte, North Carolina

4

76

CUT

Robert Bogart

Okatie, South Carolina

5

77

CUT

David Swoap

Simpsonville, South Carolina

5

77

CUT

Eddie Hargett

Blythewood, South Carolina

5

77

CUT

James Kiely

Alpharetta, Georgia

5

77

CUT

Ted Ball

Kiawah Island, South Carolina

5

77

CUT

Dale Mercer

Charleston, South Carolina

6

78

CUT

Lenin Lezcano

Hilton Head Island, South Carolina

6

78

CUT

Gary Smith

Hilton Head Island, South Carolina

6

78

CUT

Bob Stonikas

Bonita Springs, Florida

7

79

CUT

Stephen Parks

Beaufort, South Carolina

7

79

CUT

Jason Griffith

Anderson, South Carolina

7

79

CUT

Mark Burden

Atlanta, Georgia

7

79

CUT

Sean Mcavoy

Johns Island, South Carolina

7

79

CUT

Greg Greenbaum

Atlanta, Georgia

7

79

CUT

James Justus

Simpsonville, South Carolina

7

79

CUT

Craig Disiere

Travelers Rest, South Carolina

8

80

CUT

Robin Alley

Columbia, South Carolina

8

80

CUT

Tom Myers

Valrico, Florida

8

80

CUT

Steven Horner

Ponte Vedra Beach, Florida

8

80

CUT

Casey Alexander

Harrisburg, North Carolina

9

81

CUT

Bill Best

Tuscaloosa, Alabama

9

81

CUT

Phil Mcquitty

Bluffton, South Carolina

9

81

CUT

Phil Genthner

Greenville, South Carolina

10

82

CUT

Michael O'grady

Augusta, Georgia

10

82

CUT

Toshi Hirata

Pooler, Georgia

10

82

CUT

Ed Burchfield

Sunset, South Carolina

11

83

CUT

Robert Lynch

Pinehurst, North Carolina

12

84

CUT

Joseph Combs

Ridgeland, South Carolina

12

84

CUT

Timothy Papa

Bluffton, South Carolina

12

84

CUT

Wayne Mckenney

Evans, Georgia

13

85

CUT

William Argabrite

Kingsport, Tennessee

13

85

CUT

Brett Coddington

Murrells Inlet, South Carolina

14

86

CUT

Ken Taylor

Elgin, South Carolina

14

86

CUT

Mark Moore

Ninety Six, South Carolina

14

86

CUT

Jim Gallagher

Charlotte, North Carolina

15

87

CUT

Charles Getsinger

Bluffton, South Carolina

17

89

CUT

John Dobbins

Richmond Hill, Georgia

20

92

WD

William Morlan

Alpharetta, Georgia

-

WD

NC

Joe Sumrow

Charlotte, North Carolina

-

NC

CUT

Joseph Horne

Columbia, South Carolina

-

DNF

CUT

Jeff Belk

Marietta, Georgia

-

DNF

CUT

Jimmy Hyams

Charleston, South Carolina

-

DNF

NS

Greg Cottrell

Eatonton, Georgia

-

NS

NS

John Gibbs

Augusta, Georgia

-

NS