US Women's Mid-Am Qualifying - CC of Lexington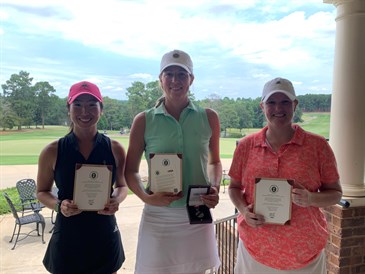 LEXINGTON, S.C. (August 16, 2023) -- Final results from U.S. Women's Mid-Amateur Qualifying at the Country Club of Lexington in Lexington, S.C. on Wednesday, August 16, 2023. (5,864 yards, par 72).
Three qualifying spots and two alternate spots were available at this qualifying site.
Kristina Tucker of Waxhaw, N.C. won medalist honors with a round of three-over-par 75. Joliana Hodges of Fort Mill, S.C. and Lauren Fournier of Pawleys Island, S.C. each shot four-over-par 76 to claim the other qualifying positions. In the alternate playoff, Danielle Davis of Saint Simons Island, GA won the first alternate position and Colleen Estes of Charlotte, N.C. will be the second alternate.
The qualifiers will advance to play in the championship at Stonewall Golf Club in Elverson, PA from September 9-14.
Hole-by-hole scoring can be viewed here.
US Women's Mid-Amateur Qualifying Results
Country Club of Lexington, Lexington, S.C.
August 16, 2023
Pos.

Player

Hometown

To Par

Total Score

Details

1

Kristina Tucker

Waxhaw, North Carolina

3

75

T2

Joliana Hodges

Fort Mill, South Carolina

4

76

T2

Lauren Fournier

Pawleys Island, South Carolina

4

76

The following players did not make the cut

CUT

Danielle Davis

Saint Simons Island, Georgia

6

78

First Alternate

CUT

Colleen Estes

Charlotte, North Carolina

6

78

Second Alternate

CUT

Kristin Shifflett

Fredericksburg, Virginia

6

78

CUT

Mia Kness

Venetia, Pennsylvania

7

79

CUT

Emily Rapp

Charleston, South Carolina

8

80

CUT

Katie Flaskerud

Charlotte, North Carolina

10

82

CUT

Laura Coble

Augusta, Georgia

10

82

CUT

Meghan Mitchell

Youngsville, North Carolina

11

83

CUT

Evie Dole

Savannah, Georgia

14

86