Harwell Wins Carolinas Senior Am for Second Year in a Row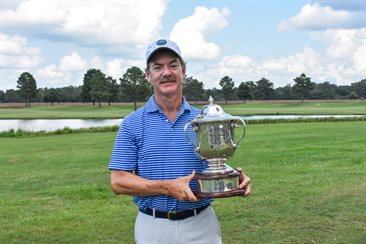 Event: 62nd Carolinas Senior Amateur Championship
Host Site: Cutter Creek Golf Club, Snow Hill, N.C.
Playing Dates: September 11-13, 2023
Social Media: @CGAgolf1909
LOCATION – Snow Hill, N.C.
Congratulations to Steve Harwell of Mooresville, N.C., on winning the 62nd Carolinas Senior Amateur Championship at Cutter Creek Golf Club in Snow Hill, N.C. Harwell fired rounds of 67-68-74 for a three-day total of 209, 7-under.
Harwell played an impressive bogey-free Round 1 with a total of five birdies to finish at 5-under, 67 for the day. He posted another bogey-free scorecard for Round 2 with four birdies to shoot 68 and climb to the top of the leaderboard at a total of 9-under.
Harwell led the tournament heading into the Final Round on Wednesday with a two-stroke lead over Larry Cloninger of Gastonia, N.C., who was in first place after Round 1.
Regarding how he felt heading into the Final Round with the lead, Harwell said, "I felt really good. I was hitting well, I played extremely well out at the U.S. Senior Am, that was probably the best I've ever hit it in my life, so coming in, I had some confidence."
Harwell quickly widened the gap between himself and the rest of the field during the Final Round as he played a consistent front-nine of even par, leading at 9-under as he made the turn. He remained at the top of the leaderboard for the entire day, leading by at least two strokes throughout the Final Round.
"I hit it really well and putt it extremely well. Playing with the lead is a little difficult sometimes, but you just have to keep trying to hit golf shots and keep playing," Harwell said.
"When you start the last round there's always a little bit of anxiety, you kind of want to get going. But once I settled down, I was fine. The greens were spectacular. I love these greens and I putted it really well."
Harwell was the Defending Champ heading into this year's Carolinas Senior Amateur Championship, and he managed to take home the win for the second year in a row.
When asked what his mindset and strategy were heading into this week as the Defending Champ, Harwell explained, "you have to take care of your own stuff. You have to hit your own shots, play the course. You had to think your way around the course a lot because there were a lot of fairway bunkers that were in play."
After winning the N.C. Senior Amateur Championship earlier this year, and now sealing the win at the Carolinas Senior Amateur Championship, Harwell said, "it's nice to know that you won both championships in the same year. To defend, that's a pretty good accomplishment, so it's been a good year."
Ron Kirkpatrick of Charlotte, N.C., and Yancey Johnson of Simpsonville, N.C., finished tied for second place with a three-day total of 211, 5-under. Lee Porter of Pinehurst, N.C., took fourth place with a score of 212, 4-under for the week.
Thank you to Superintendent Nick Gibson, Head Pro Mike Wesko and his assistants Thomas Bruening and Douglas Brehm, and the rest of Cutter Creek Golf Club staff for hosting the 62nd Carolinas Senior Amateur Championship.
About the Carolinas Golf Association (CGA)
The CGA is a 501(c)(3) not-for-profit educational organization founded in 1909 to promote and protect the game of golf in the Carolinas by providing competitions, education, support, and benefits to golf clubs and golfers. The CGA is the second largest golf association in the country with over 700 member clubs represented by nearly 150,000 individuals.
The CGA annually conducts 48 championships and five team match competitions for men, women, juniors, and seniors. It also runs over 150 One-Day (net and gross) events and qualifying for USGA national championships. The CGA serves golf in the Carolinas with numerous programs such as: the USGA Handicap System; tournament management software and support; course measuring and course/slope ratings; agronomy consultation; answers about the Rules of Golf, Rules of Amateur Status, and Handicapping; Carolinas Golf Magazine; Interclub series; Tarheel Youth Golf Association; Carolinas Golf Hall of Fame; expense assistance for USGA Junior and Girls' Junior qualifiers from the Carolinas; and the Carolinas Golf Foundation (CGF). The CGF has distributed nearly $2,000,000 since 1977 to benefit Carolinas' golf initiatives, including junior and women's programs.
For more information about the Carolinas Golf Association, follow @cgagolf1909 on Instagram, Twitter, Facebook, and TikTok or visit our website www.carolinasgolf.org/
#30#