McBrien Claims Creed Title in Harsh Conditions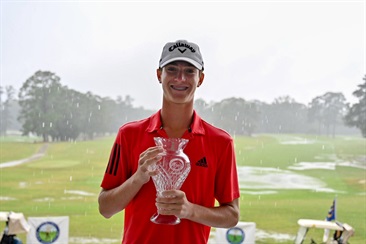 CAMDEN, S.C. (September 17, 2023) -- Final results of the 11th Creed Junior Boys Invitational at Camden Country Club in Camden, S.C. on September 17, 2023. The field competed at 6,403 yards (par 35-35--70).
The 11th Jimmy Creed Junior Boys Invitational, hosted by Camden Country Club, wrapped up under heavy rain with a new champion crowned. Daniel McBrien, from Holly Springs, N.C., put together a stellar three-round score of 8-under-par, 202 total, across two days, including a difficult back nine today in wet conditions to capture his first CGA Championship. McBrien was one of three players to finish under par for the tournament and just one of two under par in today's challenging weather.
For its 11th iteration, the Creed Invitational followed last year's new format, adding an additional 18 holes on top of the traditional 36 played at this event. The 54-hole shotgun format was implemented to imitate the style of competition many golfers in this year's field will soon experience when playing at the next level. With college coaches in attendance, this year's Championship created another tremendous stage for the boys to show their abilities. This test forced players to walk 36 consecutive holes on Saturday, fortunately under perfect conditions, and the final 18 on Sunday, a challenge again for many golfers as fatigue and soggy conditions set in by the end of Sunday's round.
When asked how the win felt, McBrien remarked, "This means a great deal to me. I played really solid for three rounds, and these guys played great and continued to push me all day long." He added he "had to make several big par saves down the stretch on the front nine."
Beginning the day with a one-stroke lead, McBrien put together a string of six birdies through 13 holes, a significant enough lead to hang onto down the stretch as conditions worsened and bogeys became a decent score. McBrien ended the tournament with rounds of 67, 68, and 67 to capture the title at 8-under, a 202 total.
For the final round on Sunday, the Invitational saw the lead group play extremely strong golf, especially McBrien, Bizzell Pate of Pinehurst, N.C., and Aston Lee of Charlotte, N.C. The trio were dialed in with their approach shots and were making putt after putt as they pulled away from the field.
Pate, the opening 18-hole leader, hung around all day, coming up just short, finishing two shots back after scores of 67, 70, 68 for a 6-under 204 total. Lee fired 70, 67, and 72 rounds to finish 1-under, a 209 total, after a few unfortunate bogeys down the stretch as players attempted to finish up in the downpour.
As CGA staff did their best to squeegee greens and help players and parents off the course, McBrien would chip on to eighteen, and the foursome made the best of their putts to close up a very eventful championship.
"This is an incredible tournament, and I'm thrilled to play and win over this tough field," said an elated McBrien as the rain continued to fall in the background.
The Carolinas Golf Association would like to thank the staff at Camden Country Club, especially Matt McCarley, Head Professional, and Nice Price, Course Superintendent, for graciously hosting the 11th Creed Junior Boys Invitational.
Event: 11th Creed Junior Boys Invitational
Host Site: Camden Country Club in Camden, S.C.
Playing Dates: September 16-17, 2023
Social Media: @CGAgolf1909
Final Results: Leaderboard
About the Carolinas Golf Association (CGA)
The CGA is a 501(c)(3) not-for-profit educational organization founded in 1909 to promote and protect the game of golf in the Carolinas by providing competitions, education, support, and benefits to golf clubs and golfers. The CGA is the second largest golf association in the country with over 700 member clubs represented by nearly 150,000 individuals.
The CGA annually conducts 48 championships and five team match competitions for men, women, juniors, and seniors. It also runs over 150 One-Day (net and gross) events and qualifying for USGA national championships. The CGA serves golf in the Carolinas with numerous programs such as: the USGA Handicap System; tournament management software and support; course measuring and course/slope ratings; agronomy consultation; answers about the Rules of Golf, Rules of Amateur Status, and Handicapping; Carolinas Golf Magazine; Interclub series; Tarheel Youth Golf Association; Carolinas Golf Hall of Fame; expense assistance for USGA Junior and Girls' Junior qualifiers from the Carolinas; and the Carolinas Golf Foundation (CGF). The CGF has distributed nearly $2,000,000 since 1977 to benefit Carolinas' golf initiatives, including junior and women's programs.
For more information about the Carolinas Golf Association, follow @cgagolf1909 on Instagram, Twitter, Facebook, and TikTok, or visit our website www.carolinasgolf.org
##30##