Durrance and Price Win the Carolinas Mixed Team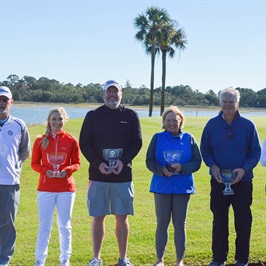 KIAWAH ISLAND, S.C. (November 17, 2019) -- Final results from the 14th Carolinas Mixed Team Championship at Kiawah Island Resort (Oak Point) in Kiawah Island, S.C. on Sunday, November 17, 2019.
Related: Championship Web Site | Scoring | History
Joel Durrance and Kaitlyn Price of Raleigh, N.C. battled through tough conditions and a fierce field to win the 14th Carolinas Mixed Team Championship at Kiawah Island Resort's Oak Point Course.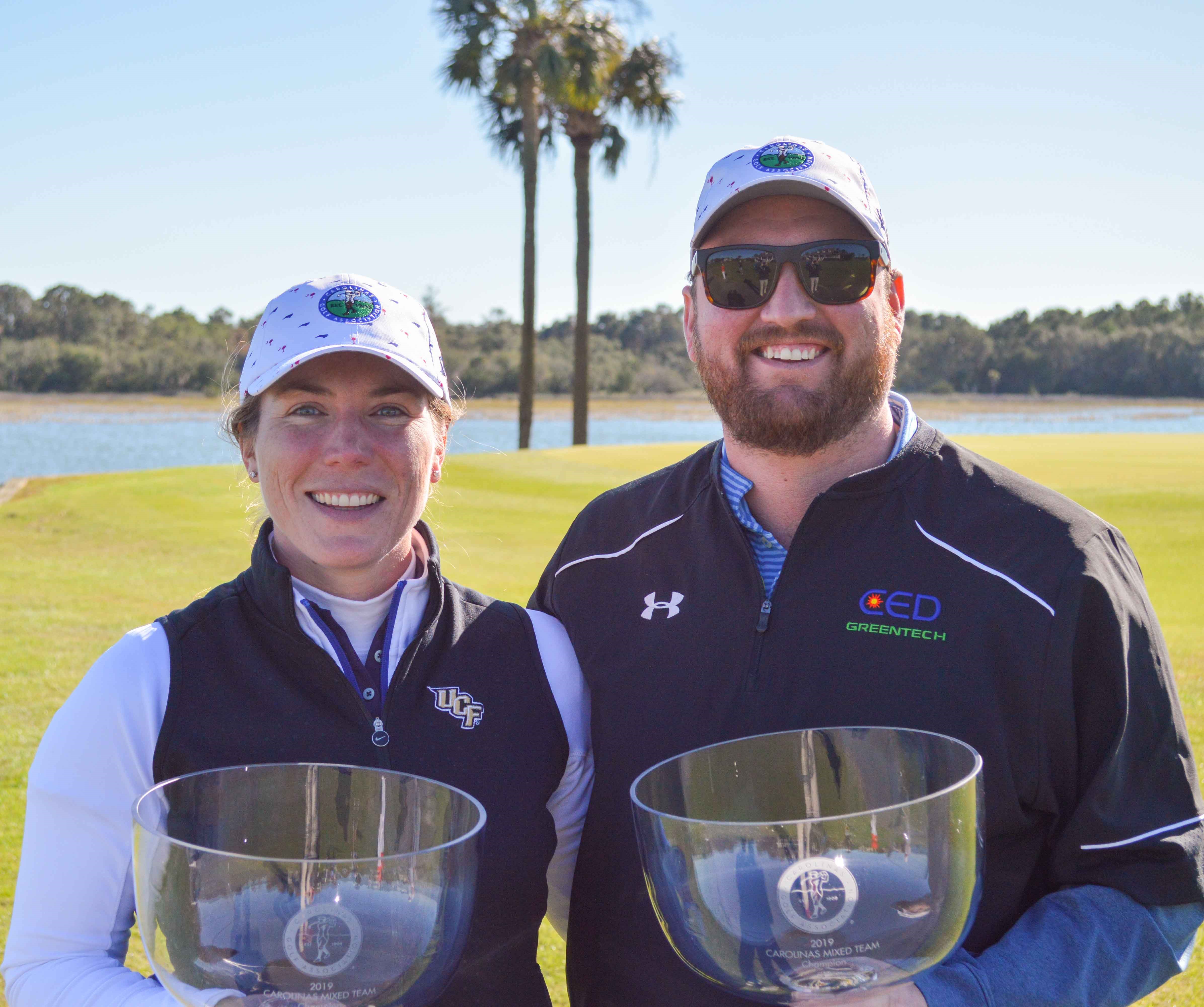 Championship Division Winners, Kaitlyn Price and Joel Durrance of Raleigh, N.C.
Despite the cold, wet and rainy weather in Saturday's opening round, Durrance and Price were able to finish with the low round of the Championship; a five-under-par, 67. The duo didn't rest on their three-shot lead, firing a four-under-par, 68 in round two to run away with the Championship by 10 shots at 9-under-par, 135. Price and Durrance were the only side in the Champion Division to shoot in the 60's in either round of the event.
Two teams finished tied for second place in the Championship Division at one-over-par, 145 including the seven-time Carolinas Mixed Team champions, Anthony Adams and Debbie Adams of Asheville, N.C. Alex Finke of Charleston, S.C. and playing partner, Jaelyn Tindal of Charleston, S.C., also finished in a tie for second place. Tindal won the 2018 Carolinas Women's Four-Ball with her sister, Jodee Tindal.
The defending Carolinas Mixed Team champions, Alex Burris of Greensboro, N.C. and Patricia Thompson of Lenior, N.C., finished in fourth place at 3-over-par, 147.

In the Tournament Division, the round one leaders, Lance Rhodes and Madison Jordan of Anderson, S.C. were also able to hold onto their round-one lead to win the Division. They fired a four-over-par, 76 in round two to finish at four-over-par, 148 to win the Tournament Division by five shots over their closest competitors.

In the Senior Division, our reigning Carolinas Senior Women's Player of the Year, Lea Anne Brown along with her playing partner, Mark Hoover, both of Mount Pleasant, S.C., were the only team to finish under par. They shot a consistent pair of 3-under-par, 69's in round one and round two to win the Senior Division by a staggering 15 shots at 6-under-par, 138.

The Super Senior Division had the tightest race coming down the final stretch of the Championship. Bruce Beck and Jackie Beck of Myrtle Beach, S.C. won their division by two shots after finishing at 10-over-par, 154 total for the Championship.

The Carolinas Golf Association would like to thank the club members and staff of the Kiawah Resort for hosting the 14th Carolinas Mixed Team Championship. A special thank you to the Oak Point Course's Head Professional, Deron Lee and Golf Course Superintendent, Lee Painter.

The championship is contested over 36 holes using a mixed format of four-ball and modified alternate shot. Gross scores only. Teams may choose to compete in any division in which they are eligible: Championship Division, Tournament Division (shorter course), Senior Division (male age 55+, female age 50+), or Super Senior Division (male age 65+, female age 65+). Tournament Division plays a shorter course and is ineligible for the overall championship. Tournament, Senior and Super Senior Divisions will be pre-flighted by total team handicap index. Team handicap index is computed by adding 2/3 of the lower handicap index to 1/3 of the higher handicap index.
Entry is open to any team comprised of a male amateur and a female amateur golfer who have reached their 13th birthday by November 16, 2019, maintain a residence in North Carolina or South Carolina, are members in good standing of a club which is a member of the Carolinas Golf Association (CGA) and have an active GHIN USGA Handicap Index at a CGA member club.

14th Carolinas Mixed Team Championship
Kiawah Island Resort (Oak Point)
Final Results