Pinehurst, Rivertowne Lead Divisions After Round 1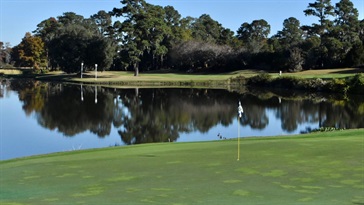 PAWLEYS ISLAND, S.C. (November 17, 2021) -- The Carolinas Golf Association conducted the first round of the 5th Carolinas Women's Club Team Championship at Caledonia Golf and Fish Club in Pawleys Island, S.C. from November 17-18, 2021. The field competed at approximately 4,957 yards, par 70.
Related: Championship Web Site | Full Field of Players | Starting Times | Scoring | History
Three-time Championship winners Pinehurst Country Club are in the driver's seat after the first round of the Carolinas Women's Club Team Championship, as they sit at 12-under-par in the Championship division.
The duo of Patty Moore and Kendra Muir in a Captain's Choice format finished at 8-under-par as a team, while their teammates Sarah Phillips-Durst and Amy Rich cruised to a 4-under-par first round total to lead to a two shot lead going into the final day.
The team from Pinehurst is just outpacing their counterparts, Pinehurst Country Club (2), who finished their first round at 10-under-par as a team. Toni Notaro and Jill Harmon rocketed to a total of 7-under-par as a tandem, while Donna Tanner and Murrie Ives added necessary support in the form of a team total of 3-under-par.
In the Carolinas Division Rivertowne Country Club's talent and depth was on full display, with a total of 13-under-par giving them a first round lead. Teammates Lori Brown and Helen Berg paced Rivertowne with a score of 7-under-par as a pair, while Robin Moyer and Kathy Joyce turned in a score of 6-under-par to stay in stride with their teammates.
Seabrook Island Club is just on the heels of Rivertowne, with a team total of 12-under-par at the conclusion of the first day. Misty Wise and Diane Eberhard turned in a scorecard of 7-under-par, while their teammates Cathy Martin and Tracy Thorne finished the day at 5-under-par.
Schedule of Rounds:
Thursday, November 18
Final Round - 18 Holes of Pinehurst Alternate Shot
About the Carolinas Golf Association (CGA)
The CGA is a 501(c)(3) not-for-profit educational organization that was founded in 1909 to promote and to protect the game of golf in the Carolinas by providing competitions, education, support and benefits to golf clubs and golfers. The CGA is the second largest golf association in the country with over 700 member clubs represented by nearly 150,000 individuals.
The CGA annually conducts 48 championships and five team match competitions for men, women, juniors, and seniors. It also runs over 150 One-Day (net and gross) events as well as qualifying for USGA national championships. The CGA serves golf in the Carolinas with numerous programs such as: the USGA Handicap System; tournament management software and support; course measuring and course/slope ratings; agronomy consultation; answers about the Rules of Golf, Rules of Amateur Status, and Handicapping; Carolinas Golf Magazine; Interclub series; Tarheel Youth Golf Association; Carolinas Golf Hall of Fame; expense assistance for USGA Junior and Girls' Junior qualifiers from the Carolinas; and the Carolinas Golf Foundation (CGF). The CGF has distributed nearly $2,000,000 since 1977 to benefit Carolinas' golf initiatives including junior and women's programs.
For more information about the CGA, visit our website.
##30##