Carolinas Golf Hall of Fame to Induct Dana Rader and Clarence Rose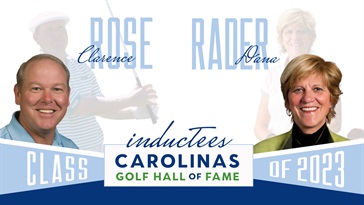 SOUTHERN PINES, NC — A PGA Tour veteran from Eastern North Carolina and a noted teaching professional with roots in the western part of the state have been named to the Carolinas Golf Hall of Fame.
Clarence Rose, a native and current resident of Goldsboro and winner of the 1996 Sprint International on the PGA Tour, and the late Dana Rader, a native of Morganton and founder of the Dana Rader Golf School at Ballantyne, are the latest to join the prestigious hall managed by the Carolinas Golf Association. They will be inducted into the Hall of Fame in ceremonies on October 28 at the Pinehurst No. 9 clubhouse.
Register Here
for the 2023 Carolinas Golf Hall of Fame Induction Ceremony
Rader will be celebrated posthumously following her death on August 17, 2022, at the age of 64, to a rare neurodegenerative disease. She was an all-conference basketball player at Freedom High in Morganton but decided to concentrate on golf, the sport her dad introduced her to when she was 15. Rader learned from club professional Joe Cheves and golf great Billy Joe Patton at Mimosa Hills Country Club in her hometown and made the men's golf team at Pfeiffer University. She was inducted into Pfeiffer's Hall of Fame in 1996.
Rader began her teaching career in 1980 at Myers Park Country Club in Charlotte and achieved LPGA Class A status in 1984. She launched the Dana Rader Golf School in 1987 and for many years, ran it out of Ballantyne Hotel and Lodge in Charlotte. She sold the school in 2017 with thoughts of moving to Hilton Head and retiring. She did in fact, relocate but missed teaching and soon got back into the teaching game, working at Sea Pines Plantation and then Belfair.
"Dana knew what to do for each golfer," said Julie Shore, an avid golfer who took lessons from Rader and became good friends. "It was not like she was a system teacher and everyone does this or that. She could look at a golfer and know exactly what needed to be done for that golfer. She was fun. She was honest and forthright. She could rip you apart and make you laugh at the same time." Shore added, "It's an honor to know that Dana is being recognized for her incredible impact on the business of golf, the quality of golf instruction, and the people she touched in her too-short life."
Over four decades, Rader collected a display case worth of honors and awards. She was named one of the top teachers in the nation by Golf Magazine, Golf Digest, and Golf for Women. She was named LPGA National Teacher of the Year in 1990 and was inducted into the LPGA Teaching and Club Professionals Hall of Fame in 2017. In 2015, she received the LPGA's highest honor for teaching professionals, the Ellen Griffin Award, and in 2019, was given Emeritus Status in Golf Magazine's top 100 Teachers in America. She followed in 2020 with the Nancy Lopez Golf Achievement Award, recognizing the teaching professional "who best emulates Lopez's qualities of leadership, passion, giving and approachability."
"People were drawn to her," said her brother, Brian. "She pulled them in with her magnetism. They loved her."
Rader looked up to Peggy Kirk Bell, a fellow luminary in the golf world and the golf instruction profession. "Dana has given so much to the game of golf," said Peggy's daughter, Peggy Bell Miller. "Her efforts have made the game better. She is very deserving of the honor."
Current United States Golf Association CEO Mike Whan worked with Rader on a number of LPGA platforms when he was LPGA Commissioner. "Her unique blend of laser focus, contagious passion, and love for the game made her a one-of-a-kind teacher," Whan said.
"The golf world truly misses her enthusiasm, leadership, giving attitude, and love of the game that she always wanted to share," LPGA Hall of Famer Nancy Lopez said. "She always had a smile on her face and a positive attitude in life. She was a superstar in golf."
Rose, 65, was born and grew up in Goldsboro. Baseball was his first love, but he developed knee problems as a youth league catcher and started playing golf at age 12.
He won his first junior title at age 14 and played golf at Mount Olive Junior College, leading the team to the Junior College National Finals in 1977 and then winning the 1978 N.C. Amateur. He transferred to Clemson, played for the Tigers, and made All-America in 1979.
A fourth-place finish in the 1981 PGA Tour Q-School in the spring of 1981 earned him a spot on the PGA Tour. He made 16 cuts in 27 events in his first full year of 1982 and proceeded throughout the 1980s to play solid golf, winning nearly a quarter of a million dollars in both 1988 and '89, with six runner-up finishes in the 1980s.
Rose took what was essentially a three-year break from competitive golf from 1992-94 to tend to his family, which included wife Jan and young children Clark and Allison. Clark was diagnosed with testicular cancer at 20 months and required surgery. He made a full recovery and went on to play college golf and become a PGA professional, and that personal trauma led Rose to establish the Clarence Rose Foundation to assist needy children in Goldsboro.
Rose ventured back into pro golf in 1995 on what was then known as the Nike Tour, winning the Pensacola Classic in 1995. That set him up to snare his one PGA Tour victory when he sank a 30-foot eagle putt on the third playoff hole to beat Brad Faxon at Castle Pines in Colorado in 1996. He played two more years full-time and shut down his playing career in the late 1990s with more than $2.5 winnings and 29 career Top 10 finishes.
Rose has been the head pro at Walnut Creek Country Club in Goldsboro since 2010. He works with his son, Clark. "Clark's the Class A pro, I'm the cart boy," Rose jokes. "Seriously, I've enjoyed it. It's totally different. This is the first job I've had other than playing golf. I'm in the service arena now instead of being served. On the pro golf tour, everyone takes care of what you need. That's my job now. It's fun, and we have a great membership.
"It's pretty special to get into any hall of fame, but being from North Carolina, to get in the Carolinas Hall of Fame is quite an honor. There are some great golfers in there. We have a great membership here at Walnut Creek, and I'm very honored they thought to nominate me."
Rose's amicable nature, teaching skills, and organization abilities have endured him to Walnut Creek members. He proudly displays in his office a photograph of an eight-year-old Ella Jane Hannant, a Walnut Creek member, waving her hand and holding her trophy from the 2018 Drive Chip and Putt Championship at Augusta National.
"Clarence is the hardest working, most hands-on golf professional I have worked with in more than 30 years at Walnut Creek," former club president Ken Ritt said. "He brought a renewed enthusiasm to our golf program and a professional quality to our pro shop and staff."
"He is a wonderful ambassador for the game who is dedicated to its growth while also supporting his community and many deserving charities," Jack Nicklaus said.
Author Jim Dodson knew Rose from their respective days writing about and playing on the PGA Tour in the 1980s, and Dodson spoke at a fundraising dinner in Goldsboro in 2015, where he reconnected with Rose and met a number of Walnut Creek members.
"His enthusiasm for his work as a club professional was first-rate and a delight to behold," Dodson said. "His members all seemed to know him on a first-name basis and spoke glowingly of his service to the club and local community. Everyone seemed to love this guy and have an affectionate Clarence Rose story to tell."
Founded in 1981, the Carolinas Golf Hall of Fame recognizes individuals who have contributed to the game of golf and have a connection to the Carolinas. The plaques commemorating all of the inductees are housed in the convention hall of the Carolina Hotel of Pinehurst Resorts. The Carolinas Golf Hall of Fame is under the care of the Carolinas Golf Association.
About the Carolinas Golf Association (CGA)
The CGA is a 501(c)(3) not-for-profit educational organization founded in 1909 to promote and protect the game of golf in the Carolinas by providing competitions, education, support, and benefits to golf clubs and golfers. The CGA is the second largest golf association in the country with over 700 member clubs represented by nearly 150,000 individuals.
The CGA annually conducts 48 championships and five team match competitions for men, women, juniors, and seniors. It also runs over 150 One-Day (net and gross) events and qualifying for USGA national championships. The CGA serves golf in the Carolinas with numerous programs such as: the USGA Handicap System; tournament management software and support; course measuring and course/slope ratings; agronomy consultation; answers about the Rules of Golf, Rules of Amateur Status, and Handicapping; Carolinas Golf Magazine; Interclub series; Tarheel Youth Golf Association; Carolinas Golf Hall of Fame; expense assistance for USGA Junior and Girls' Junior qualifiers from the Carolinas; and the Carolinas Golf Foundation (CGF). The CGF has distributed nearly $2,000,000 since 1977 to benefit Carolinas' golf initiatives, including junior and women's programs.
For more information about the Carolinas Golf Association, follow @cgagolf1909 on Instagram, Twitter, Facebook, and TikTok, or visit our website www.carolinasgolf.org
##30##