Hendley wins NC Super Senior Championship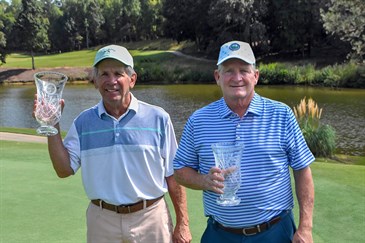 MOORESVILLE, NC (September 7, 2023) -- The Carolinas Golf Association conducted the Final Round of the 15th North Carolina Super Senior Championship at Mooresville Golf Club in Mooresville, N.C., on September 7, 2023. The 65+ Division competed at 5,754 yards (par 36-36--72), while the 70+ Division competed at 5,477 yards (par 36-36--72).
Todd Hendley of Columbus, N.C., captured the 15th North Carolina Super Senior Championship from Mooresville Golf Club with an overall finish of 7-under-par, 137 total over two days.
Coming into the final round, Hendley was tied with Doug Owens of Albemarle, N.C., for the lead after both had strong opening rounds of 4-under-par, 68. Hendley carried the momentum into the final round with another strong card, a 69 3-under-par to win the tournament by one stroke.
After two early bogeys, Hendley reeled off five birdies the rest of the way to hang on over Randall Sullins of Claremont, N.C., who finished at 6-under after matching 69 - 69 rounds (138 total). Sullins made things very interesting, going 3-under on his final nine holes, including an eagle on the 15th. Coming in third place, with five birdies on his final day, was James Pearson of Charlotte, N.C., with a solid 69 - 70 two days for a 139 total.
In the 70+ Division, Dee Blankenhorn of Raleigh, N.C., ran away with the title with an incredible performance and five-stroke lead. Blankenhorn finished 6-under after stellar 68 – 70 rounds (138 total). His round today included four birdies and an eagle on hole number two.
Robert Desjardins of Matthews, N.C., had two fine rounds to find himself in second place at 1-under after 74 – 69 rounds (143 total). Desjardins had an impressive four birdies on his final days' card. Rounding out the top three was a tie between John Bunn and Evan Long, both of Raleigh, N.C. Bunn fired a strong 69 after an opening 75, while Long went 73 and 71, both a 144 total and even-par overall.
The Carolinas Golf Association would like to thank the staff at Mooresville Golf Club, especially Luke Steimke, Golf Course Manager, Jeremy Elliott, Head Professional, and Shane Staples, Course Superintendent, for graciously hosting the 15th North Carolina Super Senior Championship.
Final Round Results: 65+ Division / 70+ Division
About the Carolinas Golf Association (CGA)
The CGA is a 501(c)(3) not-for-profit educational organization founded in 1909 to promote and protect the game of golf in the Carolinas by providing competitions, education, support, and benefits to golf clubs and golfers. The CGA is the second largest golf association in the country with over 700 member clubs represented by nearly 150,000 individuals.
The CGA annually conducts 48 championships and five team match competitions for men, women, juniors, and seniors. It also runs over 150 One-Day (net and gross) events and qualifying for USGA national championships. The CGA serves golf in the Carolinas with numerous programs such as: the USGA Handicap System; tournament management software and support; course measuring and course/slope ratings; agronomy consultation; answers about the Rules of Golf, Rules of Amateur Status, and Handicapping; Carolinas Golf Magazine; Interclub series; Tarheel Youth Golf Association; Carolinas Golf Hall of Fame; expense assistance for USGA Junior and Girls' Junior qualifiers from the Carolinas; and the Carolinas Golf Foundation (CGF). The CGF has distributed nearly $2,000,000 since 1977 to benefit Carolinas' golf initiatives, including junior and women's programs.
For more information about the Carolinas Golf Association, follow @cgagolf1909 on Instagram, Twitter, Facebook, and TikTok, or visit our website www.carolinasgolf.org
##30##