US Mid-Am Qualifying - Mill Creek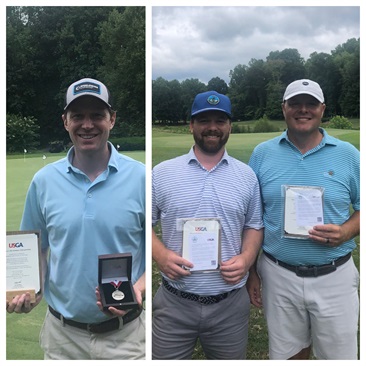 MEBANE, N.C. (August 16, 2022) -- Final results from U.S. Mid-Amateur Qualifying at Mill Creek Golf Club in Mebane, N.C. on Tuesday, August 16, 2022 (6,951 yards, par 72).
Three qualifying spots and two alternate spots were available at this qualifying site.
Tim Dillon of Charlotte, N.C. won medalist honors with a round of four-under-par 68. Three players ended the day tied at three-under-par 69 and needed a playoff to determine their finishing position. Wade Boteler of Burlington, N.C. and Chris Cassetta of High Point, N.C. won the qualifying spots in the playoff. Paul Huber of Charlotte, N.C. will be the first alternate. Cyrus Stewart of Raleigh, N.C. will be the second alternate after shooting a round of two-under-par 70 and advancing out of a 5 for 1 playoff.
The qualifiers will advance to the 41st U.S. Mid-Amateur Championship at Erin Hills in Erin, Wisconsin from September 10-15, 2022.
Hole-by-hole scoring can be viewed here.
US Mid-Amateur Qualifying Results
Mill Creek Golf Club, Mebane, N.C.
August 16, 2022
Pos.

Player

Affiliation

To Par

Total Score

Details

1

Tim Dillon

Charlotte, North Carolina

-4

68

T2

Wade Boteler

Burlington, North Carolina

-3

69

T2

Chris Cassetta

High Point, North Carolina

-3

69

The following players did not make the cut

CUT

Paul Huber

Charlotte, North Carolina

-3

69

First Alternate

CUT

Cyrus Stewart

Raleigh, North Carolina

-2

70

Second Alternate

CUT

Tommy Miller

Blowing Rock, North Carolina

-2

70

CUT

James Bass

Asheboro, North Carolina

-2

70

CUT

Ryan Gioffre

Greensboro, North Carolina

-2

70

CUT

Stephen Lavenets

Willow Spring, North Carolina

-2

70

CUT

William Buchanan

Greensboro, North Carolina

-1

71

CUT

Ryan Nagy

Raleigh, North Carolina

-1

71

CUT

James Bohn

Cary, North Carolina

-1

71

CUT

Jeremy Ray

Pfafftown, North Carolina

-1

71

CUT

Reeves Zaytoun

Raleigh, North Carolina

-1

71

CUT

Mark Olbrych

Raleigh, North Carolina

-1

71

CUT

David Mcfarlin

Chicago, Illinois

E

72

CUT

Benjamin Pinkleton

Greensboro, North Carolina

E

72

CUT

Jd Mcneill

Raleigh, North Carolina

E

72

CUT

Walker Taylor

Wrightsville Beach, North Carolina

E

72

CUT

Walt Todd Jr.

Greenville, South Carolina

E

72

CUT

Garrett Cox

Charlotte, North Carolina

E

72

CUT

Jordan Edgerton

Charlotte, North Carolina

E

72

CUT

Joe Kastelic

Newton, North Carolina

E

72

CUT

Russell Burke

Raleigh, North Carolina

E

72

CUT

Will Minton

Raleigh, North Carolina

1

73

CUT

Jack Mcclelland

North Carolina

1

73

CUT

Joe Jaspers

Huntersville, North Carolina

2

74

CUT

Michael Swiger

Raleigh, North Carolina

2

74

CUT

Luke Haithcock

Burlington, North Carolina

2

74

CUT

Mike Robb

Winston-salem, North Carolina

2

74

CUT

Tim Washburn

Raleigh, North Carolina

2

74

CUT

David Fowler

Winston-salem, North Carolina

2

74

CUT

Simon Boteler

Raleigh, North Carolina

2

74

CUT

Jason Smith

Raleigh, North Carolina

2

74

CUT

Burton Wood

Siler City, North Carolina

3

75

CUT

Brian Urban

Holly Springs, North Carolina

3

75

CUT

James Lightsey

Indian Land, South Carolina

3

75

CUT

Kyle Austin

Mebane, North Carolina

3

75

CUT

Kevin Omundson

Huntersville, North Carolina

4

76

CUT

Matt Paciocco

Richmond, Virginia

4

76

CUT

John Eades

Charlotte, North Carolina

4

76

CUT

Trevor Krawchuk

Chapel Hill, North Carolina

4

76

CUT

Bill Hyder

Charlotte, North Carolina

4

76

CUT

Ray Grant

Gastonia, North Carolina

5

77

CUT

Steven Hale

Holly Springs, North Carolina

5

77

CUT

Frederick Gahl

Raleigh, North Carolina

5

77

CUT

William Kaylor

Raleigh, North Carolina

5

77

CUT

Chris Finn

Raleigh, North Carolina

5

77

CUT

Dustin Moore

Burlington, North Carolina

6

78

CUT

William Mitchell

Roxboro, North Carolina

6

78

CUT

Wes Vance

Raleigh, North Carolina

7

79

CUT

Paul Slomkowski

Colfax, North Carolina

8

80

CUT

Zachary Sexton

Charlotte, Nc, North Carolina

8

80

CUT

Chris Luoma

Holly Springs, North Carolina

8

80

CUT

Kyle Davis

Charlotte, North Carolina

8

80

CUT

James York

Raleigh, North Carolina

9

81

CUT

Micah Alexander

Durham, North Carolina

10

82

CUT

Bill Reduzzi

Raleigh, North Carolina

10

82

CUT

Tully Coyle

Charlotte, North Carolina

11

83

CUT

Matthew Mcintyre

Garner, North Carolina

11

83

CUT

Tom Chuaypradit

12

84

CUT

Stephen Harward

Durham, North Carolina

12

84

CUT

Bruce Bevins

Matthews, North Carolina

16

88

CUT

Matthew Franken

Charlotte, North Carolina

17

89

CUT

Jason Wilburn

Hillsborough, North Carolina

19

91

CUT

William Downes

Chapel Hill, North Carolina

-

DNF