Daniel Island Club Crowned Senior Interclub Champions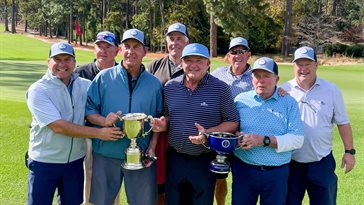 SOUTHERN PINES, N.C. (November 2, 2022) – Final results of the 7th Carolinas Senior Interclub Final Four at Mid Pines Inn & Golf Club in Southern Pines, N.C. on Wednesday, November 2, 2022.
Related: Championship Website | Final Results | Photos
After five months of regular season round robin play, followed by seven single elimination team matches, Daniel Island Club No. 1 were able to claim the 7th Carolinas Senior Interclub Championship defeating Pinehurst Country Club MGA, 43.50 - 36.50.
Daniel Island was tested by the strong competition from Pinehurst, but two key 3 & 2 wins helped secure the win for the first ever South Carolinian Champions.
In the first match, Bob Calhoun and Juan Acevedo of the Daniel Island Club team went back and forth all morning with Donovan Bachtell and Larry Cracraft of Pinehurst Country Club. After becoming 2-down after 13 holes, the Pinehurst duo was able to fight their way back and finish the match tied, 10-10.
The second match of the day saw Daniel Island's captain Matt Walker and Jeff Burton take on Kirk Adkins and Douglas Green of Pinehurst Country Club. The captain and his teammate were too fierce to take down. Walker and Burton were 4-up after 8 holes. With the hole too deep to dig out, the Daniel Island side secured 12 points for the team.
The lone win for Pinehurst Country Club came from the third match. Frank Rutan and Jeff Abbott of Daniel Island were paired against Kevin Ennis and Reid Dawson of Pinehurst. Both teams went back and forth for the entirety of the front nine. A big par putt for Rutan and Abbott put the pair 2-up after 10 holes. Ennis and Dawson immediately followed up with a clutch par and fist pump on No. 11 to change the momentum of the match. Ennis and Dawson went on to win three out of the seven remaining holes to finish 1-up and secure 11.5 points for Pinehurst.
In the anchor match, the Daniel Island team of Johnny Dangerfield and Tyler Hall squared off against Richard Goe and Bill Andrews of Pinehurst. Dangerfield and Hall were able to take the first hole and jump out to an early lead, as Hall slid in a knee-knocker for par. Goe and Andrews weren't discouraged by the opening hole and would go on to win the next two holes. After being 1-up through No. 9, Dangerfield and Hall took control of the match winning Nos. 10 and 11. The pair didn't turn back and went on to secure the final 13 points and the win for Charleston's Daniel Island Club.
Captain Walker was ecstatic after the day. His team traveled over a combined 2,000 miles throughout the playoffs, and in his eyes, the long journey to Southern Pines was well worth it. Walker thanked Mid Pines Inn & Golf Club and its staff for hosting the Championship. He especially wanted to thank the course maintenance team for working hard and maintaining the excellent course conditions.
With 139 teams kicking off the regular season, 88 teams would qualify for the playoffs and a chance to win the 7th Carolinas Senior Interclub Championship. Daniel Island Club will see their name engraved on the Thomas J. Thorpe trophy, named after our dedicated Interclub Coordinator, executive committee board member and long-time supporter and advocate of the Carolinas Golf Association.
The CGA wishes to thank the members and staff of Mid Pines Inn & Golf Club. Especially the General Manager/Director of Golf, Graham Gilmore, Head Golf Professional, Brett Harless and Director of Golf Course Maintenance, David Fruchte.
7th Carolinas Senior Interclub Final Four
Mid Pines Inn & Golf Club, Southern Pines, N.C.

Semifinals Results
Daniel Island Club 1 def. Country Club of Charleston, 46 - 34
Pinehurst Country Club MGA def. Sapona Club, 44 - 36

Final Results
Daniel Island Club 1 def. Pinehurst Country Club MGA, 43.5 - 36.5
About the Carolinas Golf Association (CGA)

The CGA is a 501(c)(3) not-for-profit educational organization that was founded in 1909 to promote and to protect the game of golf in the Carolinas by providing competitions, education, support and benefits to golf clubs and golfers. The CGA is the second largest golf association in the country with over 700 member clubs represented by nearly 150,000 individuals.
The CGA annually conducts 48 championships and five team match competitions for men, women, juniors, and seniors. It also runs over 150 One-Day (net and gross) events as well as qualifying for USGA national championships. The CGA serves golf in the Carolinas with numerous programs such as: the USGA Handicap System; tournament management software and support; course measuring and course/slope ratings; agronomy consultation; answers about the Rules of Golf, Rules of Amateur Status, and Handicapping; Carolinas Golf Magazine; Interclub series; Tarheel Youth Golf Association; Carolinas Golf Hall of Fame; expense assistance for USGA Junior and Girls' Junior qualifiers from the Carolinas; and the Carolinas Golf Foundation (CGF). The CGF has distributed nearly $2,000,000 since 1977 to benefit Carolinas' golf initiatives including junior and women's programs.
For more information about the CGA, visit our website.
##30##