The Stage is Set for the Inteclub Final Four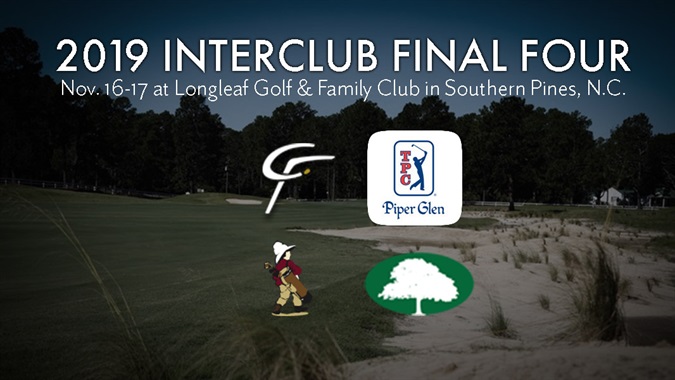 From 91 teams down to four. The CGA Regular Interclub season's final four is set to begin and the top-ranked teams will go head-to-head for the title.
In the East Bracket, the No. 1 seed, Tanglewood Park Golf Club of Clemmons, N.C. will face the No. 2 seed, Pinehurst Country Club (Nos. 7 & 9) of Pinehurst, N.C..
In the West Bracket, the No. 1 seed, Cowan's Ford Golf Club of Stanley, N.C. will also face off against the No. 2 seed in their bracket - TPC Piper Glen (#2) of Charlotte, N.C.
The two semifinal matches will take place on Saturday, November 16 at Longleaf Golf & Family Club in Southern Pines, N.C. The winning team from each match will face off in the finals on Sunday, November 17 to see who will claim the title of 2019 CGA Interclub champions.
Team Captains:
Mark Grabants (Cowans Ford GC)
Mark Harper Jr (Tanglewood Park GC)
Lonnie Bernath (TPC Piper Glen)
Patrick Butler (Pinehurst CC (Nos. 7&9))
For more information about the Championship including pairings, tee times and results, visit the 2019 CGA Interclub Page here.
Pairings
Results