Preview: 10th Carolinas Mixed Team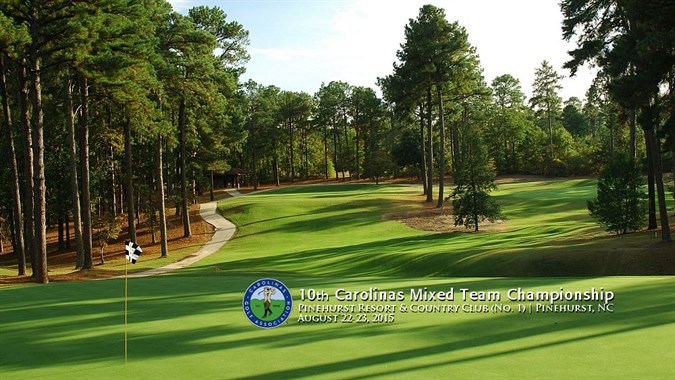 10th Carolinas Mixed Team Championship Preview
Debbie & Anthony Adams seek their 8th Mixed Team title
SOUTHERN PINES, N.C. -- The Carolinas Golf Association's 10th Carolinas Mixed Team Championship will be played August 22-23 at Pinehurst Resort & CC (No. 1) in Pinehurst, N.C.
Last year, Debbie and Anthony Adams of Asheville, N.C. fired back-to-back subpar rounds of 69 and 66 at The Players Club of St. James Plantation to claim their seventh Mixed Team title by eight shots over Michael and Virginia Mayer of New London, N.C. Team Adams's seven titles is the most in the championship's history and this year they will vie for a chance to add one more. The defending champions have the odds in their favor as they try for their eighth title. In the tournament's nine year history, the Adams' have only lost twice. Debbie is the 7th ranked woman in the Carolinas and was a quarter-finalist in the 2014 U.S. Women's Mid-Amateur Championship.

This is the first time Pinehurst No.1 has hosted the Mixed Team Championship, but the course is no stranger to CGA Championships. Course No. 1 served as a site for the Carolinas Father-Son Championship 10 times from 1970 to 1991.
Opened in 1898, Pinehurst Country Club (No. 1) has had many architects on its rise to fame. Dr. Leroy Culver built the first nine and John Dunn Tucker added the second nine, but it is clearly Donald Ross's touch that you feel on Pinehurst's first golf course. Ross made revisions in 1913, 1937, 1940, and 1946 shortly before his death. Pinehurst No. 1 is considered his first design. A wild drive or mishit chip can make for a long day and will provide a challenge to Mixed Team Championship participants.
The championship format consists of one round of four-ball stroke play followed by a final round of modified alternate shot. Entry is open to any team comprised of a male amateur and a female amateur golfer who have reached their 13th birthday by August 22, 2015, who are legal residents of North Carolina or South Carolina, are members in good standing of a club which is a member of the Carolinas Golf Association (CGA) and have an active GHIN® USGA Handicap Index® at a CGA member club.


The CGA will post any tournament delays or cancellations via our Twitter account.
Follow us on Twitter, Facebook and Instagram. Search: cgagolf1909.
About the Carolinas Golf Association (CGA)
The CGA is a 501(c)(3) not-for-profit educational organization that was founded in 1909 to promote and to protect the game of golf in the Carolinas by providing competitions, education, support and benefits to golf clubs and golfers. The CGA is the second largest golf association in the country with over 700 member clubs represented by nearly 150,000 individuals.
Now in its 106th year, the CGA annually conducts 43 championships and five team match competitions for men, women, juniors, and seniors. It also runs over 140 One-Day (net and gross) events and qualifying for USGA national championships. The CGA serves golf in the Carolinas with numerous programs such as: the USGA Handicap System; tournament management software and support; course measuring and course/slope ratings; agronomy consultation; answers about the Rules of Golf, Rules of Amateur Status, and Handicapping; Carolinas Golf Magazine; Interclub series; Tarheel Youth Golf Association; Carolinas Golf Hall of Fame; expense assistance for USGA Junior and Girls' Junior qualifiers from the Carolinas; and the Carolinas Golf Foundation (CGF). The CGF has distributed more than $1,500,000 since 1977 to benefit Carolinas' golf initiatives including junior and women's programs.
For more information about the CGA, visit www.carolinasgolf.org.
##30##