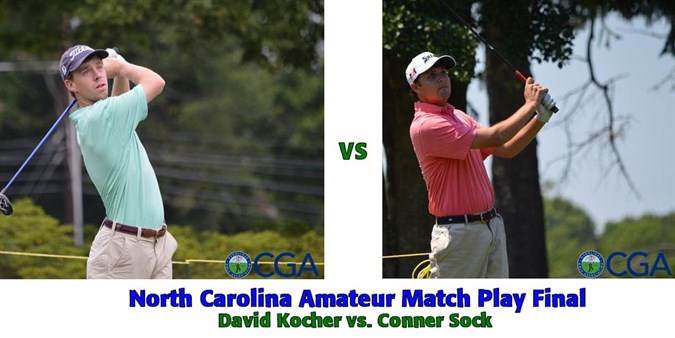 HIGH POINT, NC – Quarterfinal and Semifinal match play results of the 6th North Carolina Amateur Match Play Championship at High Point Country Club (Willow Creek) in High Point, NC on Saturday, August 8 (Par 36-36--72, 6980 yards, Course Rating: 74.7/141).
The top three seeds all won their quarterfinal matches at Willow Creek at the North Carolina Amateur Match Play Championship without ever trailing. Defending champion and #1 seed Al Dickens, IV of Charlotte led his entire quarterfinal match and defeated Stephen Saleeby of Raleigh 4 & 2. #4 seed David Kocher of Charlotte never trailed in his quarterfinal match and defeated William Register of Burlington 5 & 4. Stroke play qualifying medalist and #2 seed Nolan Mills, IV of Charlotte never trailed in his quarterfinal match, but had to play 18 holes to earn his victory over Tanner Owen of High Point.
The story of the quarterfinals was the play of High Point Country Club member Conner Sock of High Point. Sock birdied his first five holes in route to making birdie on 9 of his 13 holes played and a 6 & 5 victory over Stephen Lavenets of Rougemont. Lavenets was the hard luck loser as he was three-under par when his matched finished on hole 13. Sock finished his match and headed directly to the practice range, "I made every putt I looked at, now I am working on the longer clubs for the par-5s."
The semifinal matches featured former East Carolina golf teammates Al Dickens, IV and Conner Sock against each other, and two Charlotte natives David Kocher and Nolan Mills, IV against each other.
The first semifinal match was a tale of two nines. After Conner Sock made nine birdies in 13 holes in his first match, he did not make a birdie on the front nine and found himself two-down after seven holes. From that point on, Sock caught fire and won six holes in a row, including three straight birdies on 11-13 and found himself four-up with five holes to play. Sock on winning six straight holes, "I tried to keep doing what I was doing, hit greens and make putts, the putts finally started to fall." Dickens did not go down without a fight as he extended the match to the 16th hole before falling 3 & 2.
The second semifinal match was a tight affair as no player had more than a one hole lead on the back nine. David Kocher never led in the match, but found himself all-square with Nolan Mills on the 17th tee. Mills defeated Kocher in a two-hole playoff Thursday for stroke play qualifying medalist, but today the tables were turned. Both players found the fairway on the par-5 17th hole, and both reached the green in two. Mills was 30 feet from the hole and Kocher 15 feet. Mills missed his eagle try and Kocher confidently rolled his putt in for eagle and his first lead of the day. Kocher on his comeback win, "We were just making pars all day and I knew I would have to birdie 17 or 18 to force a playoff." He did one better with the eagle on 17 and defeated Mills 1-up.
The Championship match will feature High Point Country Club member Conner Sock, who was semifinalist in the 2015 Carolinas Four-Ball Championship against Maryland golfer David Kocher, who finished T-2nd at the Carolinas Amateur and 7th in the North Carolina Amateur. The final match will tee off Sunday morning at 8:00am. The final match will be live-tweeted on the CGA Twitter account @cgagolf1909.
Entry is open to any male amateur golfer who has reached his 13th birthday by August 5, 2015, is a legal resident of North Carolina, is a member in good standing of a club which is a member of the Carolinas Golf Association (CGA) and has an active GHIN USGA Handicap Index at a CGA member club that does not exceed 5.4.
Quarterfinal Match Results
August 8, 2015
Al Dickens IV, Charlotte, N.C. (1) def. Stephen Saleeby, Raleigh, N.C. (9), 4 and 2
Conner Sock, High Point, N.C. (13) def. Stephen Lavenets, Rougemont, N.C. (21), 6 and 5
Nolan Mills IV, Charlotte, N.C. (2) def. Tanner Owen, High Point, N.C. (7), 1 up
David Kocher, Charlotte, N.C. (3) def. William Register, Burlington, N.C. (11), 5 and 4
Semifinal Match Results
August 8, 2015
Conner Sock, High Point, N.C. (13) def. Al Dickens IV, Charlotte, N.C. (1), 3 and 2
David Kocher, Charlotte, N.C. (3) def. Nolan Mills IV, Charlotte, N.C. (2), 1 up
Championship Match Starting Times
August 9, 2015
| | | | | | |
| --- | --- | --- | --- | --- | --- |
| Time | Seed | Player A | | Seed | Player B |
| 8:00 am | 13 | Conner Sock, High Point, N.C. (144) | vs. | 3 | David Kocher, Charlotte, N.C. (137) |