David Kocher Wins NC Match Play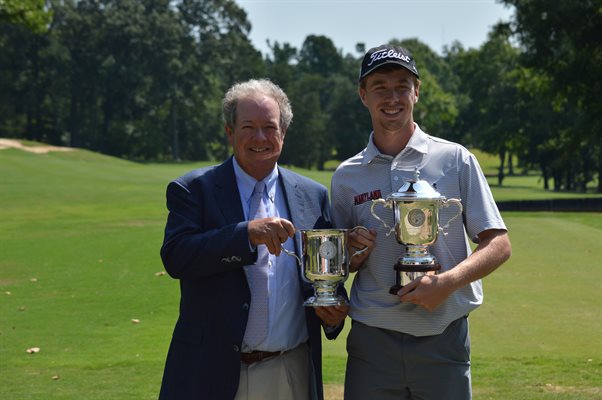 HIGH POINT, NC – Championship Match results of the 6th North Carolina Amateur Match Play Championship at High Point Country Club (Willow Creek) in High Point, NC on Sunday, August 9. Par 36-36--72, 6980 yards, Course Rating: 74.7/141).
Charlotte native and University of Maryland golfer David Kocher defeated High Point Country Club member Conner Sock of High Point 2-up to win the 6th North Carolina Amateur Match Play Championship.
David Kocher started the Championship match with an approach shot to two feet on the 1st hole for birdie, a birdie on 4th hole, and after an impressive chip-in on the 8th hole for birdie he found himself 3-up. After 12 holes, Kocher still had a 3-up lead and chances of the match reaching the 18th hole seemed unlikely. But Conner Sock had proven all week that he could strike quick with a birdie barrage, and today he did the same winning the 13th and 14th to get back to 1-down with four holes to play. Kocher on playing down the stretch with a 1-up lead, "I felt a lot of pressure. Especially going into 16, he almost made a putt there; and on 17 had a five-footer for birdie, I was fortunate he (Sock) didn't make a few putts getting down to the end."
On the 17th hole Conner Sock had a short, but straight downhill birdie putt to tie the match going to the 18th hole. Sock on the putt to tie the match, "It was a five-footer straight downhill, but I didn't want to take the break out and ram it into the back (of the hole). I tried to play some break and misread it." With Kocher 1-up heading to the 18th hole, all he needed was to tie Sock to win. He did that and then some with an approach shot to two feet to all but seal the win. Sock still had a birdie putt to force Kocher to putt for the win, "When he had the putt off the green for birdie I could have sworn that was going in, but once he missed that I knew it was pretty much over." Sock's putt slid by the hole and Kocher's birdie putt was conceded to give David Kocher the 2-up victory.
The permanent trophy for the North Carolina Amateur Match Play Championship was named after Paul Simson, the all-time winningest CGA golfer. Simson was on hand at High Point Country Club to present Kocher with the trophy after competing in the British Senior Amateur just this past week. Kocher on the feeling of becoming a CGA Champion and winning the North Carolina Amateur Match Play Championship, "It still hasn't really hit me yet, but it's a pretty cool feeling."
Entry is open to any male amateur golfer who has reached his 13th birthday by August 5, 2015, is a legal resident of North Carolina, is a member in good standing of a club which is a member of the Carolinas Golf Association (CGA) and has an active GHIN USGA Handicap Index at a CGA member club that does not exceed 5.4.
The CGA would like to thank the members and staff of High Point Country Club for their hospitality and help conducting this championship at a beautiful venue.
Championship Match Results
August 9, 2015
David Kocher, Charlotte, N.C. (3) def. Conner Sock, High Point, N.C. (11), 2 up