Lutz Leads the Way at 15 & Under Championship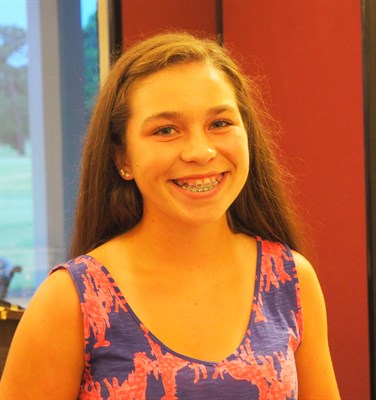 Lutz Leads the Way at 15 & Under Championship
Kings Mountain junior holds two shot lead
Southern Pines, NC (July 11, 2016)-- Natalie Lutz of King Mountain holds a two shot lead in the Carolinas 15 & Under Girls' Championship after firing a two over par 73 in the first round at Longleaf Golf and Family Club.
The Junior Division is led by Shea Smith of Charlotte, N.C. who holds a three shot lead over Riya Modak of Concord, N.C. after firing an opening round 79.
Ayana Dailey of Sneads Ferry, N.C. holds a six shot lead over Ella Stalvey of Elgin, S.C. in the 9 hole Sub-Junior Division.
Round two play begins Tuesday morning at 9 am.
Sub-junior (9 holes - 2400 yards) (2326 yards, par 35, 33.6/112)

Place

Name

Score

1

Ayana Dailey (2023), Sneads Ferry , NC

40

2

Ella Stalvey (2023), Elgin, SC

46

3

Camille Oliver (2022), Cary, NC

51

4

Macy Pate (2023), Boone, NC

52

5

Justine Pennycooke (2023), Cary, NC

53

6

Mackenzie Crossman (2024), Pittsboro, NC

56

Junior (5000 yards) (4875 yards, par 71, 68.1/113)

Place

Name

Score

1

Shea K Smith (2022), Charlotte, NC

40-39--79

2

Riya Modak (2021), Concord, NC

41-41--82

3

Mallory Fobes (2019), East Bend, NC

44-39--83

4

Toni Blackwell (2020), Fayetteville , NC

43-44--87

5

Gaby Tucker (2021), Fayetteville, NC

54-50--104

6

Macie Burcham (2021), Greensboro, NC

WD

Championship (5600 yards) (5486 yards, par 71, 73.5/124)

Place

Name

Score

1

Natalie Lutz (2019), Kings Mountain, NC

38-35--73

2

Alexis Sudjianto (2019), Charlotte, NC

34-41--75

T3

Kayla Smith (2019), Burlington, NC

39-37--76

Muskan Uppal (2019), Cornelius, NC

38-38--76

Parker Stalvey (2019), Elgin, SC

38-38--76

T6

Lauren Martin (2020), Mooresville, NC

41-37--78

Lotte Fox (2020), Raleigh, NC

39-39--78

Michelle Harn (2019), Charlotte, NC

39-39--78

Riley Hamilton (2020), Reidsville, NC

39-39--78

T10

Jayla Rogers (2019), Wilmington, NC

42-38--80

Mary Slade White (2019), Winston Salem, NC

42-38--80

T12

Ana Tsiros (2019), Asheville, NC

42-40--82

Lorin Wagler (2018), Seven Lakes, NC

40-42--82

14

Abigayle Hatcher (2019), Roebuck, SC

40-43--83

T15

Grayson Warren (2021), Washington, NC

44-41--85

Jaclyn Kenzel (2020), Southern Pines, NC

41-44--85

17

Ryann Sinclair (2019), Mooresville, NC

41-46--87

18

Maria File (2019), Moore, SC

45-43--88

19

Bailey Cooper (2019), Pinehurst, NC

41-48--89

T20

Carmen Tucker (2019), Fayetteville, NC

49-45--94

Katie Ochoa (2018), Southern Pines, NC

47-47--94

22

Emily Lang (2019), Charlotte, NC

47-50--97

23

Gabrielle Cacheris (2020), Charlotte, NC

58-57--115

24

Taylor Hess (2019), Charlotte, NC

62-64--126

T25

Channing Hensley (2018), Wake Forest, NC

WD

Mara Rose Hirtle (2020), Pinehurst, NC

WD