Sudjianto Wins Carolinas 15 & Under Girls' Championship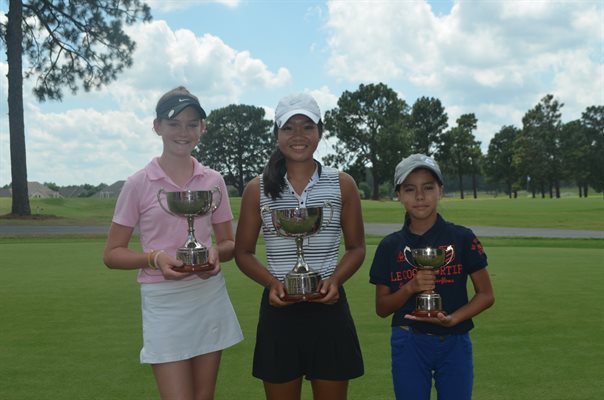 Sudjianto Wins 10th Carolinas 15 & Under Girls' Championship
Consistency carries players to victory
Southern Pines, NC (July 12, 2016)—Alexis Sudjianto of Charlotte, N.C. was all smiles Tuesday afternoon while she held the Championship flight trophy. Alexis fired her second consecutive, four over par 75 to win the 10th Carolinas 15 & Under Girls' Championship by 1 shot over Kayla Smith and Muskan Uppal.
Shea Smith of Charlotte, N.C. was able to hold off Mallory Fobes, of East Bend, N.C. and Riya Madok of Concord, NC to win the Junior Division by one shot after firing a second round 83 to finish the tournament with a two day total of 162.
Ayana Dailey, of Sneads Ferry, N.C. continued her stellar play in the Sub-Junior Division firing an 18 hole total 11 over par, 82 to win by 9 over Elgin, S.C. native Ella Stalvey.
Championship (5600 yards)

Place

Name

Score

1

Alexis Sudjianto (2019), Charlotte, NC

75-75--150

T2

Kayla Smith (2019), Burlington, NC

76-75--151

T2

Muskan Uppal (2019), Cornelius, NC

76-75--151

T4

Michelle Harn (2019), Charlotte, NC

78-77--155

T4

Natalie Lutz (2019), Kings Mountain, NC

73-82--155

T6

Lauren Martin (2020), Mooresville, NC

78-78--156

T6

Parker Stalvey (2019), Elgin, SC

76-80--156

T6

Riley Hamilton (2020), Reidsville, NC

78-78--156

9

Ana Tsiros (2019), Asheville, NC

82-76--158

T10

Jayla Rogers (2019), Wilmington, NC

80-79--159

T10

Lotte Fox (2020), Raleigh, NC

78-81--159

12

Mary Slade White (2019), Winston Salem, NC

80-80--160

13

Lorin Wagler (2018), Seven Lakes, NC

82-79--161

T14

Abigayle Hatcher (2019), Roebuck, SC

83-81--164

T14

Ryann Sinclair (2019), Mooresville, NC

87-77--164

16

Grayson Warren (2021), Washington, NC

85-82--167

17

Bailey Cooper (2019), Pinehurst, NC

89-80--169

18

Jaclyn Kenzel (2020), Southern Pines, NC

85-85--170

19

Carmen Tucker (2019), Fayetteville, NC

94-78--172

20

Maria File (2019), Moore, SC

88-86--174

21

Emily Lang (2019), Charlotte, NC

97-87--184

22

Katie Ochoa (2018), Southern Pines, NC

94-92--186

23

Gabrielle Cacheris (2020), Charlotte, NC

115-99--214

24

Taylor Hess (2019), Charlotte, NC

126-118--244

Junior (5000 yards)

Place

Name

Score

1

Shea K Smith (2022), Charlotte, NC

79-83--162

T2

Mallory Fobes (2019), East Bend, NC

83-80--163

T2

Riya Modak (2021), Concord, NC

82-81--163

4

Toni Blackwell (2020), Fayetteville , NC

87-87--174

5

Gaby Tucker (2021), Fayetteville, NC

104-101--205

Sub-junior (9 holes - 2400 yards)

Place

Name

Score

1

Ayana Dailey (2023), Sneads Ferry , NC

40-42-82

2

Ella Stalvey (2023), Elgin, SC

46-45-91

3

Macy Pate (2023), Boone, NC

52-43-95

4

Camille Oliver (2022), Cary, NC

51-45-96

5

Justine Pennycooke (2023), Cary, NC

53-44-97

6

Mackenzie Crossman (2024), Pittsboro, NC

56-54-110