CGA Young Amateur Players to Watch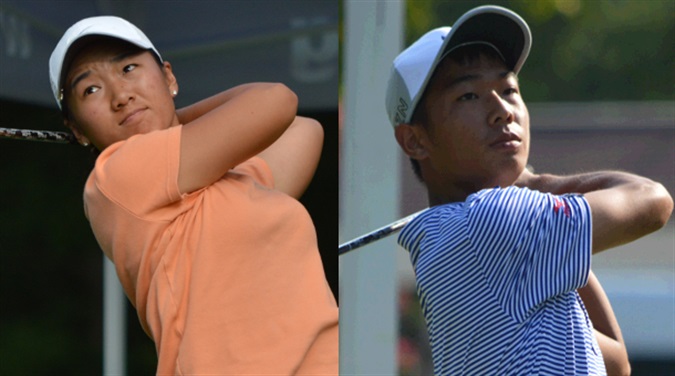 Two-time Carolinas Young Am champion Sarah Bae and her brother Eric are among this year's top title contenders.
SOUTHERN PINES, N.C. (December 27, 2016) – The Carolinas Golf Association's 2016 championship season wraps up with the 8th Carolinas Young Amateur to be held December 28-29 on the Magnolia course at Pinewild Country Club in Pinehurst, N.C. The tournament format is 36 holes of stroke play for male and female amateur golfers ages 18 to 25 from North Carolina or South Carolina who have finished high school and have a current USGA handicap Index at a CGA member club. Trophies will be awarded to the top five spots in each division. Due to NCAA regulations, gift certificates will not be awarded.

Last year, hometown favorites Sarah Bae and Joshua Martin won their respective divisions. The tournament was shortened to 18-holes after the second round was canceled due to heavy rain which caused the golf course to flood and become unplayable. Bae scorched her first nine with a six-under-par 30. Bae continued her great play with a one-under-par 35 on the back nine to finish with a round of seven-under 65. Martin played both nines in four-under-par and ended with a round of 64.

Originally designed by Gene Hamm, the par-72 Magnolia course at Pinewild Country Club opened to rave reviews in 1989, and within two months was ranked as one of the top 50 courses in the entire southeastern United States by Golf Week. The Magnolia has seen a complete multi-million dollar redesign, to include new greens complexes with Crenshaw Bent Grass, bunkers and cart paths. The result is a truly fantastic lay-out with emphasis on risk-reward golf. In an area that boasts numerous award winning courses, the Magnolia remains a local favorite. The course is characterized by vast elevation changes, generous driving areas, and spacious challenging greens.
Notables in this year's women's field include:

Sarah Bae of Pinehurst, N.C. Bae, a senior at NC State, won the 2013 and the 2015 Carolinas Young Amateur. Bae competed in nine tournaments during her junior year and finished with a 75.85 stroke average. As a junior golfer, Bae was named the NC Junior Girls' Player of the Year three straight years (2010-2012) and named all-state four times. Bae has five Carolinas Golf Association titles to her credit.

Kelli Murphy of Elgin, S.C. Murphy, a junior at Auburn University, won the Carolinas Young Amateur in 2014 and has won three other CGA titles. Murphy has played in 24 tournaments at Auburn and as a career scoring average of 75.72. In 2015, Murphy was named to the Southeastern Conference All-Freshman team. Murphy has played in two US Women's Amateur (2013 and 2015) and was a four time all-state selection in high school. In 2012 Murphy was named the Carolinas Junior Girls' Player of the Year.

Jessica Spicer of Durham, N.C. Spicer, a freshman at Virginia Tech, competed in all five events for the Hokies in the fall as a freshman recording two top-20 finishes and has a career scoring average of 77.4. As a junior golfer, Spicer was the 2014 Carolinas Junior Girls' Player of the Year, won the Carolinas Girls' Championship in 2014 and was named all-state three years in a row.

Catherine Ashworth of Fuquay-Varina, N.C. Ashworth, a sophomore at East Carolina, participated in 12 events during her freshman season with the Pirates and posted a 76.33 seasonal stroke average. Ashworth is a three-time North Carolina All-State team selection. As a junior golfer, Ashworth won the 2014 CGA Twin State Girls' Championship and the North & South Junior at Pinehurst Country Club.

Other women to watch are Maddisen Cox of Easley, S.C.; Morgan Cox of Easley, S.C.; Reona Harai of Summerville, S.C.; Louise Oxner of Greenville, S.C.; Jaelyn Tindal of Rock Hill, S.C.; and Grace Yatawara of Salisbury, N.C.

Notables in this year's men's field include:

Eric Bae of Pinehurst, N.C. Bae, a freshman at Wake Forest, competed in all four of Wake Forest's fall tournaments. As a junior golfer, Bae was the 2014 Carolinas Junior Boys' Player of the Year and was named all-state four years in a row. Bae won the 2015 Creed Boys' Invitational and the 2010 NC Junior Boys' 13 & Under Championship.

Harrison Rhoades of Raleigh, N.C. Rhoades, a sophomore at Georgetown, competed in the lineup for all 11 of Georgetown's tournaments as a freshman finishing with an average score of 72.93 and was named second team All-Big East. Rhoades competed in the US Amateur Championship in 2014.

Christian Salzer of Sumter, S.C. Salzer, a freshman at NC State, was the SC Junior Boys' Championship and was named Carolinas Junior Boys' Player of the Year in 2015. Salzer won the 2015 Jimmy Anderson Invitational, his lone CGA title.

Other men to watch are Walker Cress of Concord, N.C.; Justin Hood of St. Matthew, S.C.; Brett McLamb of Coats, N.C.; Grant Powell of Colfax, N.C.; Davis Richards of China Grove, N.C.; Patrick Stephenson of Four Oaks, N.C.; Blake Taylor of Atkinson, N.C.; John Varol of Weddington, N.C.

Schedule of events:
Wednesday, December 28, 2016
11:00 am First round of stroke play (18 holes) shotgun start
2:30 pm Tournament lunch for players
Thursday, December 29, 2016
11:00 am Final round of stroke play (18 holes) shotgun start
2:30 pm Tournament lunch for players
3:00 pm Awards presentation
Pinewild CC information:
Address: 1 Pinewild Country Club Drive, Pinehurst, NC 28374
Golf shop phone: 910-295-5145
General Manager: Chris Little
Course Superintendent: John Robertson
Architect: Gene Hamm
Men's yardage/par: 6,835 yards/par 72
Women's yardage/par: 5,532 yards/par 72

About the Carolinas Golf Association (CGA):

The CGA is a 501(c)(3) not-for-profit educational organization that was founded in 1909 to promote and to protect the game of golf in the Carolinas by providing competitions, education, support and benefits to golf clubs and golfers. The CGA is the second largest golf association in the country with over 700 member clubs represented by nearly 150,000 individuals.

The CGA annually conducts 43 championships and five team match competitions for men, women, juniors, and seniors. It also runs over 140 One-Day (net and gross) events and qualifying for USGA national championships. The CGA serves golf in the Carolinas with numerous programs such as: the USGA Handicap System; tournament management software and support; course measuring and course/slope ratings; agronomy consultation; answers about the Rules of Golf, Rules of Amateur Status, and Handicapping; Carolinas Golf Magazine; Interclub series; Tarheel Youth Golf Association; Carolinas Golf Hall of Fame; expense assistance for USGA Junior and Girls' Junior qualifiers from the Carolinas; and the Carolinas Golf Foundation (CGF). The CGF has distributed more than $1,500,000 since 1977 to benefit Carolinas' golf initiatives including junior and women's programs.

For more information about the CGA, visit www.carolinasgolf.org.


##30##