Beaver and Bae Take Young Am Titles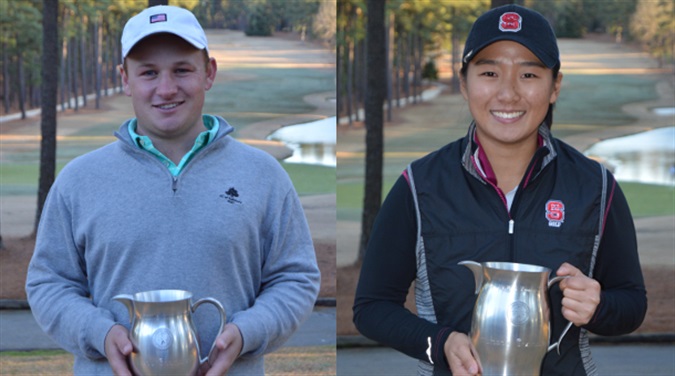 Troy Beaver and Sarah Bae claim Carolinas Young Amateur wins in come-from-behind fashion

PINEHURST, N.C. (December 29, 2016) – Final results of the 8th Carolinas Young Amateur Championship held Thursday, December 29th on the Magnolia course at Pinewild Country Club in Pinehurst, N.C.
Related: Hole-by-hole scoring | Photo Gallery | Championship History
One and a half inches of rain swept through the Sandhills Thursday prior to the final round of the 8th Carolinas Young Amateur Championship held on the Magnolia Course at Pinewild Country Club in Pinehurst, N.C. Sitting on one stroke leads, Jackson Spires of Fayetteville, N.C. and Jessica Spicer of Bahama, N.C. could not hold on for victory.
Defending Carolinas Young Am champion Sarah Bae of Pinehurst, N.C. rose to the occasion. Five birdies in her outward nine holes catapulted her into the lead. Bae posted the round of the day, five-under 67, to claim a three stroke win over Spicer and a record third Carolinas Young Amateur title (2013, 2015, 2016).
"I actually hit it a little bit better yesterday," said Bae, after her two-day total of four-under 140. "But I putted better today." Bae enjoys the camaraderie of the event, "It's like a reunion of junior golf," said the senior at NC State University. "It's great to see the people again that you grew up playing against."
Spicer improved upon her opening round 72 with a one-under 71. Three closing birdies on her final six holes were not enough to catch Bae. "Yesterday I made all my putts within five feet," said the Virginia Tech freshman. "Today I missed a few of those. Sarah played great."
Playing in his final amateur tournament before turning professional next month, recent Elon University graduate Troy Beaver of Salisbury, N.C. started Thursday one stroke back of Spires. While Spires fell back with a final round 80 to finish T-10, Beaver's even par 72 was enough to capture his first CGA title. "I grew up playing in all CGA and Tarheel Youth Golf Association events," said the 22-year-old. "It was good to play alongside guys I grew up playing with and it was exciting to get the win."
Beaver twice rebounded from bogeys with birdies on his inward nine. "Those comeback birdies were key," said the 22-year-old. "I wasn't quite sure where I stood so I just kept it in front of me and made good par putts coming in." Although he was not aware, Beaver's five-under 139 was enough to clear the field by four strokes. Greensboro College junior Levi Grogan of Canton, N.C. finished alone in second at one-under-par 143.
The tournament format is 36 holes of stroke play for male and female amateur golfers ages 18 to 25 from North Carolina or South Carolina who have finished high school and have a current USGA handicap Index at a CGA member club. Trophies were awarded to the top five spots in each division. Due to NCAA regulations, gift certificates will not be awarded.
The CGA thanks the staff and members of Pinewild Country Club for their hospitality hosting this championship for the eighth consecutive year.

8th Carolinas Young Amateur Championship
Pinewild Country Club (Magnolia)
Pinehurst, N.C.
Final Results
December 29, 2016
Men's Division (6925 yards, par 72, 73.8/130)

Place
Score
1
Troy Beaver, Salisbury, NC
67-72--139
2
Levi Grogan, Canton, NC
71-72--143
T3
Austin Zoller, Summerville, SC
71-73--144
T3
David Sargent, Cornelius, NC
71-73--144
T3
Elliott Grayson, Shelby, NC
71-73--144
T6
Bryce Hendrix, Raleigh, NC
72-73--145
T6
Connor Bruns, Duncan, SC
77-68--145
T6
Eric Bae, Pinehurst, NC
70-75--145
T6
Jack Sides, New Bern, NC
73-72--145
T10
Austin Inman, Wilmington, NC
72-74--146
T10
Ben Buben, Charlotte, NC
74-72--146
T10
Blake Taylor, Atkinson, NC
70-76--146
T10
Jackson Spires, Fayetteville, NC
66-80--146
T10
Nick Russell, Hilton Head Island, SC
69-77--146
T10
Zachary Martin, Pinehurst, NC
71-75--146
16
Harrison Rhoades, Raleigh, NC
74-73--147
T17
Blake Fiest, Huntersville, NC
71-77--148
T17
David Kostyal II, Wilmington, NC
74-74--148
T17
Jordan Warnock, Roebuck, SC
72-76--148
T17
Nolan Mills IV, Charlotte, NC
73-75--148
T17
Walker Cress, Concord, NC
76-72--148
T22
Anthony Gammon, Eden, NC
79-70--149
T22
Jordan Smith, Summerfield, NC
74-75--149
T24
Brett McLamb, Coats, NC
71-79--150
T24
Grant Powell, Colfax, NC
76-74--150
T24
Jake McGlone, Charlotte, NC
75-75--150
T24
Matt Carter, Easley, SC
77-73--150
T24
Patrick Stephenson, Four Oaks, NC
77-73--150
T29
Aaron Purviance, Winston-Salem, NC
77-74--151
T29
Alex Burris, Greensboro, NC
78-73--151
T29
Will Canipe, Murrells Inlet, SC
76-75--151
T32
Davis Richards, China Grove, NC
78-74--152
T32
Justin Hood, Saint Matthews, SC
73-79--152
T32
Nicholas Gunnell, Hamptonville, NC
77-75--152
T32
William Harwood, Columbia, SC
77-75--152
T36
Chandler White, Clemmons, NC
74-79--153
T36
Nathan Bull, Candler, NC
80-73--153
T38
Christian Salzer, Sumter, SC
80-74--154
T38
Joey Funderburg, Wilmington, NC
76-78--154
T38
Justin Prozzi, Hartsville, SC
79-75--154
T38
Nick Kroustalis, Clemmons, NC
76-78--154
T42
Caleb Brown, Kershaw, SC
77-78--155
T42
Jake Scruggs, Shelby, NC
78-77--155
T42
Luke Grogan, Canton, NC
79-76--155
T42
Michael Freeman, Asheville, NC
76-79--155
T42
Riley Davis, Kinston, NC
74-81--155
T47
Ryan Fitzgerald, Waxhaw, NC
76-80--156
T47
Seth Lomison, Pfafftown, NC
79-77--156
T47
Zachary Laws, Hickory , NC
81-75--156
T50
Hayden Ploeger, Aiken, SC
79-78--157
T50
Jonathan Brightwell, Mint Hill, NC
80-77--157
T50
Nickolaus Beecroft, Bolivia, NC
80-77--157
T50
Patrick Talledo, Blythewood, SC
75-82--157
T50
Vijay Mishra, N Myrtle Beach, SC
76-81--157
T55
Candler Rice, Asheville, NC
78-80--158
T55
Fitz Woodrow IV, Lexington, SC
82-76--158
T55
Zachary Herold, Lexington, SC
80-78--158
T58
A J Clark, Wilmington, NC
81-78--159
T58
Corey Stamper, Waynesville, NC
80-79--159
T60
Christian Constance, Waynesville, NC
77-83--160
T60
Mark Johnston, Lewisville, NC
78-82--160
62
Cole Jordan, Winterville, NC
83-78--161
T63
Benjamin Esposito, Pittsboro, NC
82-80--162
T63
Matt McDonagh, Winston-Salem, NC
80-82--162
T63
Michael McKee Jr, Ware Shoals, SC
88-74--162
T63
Ryan Reynolds, Camden , SC
84-78--162
T63
Thomas Garbee, Asheville, NC
81-81--162
T68
Cooper Daniel, Waxhaw, NC
85-78--163
T68
Matthew Spak, Cary, NC
83-80--163
70
Sean O'Connor, Indian Trail, NC
84-80--164
T71
Jonathan Paulson, Cary, NC
84-81--165
T71
Tyler Smith, West Columbia, SC
86-79--165
73
Tanner Owen, High Point, NC
84-82--166
74
Dane Anderson, Holly Springs, NC
81-86--167
75
Clay Brown, Davidson, NC
90-80--170
76
John Freeman, Asheville, NC
89-82--171
77
Dong-Jun Kim, Waxhaw, NC
83-89--172
78
Jay Minter, Sanford, NC
85-88--173
T79
Brody Davis, Harrisburg, NC
93-85--178
T79
Harvey Allen, Fayetteville , NC
87-91--178
81
Justin Finger, Durham, NC
91-91--182
T82
Austin Northern, Blowing Rock, NC
79-WD--WD
T82
John Varol, Weddington, NC
84-WD--WD
Women's Division (5796 yards, par 72, 74.1/132)

Place
Score
1
Sarah Bae, Pinehurst, NC
73-67--140
2
Jessica Spicer, Bahama, NC
72-71--143
3
Louise Oxner, Greenville, SC
76-70--146
4
Jacqueline Twitty, Chapin, SC
75-72--147
T5
Morgan Cox, Easley, SC
73-76--149
T5
Reona Hirai, Summerville, SC
73-76--149
T7
Catherine Ashworth, Fuquay-Varina, NC
78-72--150
T7
Victoria Huskey, Greenville, SC
74-76--150
9
Grace Yatawara, Salisbury, NC
77-74--151
10
Sarah Spicer, Bahama, NC
78-78--156
T11
Alexis Kershaw, Winston-Salem, NC
79-79--158
T11
Hailey Cleary, Lexington, SC
75-83--158
T11
Jaelyn Tindal, Rock Hill, SC
84-74--158
14
Savanna Wood, Boone, NC
80-80--160
15
Maddisen Cox, Easley, SC
82-80--162
16
Annika Winebarger, State Road, NC
85-79--164
17
Leigha Holt, Holly Springs, NC
84-82--166

Schedule of events:
Wednesday, December 28, 2016
11:00 am First round of stroke play (18 holes) shotgun start
2:30 pm Tournament lunch for players
Thursday, December 29, 2016
11:00 am Final round of stroke play (18 holes) shotgun start
2:30 pm Tournament lunch for players
3:00 pm Awards presentation
Pinewild CC information:
Address: 1 Pinewild Country Club Drive, Pinehurst, NC 28374
Golf shop phone: 910-295-5145
General Manager: Chris Little
Course Superintendent: John Robertson
Architect: Gene Hamm
Men's yardage/par: 6,835 yards/par 72
Women's yardage/par: 5,532 yards/par 72

About the Carolinas Golf Association (CGA):

The CGA is a 501(c)(3) not-for-profit educational organization that was founded in 1909 to promote and to protect the game of golf in the Carolinas by providing competitions, education, support and benefits to golf clubs and golfers. The CGA is the second largest golf association in the country with over 700 member clubs represented by nearly 150,000 individuals.

The CGA annually conducts 43 championships and five team match competitions for men, women, juniors, and seniors. It also runs over 140 One-Day (net and gross) events and qualifying for USGA national championships. The CGA serves golf in the Carolinas with numerous programs such as: the USGA Handicap System; tournament management software and support; course measuring and course/slope ratings; agronomy consultation; answers about the Rules of Golf, Rules of Amateur Status, and Handicapping; Carolinas Golf Magazine; Interclub series; Tarheel Youth Golf Association; Carolinas Golf Hall of Fame; expense assistance for USGA Junior and Girls' Junior qualifiers from the Carolinas; and the Carolinas Golf Foundation (CGF). The CGF has distributed more than $1,500,000 since 1977 to benefit Carolinas' golf initiatives including junior and women's programs.

For more information about the CGA, visit www.carolinasgolf.org.


##30##