Winterkill of Bermuda Grass in N.C.
Many golf courses in North Carolina have experienced significant Winterkill to their Bermuda grass and other warm season turfgrasses. Even with the best-laid-plans, superintendents can still see destruction from Winterkill.
Winterkill damage seen near a green.
Winterkill is the result of very low temperatures experienced in late winter. The damage of direct low temperature kill occurs most commonly during periods of alternating freezing and thawing, aggravated by the increase in plant moisture when the turf is most vulnerable in late winter.
This, coupled with sudden drops in cold temperatures creates a perfect storm for Winterkill.
This past 2015 winter leaves no doubt that the ultra-low temperatures are the direct cause of the Winterkill turf injury. The amount of Winterkill damage varies from location to location and is the most severe in the Greensboro, High Point and Raleigh areas.
Damage can be seen on Bermuda grass greens, tees, fairway and other short cut areas such as practice tees. Damage is also visible on rough areas, but usually to a lesser extent.
The normal procedure of covering Bermuda grass and Zoysia grass greens with turf covers during cold periods has been the practice for many years with great success, but this year the cold winter conditions still produced damage under the turf covers in several locations.
Winterkill damage in a fairway
Turf repairs or replacement will be necessary and continue through the summer months.
- Some areas of turf will recover slowly on their own.
- Areas where the turf is highly damaged will require new sod or sprigs.
- Turf repairs must be kept wet during the recovery time and golfer inconvenience may increase.
- Sod is in short supply with great demand. Deliveries may be delayed into the summer.
We ask all golfers for their understanding and patience, as this will be a summer of repair and recovery.
Sincerely,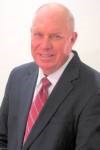 Bill Anderson, CGCS
Agronomist, Carolinas Golf Association