Register for CGA Rules of Golf Seminars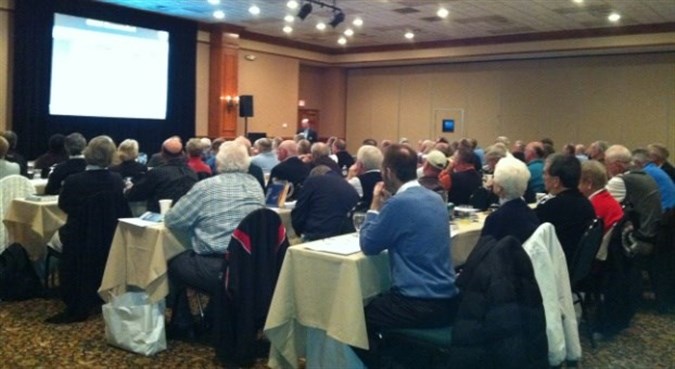 SOUTHERN PINES, N.C. (January 13, 2016) -- Registration is open for the 2016 Rules of Golf Seminars conducted by the Carolinas Golf Association (CGA). This year's series will be the 40th year the CGA has served the Carolinas with Rules of Golf education and annual rules presentations.
The 20 scheduled seminars are free of charge to attendees, who will view a narrated computer presentation on the basics of the Rules of Golf followed by question and answer sessions. Seminars typically last between 1 ½ to 2 hours in duration. A free 2016 edition of the Rules of Golf book will be distributed to all participants, and information on the Carolinas Golf Association will be available.
Seminars are open to golfers of all ages and abilities including members of CGA member clubs, golf professionals, college and high school golf teams and the general public.
Carolinas PGA members receive two "General Category" MSR education credits and LPGA members receive two CU credits for attending a seminar.
Space is limited at some sites. Seminar attendees are encouraged to pre-register online at www.carolinasgolf.org/2016-seminars
For further information, contact the CGA, phone: 910-673-1000.
2016 schedule with sites and times:
| | | | |
| --- | --- | --- | --- |
| Date | Site | City, State | Time |
| Friday, February 26 | Pinewild Country Club | Pinehurst, NC | 3:30pm |
| Tuesday, March 1 | Bryan Park Conference Center | Browns Summit, NC | 5:30pm |
| Wednesday, March 2 | North Ridge Country Club | Raleigh, NC | 5:30pm |
| Monday, March 7 | Club at Stoney Creek | Burlington, NC | 5:30pm |
| Tuesday, March 8 | Ballantyne Country Club | Charlotte, NC | 5:30pm |
| Tuesday, March 8 | Deep Springs Country Club | Stoneville, NC | 5:30pm |
| Wednesday, March 9 | Pinewood Country Club | Asheboro, NC | 5:30pm |
| Wednesday, March 9 | Columbia Country Club | Blythewood, SC | 5:30pm |
| Thursday, March 10 | Carolinas Golf House | Southern Pines, NC | 5:30pm |
| Tuesday, March 15 | Moss Creek Golf Club | Hilton Head, SC | 5:30pm |
| Tuesday, March 15 | Cape Fear Country Club | Wilmington, NC | 5:30pm |
| Wednesday, March 16 | Country Club of Charleston | Charleston, SC | 5:30pm |
| Tuesday, March 22 (UPDATED) | Cypress Landing Golf Club | Chocowinity, SC | 5:30pm |
| Thursday, March 17 | The Dunes Golf & Beach Club | Myrtle Beach, SC | 5:30pm |
| Thursday, March 17 | Benvenue Country Club | Rocky Mount, NC | 5:30pm |
| Tuesday, March 22 | The Cliffs at Glassy | Landrum, SC | 5:30pm |
| Wednesday, March 23 | Forest City Golf Course | Forest City, NC | 5:30pm |
| Wednesday, March 23 | Country Club of South Carolina | Florence, SC | 5:30pm |
| Thursday, March 24 | Country Club of Spartanburg | Spartanburg, SC | 5:30pm |
| Monday, March 28 | Carolinas Golf House | Southern Pines, NC | 5:30pm |
##30##