Willis Named 2015 Parrott Award Winner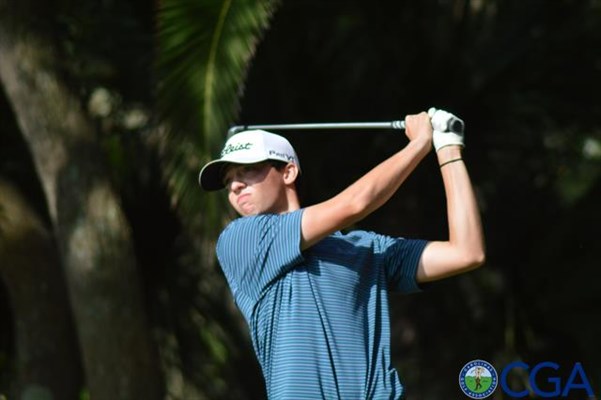 Nick Willis of Spartanburg, SC has been named the recipient of the David Parrott Award for 2015 by the Carolinas Golf Association. Willis, the 2015 SC Junior Match Play Champion, was selected from the eight members that represented the Carolinas Golf Association in the Carolinas-Virginias Junior Team Matches at Boonsboro CC in Lynchburg, VA this past August.
Willis, a high school senior at Spartanburg Christian Academy, carries a GPA of 4.354 and is ranked 11th in his class at Spartanburg Christian. "Nick is an outstanding young man. He has proven to be a model young man in the time he spends at the club," stated Country Club of Spartanburg head golf professional Tom McAllister. "I wish we had more like him," added McAllister.
The David Parrott award is given annually to the Carolinas Team player who displays excellence in sportsmanship, ability, and academic excellence. The award is presented by Dr. Larry and Joy Parrott of Camden, SC in honor of their son David. David Parrot was diagnosed with leukemia in the spring of 1982 and during his brief illness, he participated in the golf camp at Duke University and competed in the SCGA South Carolina Junior Championship, finishing third in his flight. He was given the Derek Davis sportsmanship award at the championship for his effort, determination and inspiration he gave to all who knew him. David died July 29, 1982, at the age of 16.
Willis joins a prestigious of past Parrott award winners that include Tee Burton, Jonathan Byrd, Dustin Bray, Austin Reeves, Ben Kohles, Andy Knox and 2014 recipient Henry Shimp. Willis will be presented the Parrott Award on Friday, February 19th at Country Club of Charleston during the Carolinas Golf Association's Golf Night and Annual Meeting.
Past David Parrott Award Winners:
1986 Tee Burton
1987 Lance Reid
1988 Jason Widener
1989 Mike Byce
1990 Robert Dean
1991 Brian Brown
1992 Scott Newton
1993 Paul Dickens
1994 Paul Daniel
1995 Jonathan Byrd
1996 Chad Webb
1997 Michael Maness
1998 Michael Sims
1999 Dustin Bray
2000 Charles Chapman
2001 Rodney Thomas
2002 Sean Moore
2003 Barden Berry
2004 Justin Hare
2005 Drew Ernst
2006 Jacob Burger
2007 Austin Reeves
2008 Ben Kohles
2009 Parker Allen
2010 Andy Knox
2011 Will Starke
2012 Carter Jenkins
2013 Austin Inman
2014 Henry Shimp
2015 Nick Willis