U.S. Women's Four-Ball Q Results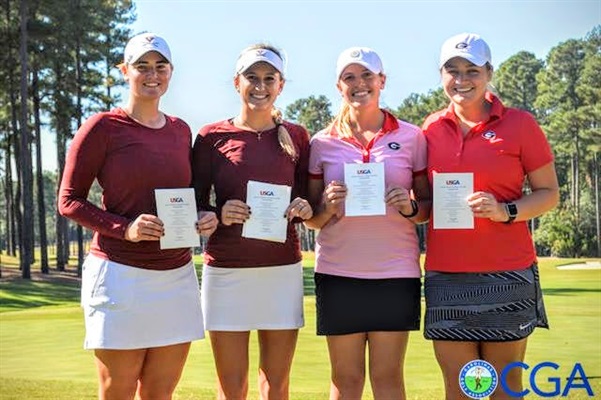 2017 U.S. Women's Amateur Four-Ball Qualifying Results
from Pinewild Country Club in Pinehurst, N.C.
PINEHURST, N.C. (October 24, 2016) -- Final results from the 2017 U.S. Women's Amateur Four-Ball Championship Qualifier hosted by Pinewild Country Club (Magnolia) in Pinehurst, N.C. on Monday, October 24, 2016. (6,172 yards, Par 36-36--72).
Two qualifying spots and two alternate spots were available at this qualifying site.
Sami Lee and Mary Ellen Shuman, both from Athens, G.A. and members of the University of Georgia women's golf team, were the only team under par with a four-under 68. They earned medalist honors. Morgan Gonzales of Chandler, A.Z. and Anna Redding of Concord, N.C. finished with an even-par 72 to take the second qualifying spot. Gonzales and Redding are teammates at the University of Virginia.
The sides of Courtney McKim (Raleigh, N.C.) / Mary Katherine Donovan (Wilmington, N.C.) and Angela Stewart (Greenville, N.C.) / Pat Brogden (Garner, N.C.) are the alternates.
Sectional qualifying, conducted over 18 holes at 26 qualifying sites, started on Monday, August 29 and will conclude on Monday, April 17 in Nicholasville, K.Y. Sectional qualifiers were held across the United States. The championship proper will be held at The Dunes Golf & Beach Club, a CGA member club, in Myrtle Beach, S.C. on May 27-31, 2017.
2017 U.S. Women's Amateur Four-Ball Qualifying Results
Pinewild Country Club (Magnolia)
Pinehurst, N.C.
October 24, 2016
Results
Place
Team
Score
1
Sammi Lee, Athens, Ga. - Mary Ellen Shuman, Saint Simons Island, Ga.
34-34--68 (-4)
2
Morgan Gonzales, Chandler, Ariz. - Anna Redding, Concord, N.C.
36-36--72 (Even)
FAILED TO QUALIFY
3
Mary Katherine Donovan, Hampstead, N.C. - Courtney McKim, Raleigh, N.C.
36-37--73 (+1)
4
Pat Brogden, Garner, N.C. - Angela Stewart, Greenville, N.C.
37-37--74 (+2)
5
Katherine DeVore, High Point, N.C. - Betty Zvarich, Fayetteville, N.C.
38-39--77 (+5)
T6
Suzanne Moro, Myrtle Beach, S.C. - Beth Umberger, Myrtle Beach, S.C.
41-37--78 (+6)
T6
Kim Briele, New Bern, N.C. - Patty Moore, Charlotte, N.C.
38-40--78 (+6)
8
Maggie Brady, Washington DC - Bev Lane, Great Falls, Va.
41-38--79 (+7)
##30##