2017 Carolinas Rules of Golf Seminars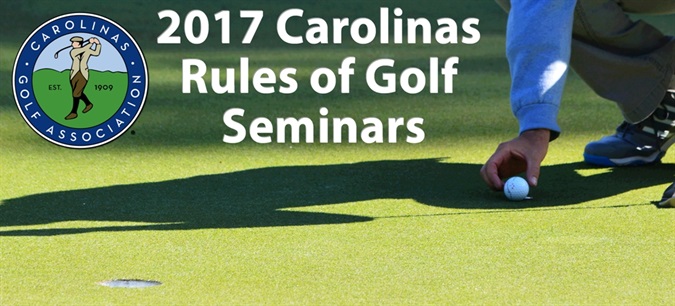 SOUTHERN PINES, N.C. (December 17, 2016) -- The Carolinas Golf Association (CGA) is compiling the schedule for its annual seminar series on the USGA Rules of Golf. This year's series will be the 41st year the CGA has served the Carolinas with Rules of Golf education and annual rules presentations. The scheduled 14 seminars are free of charge to attendees, who will view a presentation on the basics of the Rules of Golf followed by question and answer sessions.
Seminars typically last between 1 ½ to 2 hours in duration. A 2016-17 edition of the Rules of Golf book will be distributed to all participants, and information on the Carolinas Golf Association will be available. Seminars are open to golfers of all ages and abilities including members of CGA member clubs, golf professionals, college and high school golf teams and the general public. Carolinas PGA members receive two "General Category" MSR education credits and LPGA members receive two CU credits for attending a seminar.
Attendees are encouraged to pre-register. For further information, contact the CGA, 910-673-1000.

The 2017 schedule with sites and times:
| | | | |
| --- | --- | --- | --- |
| Date | Site | City, State | Time |
| Wednesday, February 15, 2017 | Columbia Country Club | Blythewood, SC | 5:30pm-7:30pm |
| Thursday, February 16, 2017 | Benvenue Country Club | Rocky Mount, NC | 5:30pm-7:30pm |
| Thursday, February 16, 2017 | The Carolina Country Club | Spartanburg, SC | 5:30pm-7:30pm |
| Thursday, February 23, 2017 | Bermunda Run CC | Advance, NC | 5:30pm-7:30pm |
| Tuesday, February 28, 2017 | Sea Trail Golf Resort | Calabash, NC | 5:30pm-7:30pm |
| Wednesday, March 01, 2017 | Heritage Golf Club (Marshal Farms Street) | Raleigh, NC | 5:30pm-7:30pm |
| Tuesday, March 07, 2017 | River Run Country Club | Davidson, NC | 5:30pm-7:30pm |
| Thursday, March 9, 2017 | Carolinas Golf House #1 (40 person max) | Southern Pines, NC | 5:30pm-7:30pm |
| Tuesday, March 14, 2017 | Moss Creek Golf Club | Hilton Head, SC | 5:30pm-7:30pm |
| Wednesday, March 15, 2017 | Country Club of Charleston | Charleston, SC | 5:30pm-7:30pm |
| Thursday, March 16, 2017 | The Dunes Golf & Beach Club | Myrtle Beach, SC | 5:30pm-7:30pm |
| Wednesday, March 22, 2017 | Providence Country Club | Charlotte, NC | 5:30pm-7:30pm |
| Wednesday, March 29, 2017 | Cedar Rock | Lenior, NC | 5:30pm-7:30pm |
| Thursday, March 30, 2017 | Country Club of Asheville | Asheville, NC | 5:30pm-7:30pm |
##30##