2016 Carolinas Golf Players of the Year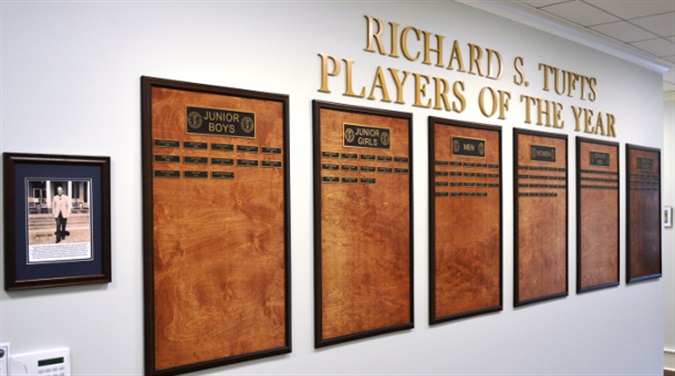 SOUTHERN PINES, N.C. (January 3, 2017) -- Four first-timers and two previous winners have been named 2016 Richard S. Tufts Players of the Year by the Carolinas Golf Association (CGA).
Related: Photos | Video Announcement
Junior Girls':
Emily Hawkins - Lexington, NC

Junior Boys':
Trent Phillips - Inman, SC

Senior Women's:
Kim Briele - New Bern, NC

Senior Men's:
Paul Simson - Raleigh, NC

Women's:
Katelyn Dambaugh - Goose Creek, SC

Men's:
Scott Harvey - Greensboro, NC

The Richard S. Tufts Awards were created in 1997 to honor Carolinas amateur golfers who had exceptional individual tournament performances over the preceding year. Tufts served on the CGA Executive Committee from 1926 to 1964 and served as President from 1931 through 1933. The awards are given to the number one golfer based on the CGA amateur rankings at the end of the calendar year in each of six categories: Men, Women, Senior Men, Senior Women, Junior Boys and Junior Girls.
Award winners will be honored during Carolinas Golf Night and the CGA Annual Meeting at Pine Needles Lodge & Golf Club on Saturday, February 11, 2017.
Eight Carolinas Men's Players of the Year are current or former PGA Tour members while five Carolinas Women's Players of the Year have competed on the LPGA tour. Notable past Tufts award winners include: Jonathan Byrd (1999, PGA Tour), Beth Bauer (1999, LPGA), D.J. Trahan (2000-2002, PGA Tour), Marcy Newton Hart (2000, LPGA), Brandi Jackson (2002, LPGA), Bill Haas (2003, PGA Tour), Webb Simpson (2006, PGA Tour), Dustin Johnson (2007, PGA Tour), Cydney Clanton (2009-10, LPGA), Mark Anderson (2009, PGA Tour), and Austin Ernst (2011, LPGA).
The Junior Boys and Junior Girls awards are based on a series of 18 junior tournaments run by ten associations that are the grassroots of junior golf in the Carolinas. Participating Carolinas associations and tournaments are the Carolinas Golf Association (CGA), Carolinas PGA (CPGA), Trusted Choice Big I Junior Classics, South Carolina Golf Association (SCGA), Women's South Carolina Golf Association (WSCGA), South Carolina Junior Golf Association (SCJGA), Tarheel Youth Golf Association (TYGA), Carolinas-Georgia Junior Championship and the Joe Cheves Junior Invitational.
2016 Richard S. Tufts Award Winners

MEN
Scott Harvey of Greensboro, N.C., claims his sixth consecutive Carolinas Men's Player of the Year award, a CGA record. "There are so many great players in North and South Carolina, and I am extremely honored to have won this," said Harvey, a 38-year-old property manager. "To think that this is my sixth year in a row is honestly mind blowing. I had a hard time seeing myself winning one, but six is so far out of the realm of what I had ever dreamed of its honestly hard to put into words."
Harvey has climbed the rankings to currently hold the designation as the top-ranked mid-amateur (age 25+) in the world. After a 2015 season where he played in The Masters and competed in the Walker Cup, setting new goals for 2016 proved a little difficult. "After some time of trying to find some direction it kind of just hit me, I love the game," said Harvey who is listed No. 60 in the overall Men's World Amateur Golf Rankings. "I love the competition and everything golf is all about. It doesn't matter how much I have or have not accomplished, golf is something that I love and am passionate about and nothing can ever change that."
"Golf is not something you just quit when you reach your goals, it's something that is much bigger and deeper than that. So I took that mindset into the 2016 season." That mentality led to another great year on the golf course.
In CGA play, Harvey picked up his third Carolinas Mid-Amateur title. His biggest win of the season came at the George C. Thomas Invitational at Los Angeles Country Club where he defeated Stewart Hagestad in a playoff. At the U.S. Mid-Amateur, Harvey earned stroke play medalist honors for a record fourth time then nearly won his second U.S. Mid-Amateur title until a late rally by Hagestad . Other notable finishes for Harvey included a third place finish at the Porter Cup, a runner-up finish at the Gasparilla Invitational and a trip to match play at the U.S. Amateur.
Harvey was part of the three person contingent representing North Carolina that finished in second in the USGA Men's State Team. A member of the 2015 Walker Cup team for the United States, Harvey was invited to attend a Walker Cup practice session this winter. The 2015 South American Amateur champion and last year's runner-up, Harvey has again been selected as one the United States' representatives for the event to be played in Argentina from January 19-22.


WOMEN
Katelyn Dambaugh of Goose Creek, S.C. captures her first CGA Women's Player of the Year award by virtue of her excellent performance on the national stage.
In her third year at the University of South Carolina, Dambaugh set the program record for single-season stroke average (71.62) and totaled the most top-five finishes (6) by a junior. She won the 2016 NCAA Baton Rouge Regional with a school record 207 (-9), finished T-11 at the NCAA Championship, and earned First-Team All-America honors from the Women's Golf Coaches Association and Golfweek.
In the summer, Dambaugh earned runner-up honors at the North & South Women's Amateur then advanced to the Round of 16 at the U.S. Women's Amateur. Chosen as one of three women to represent the United States at the Women's World Amateur Team Championship, Dambaugh's final round 69 contributed to a sixth place team finish.
Dambaugh is currently listed at No. 8 in the Women's World Amateur Golf Ranking.

SENIOR MEN
Paul Simson of Raleigh, N.C., an iconic golfer in the Carolinas for over 25 years, wins his eighth Senior Men's Player of the Year award, a CGA record. To earn this honor for the first time since 2012, Simson defended his titles at both the North Carolina Senior Amateur and the Senior Men's North & South Amateur. Now with six North & South Senior wins, Simson became the all-time winningest golfer at Pinehurst Resort with eight total Putter Boy trophies.
Simson also claimed victory in the Durham Senior Amateur, advanced to the Round of 16 at the U.S. Senior Amateur, and placed T-10 at the British Senior Amateur. He was selected to represent the United States the Copa 70 Años in Columbia. At age 65, Simson now has Super Senior status for CGA events. Competing in his first North Carolina Super Senior, Simson captured his 31st overall CGA championship by a ten stroke margin.
In his career, Simson has won over 200 titles, two U.S. Senior Amateurs (2010, '12) and claimed three Seniors Amateur titles (2006, '08, '10), conducted by The R&A. Simson is also a two-time CGA Men's Player of the Year winner (2005 & 2008).

SENIOR WOMEN
Kim Briele of New Bern, N.C., earns her first CGA Senior Women's Player of the Year honor, edging four-time winner Pat Brogden. Briele began her 2016 campaign by finishing T-6 while in search of a title defense at the North Carolina Senior Women's Amateur.
Briele broke through at the Carolinas Senior Women's Championship, winning her second individual CGA title. "That particular event allowed me to complete a year of many highs and low's culminating in the most satisfying finish I have ever experienced," said Briele. "As a golfer, it is nice to accumulate points but nothing can replace a "W" in the win column. So just knowing that I could finish probably was the best rewarding moment of 2016."
Playing with Patty Moore, the duo claimed the Senior Division at the Carolinas Women's Four-Ball. After finishing T-13 at the North & South Senior Women's Amateur, Briele qualified for the U.S. Senior Women's Amateur.

JUNIOR BOYS
Trent Phillips of Inman, S.C., adds Carolinas Junior Boys' Player of the Year to his list of accomplishments. In 2016 Phillips tallied an impressive list of wins including the South Carolina Junior Amateur, the Joe Cheves, the Bobby Chapman Junior Invitational, the Cheraw Fall Challenge and Players Championship. Before this past summer and fall, Phillips had helped his high school team to their third straight South Carolina AAAA championship. He already owned two individual state AAAA championships before this year.
Perhaps his most impressive victory of 2016 came at the Palmetto Amateur, where the future Georgia Bulldog became the youngest player to win the nationally recognized amateur championship.
For the second consecutive year, Phillips was recognized as the South Carolina Junior Golf Association's Boys' Player of the Year.

JUNIOR GIRLS
Emily Hawkins of Lexington, NC became just the third player in history to capture both the North Carolina Junior Girls' and Carolinas Junior Girls' titles in the same year. "The NC Junior Girls was such a big moment for me this summer," said Hawkins. "First, match play was a new format for me. I had been close to winning some big tournaments earlier this year and winning this tournament gave me confidence and helped kick-start my year."
Hawkins added a victory at the AJGA Girls' Championship and finished second at the 50th Twin States Junior Girls. Topping off her year, the high school junior qualified for the U.S. Women's Amateur Championship. "My goal going in to 2016 was to achieve top 5 in the state, have a scoring average of 75 or better, and win 3 tournaments. I am excited to have achieved each goal this year."
The 16-year-old was quick to extend gratitude to others. "I would like to thank my high school coach Hugh Quinn and my swing coach from Precision Golf School Chris Haarlow for helping me to achieve my goals," added Hawkins. "I'm so happy to have received this award. It is something I never dreamed of achieving at the start of the year."
Richard S. Tufts Players of the Year Award Winners

Men
1997 - Cliff Cunningham, Monroe, NC
1998 - Paul Simson, Raleigh, NC
1999 - Jonathan Byrd, Elgin, SC
2000 - D.J. Trahan, Inman, SC
2001 - D.J. Trahan, Inman, SC
2002 - D.J. Trahan, Inman, SC
2003 - Bill Haas, Greer, SC
2004 - Todd White, Moore, SC
2005 - Paul Simson, Raleigh, NC
2006 - Webb Simpson, Raleigh, NC
2007 - Dustin Johnson, Myrtle Beach, SC
2008 - Paul Simson, Raleigh, NC
2009 - Mark Anderson, Beaufort, SC
2010 - David Chung, Fayetteville, NC
2011 - Scott Harvey, Greensboro, NC
2012 - Scott Harvey, Greensboro, NC
2013 - Scott Harvey, Greensboro, NC
2014 - Scott Harvey, Greensboro, NC
2015 - Scott Harvey, Greensboro, NC
2016 - Scott Harvey, Greensboro, NC
Senior Men
2001 - Robert Kulp, Winston-Salem, NC
2002 - Cliff Cunningham, Monroe, NC
2003 - Robert Kulp, Winston-Salem, NC
2004 - Robert Kulp, Winston-Salem, NC
2005 - David Strawn, Charlotte, NC
2006 - Paul Simson, Raleigh, NC
2007 - Paul Simson, Raleigh, NC
2008 - Paul Simson, Raleigh, NC
2009 - Paul Simson, Raleigh, NC
2010 - Paul Simson, Raleigh, NC
2011 - Paul Simson, Raleigh, NC
2012 - Paul Simson, Raleigh, NC
2013 - Rick Cloninger, Fort Mill, SC
2014 - Rick Cloninger, Fort Mill, SC
2015 - Gary Robinson, Fayetteville, NC
2016 - Paul Simson, Raleigh, NC
Women
1997 - Brenda Corrie Kuehn, Fletcher, NC
1998 - Brenda Corrie Kuehn, Fletcher, NC
1999 - Beth Bauer, Cramer Mountain, NC
2000 - Marcy Newton Hart, High Point, NC
2001 - Brenda Corrie Kuehn, Fletcher, NC
2002 - Brandi Jackson, Belton, SC
2003 - Amber Marsh Elliott, Jamestown, NC
2004 - Patty Moore, Charlotte, NC
2005 - Maggie Simons, Raleigh, NC
2006 - Adrienne Millican, Fuquay-Varina, NC
2007 - Patty Moore, Charlotte, NC
2008 - Patty Moore, Charlotte, NC
2009 - Cydney Clanton, Concord, NC
2010 - Cydney Clanton, Concord, NC
2011 - Austin Ernst, Seneca, SC
2012 - Dawn Woodard, Greer, SC
2013 - Dawn Woodard, Greer, SC
2014 - Dawn Woodard, Greer, SC
2015 - Lori Beth Adams, Burlington, NC
2016 - Katelyn Dambaugh, Goose Creek, SC
Senior Women
2001 - Karen Ferree, Hilton Head Island, SC
2002 - Karen Ferree, Hilton Head Island, SC
2003 - Karen Ferree, Hilton Head Island, SC
2004 - Patty Moore, Charlotte, NC
2005 - Patty Moore, Charlotte, NC
2006 - Patty Moore, Charlotte, NC
2007 - Patty Moore, Charlotte, NC
2008 - Patty Moore, Charlotte, NC
2009 - Patty Moore, Charlotte, NC
2010 - Patty Moore, Charlotte, NC
2011 - Pat Brogden, Garner, NC
2012 - Pat Brogden, Garner, NC
2013 - Ashley Rose, North Augusta, SC
2014 - Pat Brogden, Garner, NC
2015 - Pat Brogden, Garner, NC
2016 - Kim Briele, New Bern, NC
Junior Boys
2003 - Vince Hatfield, Greenwood, SC
2004 - Brad Dilen, Cary, NC
2005 - David Chung, Fayetteville, NC
2006 - McCuen Elmore, Cheraw, SC
2007 - Ben Kohles, Cary, NC
2008 - Mark Joye, Columbia, SC
2009 - Andy Knox, Cary, NC
2010 - Cody Proveaux, Leesville, SC
2011 - Carson Young, Pendleton, SC
2012 - Keenan Huskey, Greenville, SC
2013 - Tim Conover, Holly Springs, NC
2014 - Eric Bae, Pinehurst, NC
2015 - Christian Salzer, Sumter, SC
2016 - Trent Phillips, Inman, SC
Junior Girls
2003 - Mallory Hetzel, Summerfield, SC
2004 - Emily Street, Forest City, NC
2005 - Amber Littman, Stoney Creek, NC
2006 - Rachel Uremovich, Hilton Head Island, SC
2007 - Haley Stephens, Greer, SC
2008 - Haley Stephens, Greer, SC
2009 - McKenzie Talbert, North Augusta, SC
2010 - McKenzie Talbert, North Augusta, SC
2011 - McKenzie Talbert, North Augusta, SC
2012 - Kelli Murphy, Elgin, SC
2013 - Reona Hirai, Summerville, SC
2014 - Jessica Spicer, Bahama, NC
2015 - Ashley Czarnecki, Greenville, SC
2016 - Emily Hawkins, Lexington, NC