Top-Ranked Players at Vicki DiSantis Girls'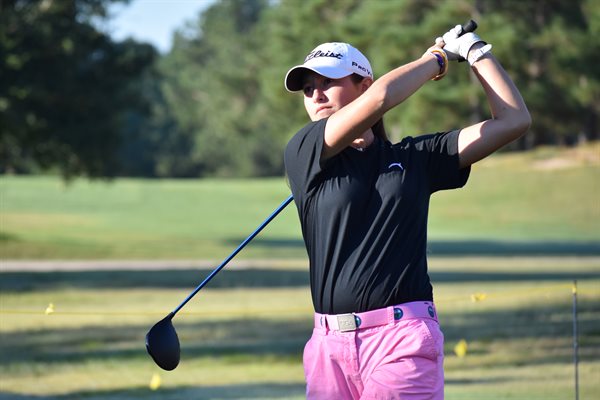 Defending champion Gracyn Burgess is looking to become the first junior girl to repeat at the Vicki DiSantis
SOUTHERN PINES, N.C. (May 9, 2018) -- The Carolinas Golf Association's girls' championship season gets started in 2018 with the 13th Vicki DiSantis Girls' Championship on May 12-13, 2018 at Pine Island Country Club in Charlotte, N.C.
Related: Championship Homepage | Full Field of Players | Starting Times | History

This is the eleventh consecutive year the tournament has been hosted by Pine Island CC. All but one past champion has played Division I college golf, including: two-time champion Austin Ernst (LSU), Amber Littman (East Carolina), Megan Moore (East Carolina), Katherine Perry (North Carolina), Chelsey Couch (South Carolina), Kelli Murphy (Auburn), Madison Moosa (Furman), and Emily Cox (Southern Mississippi). 2016 champion Gina Kim (Duke), and 2017 champion Gracyn Burgess (Clemson) are still in high school, but will certainly continue the trend of past champions playing college golf at the highest level.
Inspired by a rolling piece of farmland in the mid-1960s, golf course architect Charles M. Mahannah created Pine Island CC's course so that every golfer would enjoy the design. With the latest renovation direction by golf course architect Michael Gleason of Pinehurst, N.C. the course is one of the finest USGA-regulated courses in the region. Dramatic, architecturally sound and extremely innovative, this premier private course provides fun and challenging play for golfers of all ages and skill levels.
Here are the top-ranked players competing at this year's Vicki DiSantis Girls' Championship:

#1 in S.C., Gracyn Burgess of Lexington - A high school senior, in 2017 Burgess became the first player to capture the Vicki DiSantis Junior Girls', Twin States Junior Girls', and Carolinas Junior Girls' titles in the same year. She added wins at the WSCGA Junior Girls', George Holliday Junior, and six high school championships. The recipient of the Carolinas Junior Girls' Player of the Year award, Burgess was also named the Beth Daniel Player of the Year by the South Carolina Junior Golf Association. She was also selected the inaugural recipient of the David Parrott Girls' Award, given to the Carolinas Girls' Team member who displays excellence in sportsmanship, ability, and academics. Burgess has committed to play college golf at Clemson.
#1 in N.C., Rachel Kuehn of Asheville - Kuehn, a junior in high school, was named the 2017 N.C. Junior Girls' Player of the Year. She won four tournaments in 2017 including the Carolinas Women's Amateur, where she came from behind to win over a field that included some the best women amateurs in the Carolinas. Kuehn also won the Bubba Conlee Junior, the NCISAA Girls' State Championship, and the Peggy Kirk Bell Girls' Tour Tournament of Champions. In the 15 events Kuehn played, she placed in the top 15 eleven times, including runner-up honors at this championship. Kuehn has verbally committed to play college golf at Wake Forest University.
#2 in S.C., Anna Morgan of Spartanburg - A high school junior, Morgan captured the Carolinas PGA Junior title in 2017. She also won the WSCGA Girls Green Valley Classic and posted a third-place finish last year at this championship. Morgan has verbally committed to play college golf at Furman University.
#3 in S.C., Emily Dunlap of Greenville - Dunlap, a high school junior, tallied six victories in 2017. These wins included the SCJGA Cheraw Fall Challenge and Ford Picard Christmas Classic. Dunlap also placed second at the AAAAA state championship. Dunlap has verbally committed to play college golf at the College of Charleston.
#3 in N.C., Katherine Schuster of Kill Devil Hills - In April, Schuster won a national title in the girls 14-15 age group of the Drive, Chip, and Putt Championship at Augusta National. Schuster has three top-five finishes this season on the PKB Girls' Golf Tour, including a win at the Orange Whip Classic in Clemson, S.C., in February. A high school freshman, Schuster, won the NCHSAA 1A/2A Women's Golf Individual State Championship in Southern Pines and 1A/2A East Regional in Washington last fall.
#4 in N.C., Emily Hawkins of Lexington - Hawkins, a home-schooled senior, was the 2016 Carolinas Junior Girls' Player of the Year. In 2017, Hawkins notched her third CGA title at the Jimmy Anderson Girls' Invitational. Hawkins has committed to play college golf at Campbell University.
Other top players to watch are #5 in N.C. Nicole Adam of Pinehurst, #6 in S.C. Elle Johnson of Inman, #6 in N.C. Hailey Joy of Reidsville, #8 in S.C. Isabella Rawl of Lexington, and #8 in N.C. Amanda Sambach of Davidson.
The Vicki DiSantis Junior Girls' Championship is 36 holes of stroke play competition. Entry is open to any female amateur golfer ages 12 to 18, who has not started college, maintains a residence in North Carolina or South Carolina, is a member in good standing of a club which is a member of the Carolinas Golf Association (CGA) and has a current USGA Handicap Index® at a CGA member club that does not exceed 18.3.
SCHEDULE OF EVENTS:
Saturday, May 12
Round 1 – 18 holes stroke play (tee times begin at 12:30 p.m. off #1 and #10 tees)
Lunch immediately following play for players and spectators
Sunday, May 13
Round 2 – 18 holes stroke play (tee times begin at 8:00 a.m. off #1 and #10 tees)
Ice cream and awards immediately following play for players and spectators
About the Carolinas Golf Association (CGA)
The CGA is a 501(c)(3) not-for-profit educational organization that was founded in 1909 to promote and to protect the game of golf in the Carolinas by providing competitions, education, support and benefits to golf clubs and golfers. The CGA is the second largest golf association in the country with over 700 member clubs represented by nearly 150,000 individuals.

The CGA annually conducts 48 championships and five team match competitions for men, women, juniors, and seniors. It also runs over 150 One-Day (net and gross) events as well as qualifying for USGA national championships. The CGA serves golf in the Carolinas with numerous programs such as: the USGA Handicap System; tournament management software and support; course measuring and course/slope ratings; agronomy consultation; answers about the Rules of Golf, Rules of Amateur Status, and Handicapping; Carolinas Golf Magazine; Interclub series; Tarheel Youth Golf Association; Carolinas Golf Hall of Fame; expense assistance for USGA Junior and Girls' Junior qualifiers from the Carolinas; and the Carolinas Golf Foundation (CGF). The CGF has distributed over $2,000,000 since 1977 to benefit Carolinas' golf initiatives including junior and women's programs.

For more information about the CGA, visit www.carolinasgolf.org.

##30##