Kuehn holds two shot lead at Vicki DiSantis Girls'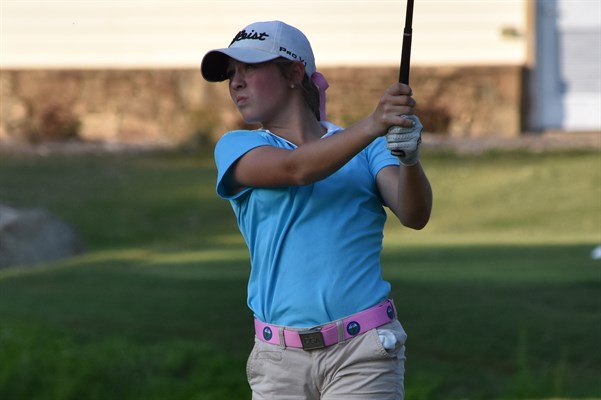 First round results from the 13th Vicki DiSantis Girls' Championship hosted by Pine Island CC in Charlotte, NC on Saturday, May 12, 2018 (6,012 yards, par 35-37—72)
Rachel Kuehn of Asheville, N.C. used a round of three under par 69 to secure the first round lead in the 13th Vicki DiSantis Girls' Championship. Kuehn, a high school junior, played solid golf giving her a chance at her first CGA junior championship. "I hit a lot of greens that lead to some great opportunities" said Kuehn, the 2017 NC Junior Girls' Player of the Year. "I eagled my fifth hole. number 14, to get my round going. The back was not as smooth, but I birdied six and seven to bounce back" added Kuehn.
Kuehn has a two shot lead heading into Sunday's final round. "I'm hoping to do the same thing tomorrow and hit a lot of greens" said Kuehn. Kuehn won the 2017 Carolinas Women's Amateur and hopes to repeat this coming June.
High School senior, Hailey Joy of Reidsville, N.C. sits alone in second place after her round of one under par 71. A pair of high school freshman that includes Katherine Schuster of Kill Devil Hills, N.C., Amanda Sambach of Davidson, N.C. are tied for third four shots back at one over par 73.
Defending champion and 2017 Carolinas Junior Girls' Player of the Year Gracyn Burgess of Lexington, S.C. shot a round of four over par 76 and sits seven shots back of Kuehn.
The Vicki DiSantis Junior Girls' Championship is 36 holes of stroke play competition. Entry is open to any female amateur golfer ages 12 to 18, who has not started college, maintains a residence in North Carolina or South Carolina, is a member in good standing of a club which is a member of the Carolinas Golf Association (CGA) and has a current USGA Handicap Index® at a CGA member club that does not exceed 18.3.
Round One Results (6,012 yards, par 72, 74.1/136)
| | | | |
| --- | --- | --- | --- |
| Place | Name | Score | To Par |
| 1 | Rachel Kuehn, Asheville, NC-2019 | 69 | -3 |
| 2 | Hailey Joy, Reidsville , NC-2018 | 71 | -1 |
| T3 | Katherine Schuster, Kill Devil Hills, NC-2021 | 73 | +1 |
| T3 | Amanda Sambach, Davidson, NC-2021 | 73 | +1 |
| T5 | Muskan Uppal, Cornelius, NC-2019 | 74 | +2 |
| T5 | Nicole Adam, Pinehurst, NC-2020 | 74 | +2 |
| T5 | Olivia John, Summerfield, NC-2018 | 74 | +2 |
| T5 | Elle Johnson, Inman, SC-2019 | 74 | +2 |
| T5 | Rachel Rich, Mount Pleasant, SC-2020 | 74 | +2 |
| T5 | Abigail Schimpf, Daniel Island, SC-2020 | 74 | +2 |
| T5 | Chloe Holder, Williamston, SC-2021 | 74 | +2 |
| T12 | Rachel Tamaro, Albemarle, NC-2019 | 75 | +3 |
| T12 | Anna McDonald, Hickory, NC-2019 | 75 | +3 |
| T12 | Carly Lyvers, Simpsonville, SC-2018 | 75 | +3 |
| T12 | Alexis Sudjianto, Charlotte, NC-2019 | 75 | +3 |
| T12 | Phoebe Carles, Clinton, SC-2020 | 75 | +3 |
| T12 | Sophie Holland, Cornelius, NC-2020 | 75 | +3 |
| T12 | Kennedy Carroll, Mt. Pleasant, SC-2019 | 75 | +3 |
| T12 | Holly McCann, Raleigh, NC-2018 | 75 | +3 |
| T12 | Karlee Vardas, Lexington, SC-2021 | 75 | +3 |
| T21 | Ana Tsiros, Asheville, NC-2019 | 76 | +4 |
| T21 | Maria Atwood, Holly Springs, NC-2022 | 76 | +4 |
| T21 | Mackenzie Battle, Aberdeen, NC-2018 | 76 | +4 |
| T21 | Anna Morgan, Spartanburg, SC-2019 | 76 | +4 |
| T21 | Gracyn Burgess, Lexington, SC-2018 | 76 | +4 |
| T26 | Kayla Smith, Burlington, NC-2019 | 77 | +5 |
| T26 | Ella Kue, Kings Mountain, NC-2023 | 77 | +5 |
| T28 | Grace Jones, Hayesville, NC-2020 | 78 | +6 |
| T28 | Adrian Anderson, Murrell's Inlet, SC-2022 | 78 | +6 |
| T28 | Kayleigh Reinke, Rock Hill, SC-2021 | 78 | +6 |
| T28 | Hannah Rose Bruxvoort, Chapel Hill, NC-2018 | 78 | +6 |
| T28 | Isabella Britt, Chesnee, SC-2021 | 78 | +6 |
| T28 | Sofia Carles, Clinton, SC-2021 | 78 | +6 |
| T28 | Kelley Topiwala, Charlotte, NC-2020 | 78 | +6 |
| T28 | Alyssa Campbell, Lake Wylie, SC-2018 | 78 | +6 |
| T28 | Emily Hawkins, Lexington, NC-2018 | 78 | +6 |
| T28 | Lauren Martin, Mooresville, NC-2020 | 78 | +6 |
| T28 | Lotte Fox, Raleigh, NC-2020 | 78 | +6 |
| T39 | Alexia Siehl, Fort Mill, SC-2022 | 79 | +7 |
| T39 | Mallory Fobes, East Bend, NC-2019 | 79 | +7 |
| T39 | Ella Stalvey, Blythewood , SC-2023 | 79 | +7 |
| T39 | Nina Kouchi, Charlotte, NC-2018 | 79 | +7 |
| T39 | Katelyn Lee, Easley, SC-2020 | 79 | +7 |
| T39 | Emily Dunlap, Greenville, SC-2019 | 79 | +7 |
| T39 | Isabella Rawl, Lexington, SC-2022 | 79 | +7 |
| T39 | Savannah Hylton, Hilton Head Island, SC-2021 | 79 | +7 |
| T39 | Michelle Harn, Charlotte, NC-2019 | 79 | +7 |
| T39 | Sasha Hayes, Winston Salem, NC-2020 | 79 | +7 |
| T39 | Kayla Bartemeyer, Mount Pleasant, SC-2020 | 79 | +7 |
| T39 | Emma Charles, Hartsville, SC-2019 | 79 | +7 |
| T51 | Annabelle Millard, Charlotte, NC-2022 | 80 | +8 |
| T51 | Macie Burcham, Greensboro, NC-2021 | 80 | +8 |
| T51 | Mara Hirtle, Pinehurst, NC-2020 | 80 | +8 |
| T51 | Mary Kathryn Talledo, Blythewood, SC-2021 | 80 | +8 |
| T55 | Jayla Rogers, Wilmington, NC-2019 | 81 | +9 |
| T55 | Morgan Ketchum, Winston-Salem, NC-2022 | 81 | +9 |
| T55 | Gillian O'Brien, Clemson, SC-2019 | 81 | +9 |
| T55 | Angelique Seymour, Fayetteville , NC-2019 | 81 | +9 |
| T55 | Ashley Looper, Marietta, SC-2019 | 81 | +9 |
| T55 | Molly Hardwick, Lexington, SC-2022 | 81 | +9 |
| T55 | Riley Hamilton, Reidsville, NC-2020 | 81 | +9 |
| T62 | Trinity Muthomi, Kernersville, NC-2022 | 82 | +10 |
| T62 | Kennedy McGaha, Honea Path, SC-2021 | 82 | +10 |
| T62 | Ryann Sinclair, Mooresville, NC-2019 | 82 | +10 |
| T65 | Sydney Roberts, Chesnee, SC-2022 | 83 | +11 |
| T65 | Sarah Boteler, Greenville, SC-2021 | 83 | +11 |
| T67 | Amber Capote, Waxhaw, NC-2020 | 84 | +12 |
| T67 | Bailee Twiford, Coinjock, NC-2019 | 84 | +12 |
| T67 | Peyton Gillespie, Greenville, SC-2019 | 84 | +12 |
| T67 | Lauren Denhard, Salisbury , NC-2019 | 84 | +12 |
| T67 | Victoria Ladd, Greensboro, NC-2019 | 84 | +12 |
| T72 | Kennedy Gooding, Lexington, SC-2022 | 85 | +13 |
| T72 | Erin Singleton, Apex, NC-2020 | 85 | +13 |
| T74 | Caroline Crumrine, Wilmington, NC-2020 | 86 | +14 |
| T74 | Carson Jenkins, Raleigh, NC-2019 | 86 | +14 |
| 76 | Elizabeth Ritchie, Havelock, NC-2019 | 87 | +15 |
| T77 | Marley Barefoot, West Columbia, SC-2019 | 88 | +16 |
| T77 | Becca Connolly, Winston-Salem, NC-2020 | 88 | +16 |
| 79 | Grayson Warren, Washington, NC-2021 | 89 | +17 |
| 80 | Katelyn Kenthack, Pinehurst, NC-2020 | 92 | +20 |
| 81 | Lexi Bennett, Santee, SC-2021 | 94 | +22 |
| 82 | Kayla Yang, Maiden, NC-2019 | 95 | +23 |