Ladies' Play Day Results - Mid South Club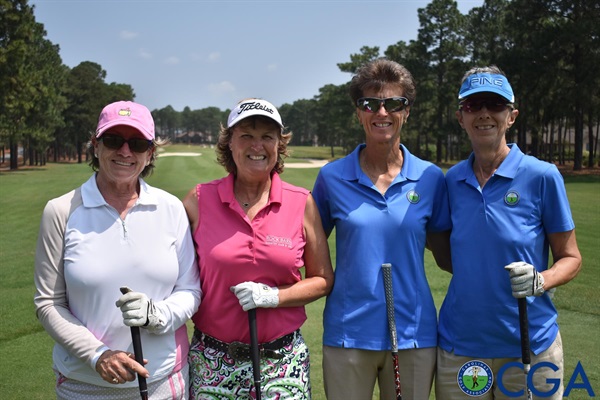 Ladies' Four-Ball Play Day Results
from Mid South Club
SOUTHERN PINES, N.C. (June 4, 2019) -- Final results from the Ladies' Four-Ball Play Day hosted by Mid South Club in Southern Pines, N.C. on Monday, June 3, 2019.
104 players competed in the ladies' four-ball play day at Mid South Club in Southern Pines, N.C. Winners in each flight received gross and net prizes. The first place gross and net team in each flight also gained an exemption to the year-end Carolinas Cup Tournament that will be held at Kiawah Island Resort (Ocean) on December 2, 2019. All players also received points in the Race to the Carolinas Cup.
Ladies' Four-Ball Play Days are 18-hole events of four-ball stroke play, with prizes given for gross and net winners in each flight. The field is flighted based on team Handicap Index®.
Results
First Flight
Pos.
Players
City, State
Gross
Net
1st Gross
Lily Lee / Deborah Arbogast
Chapel Hill, NC
73
58
1st Net
Kendra Muir / Tracey Green
Pinehurst, NC
74
63
2nd Gross
Lori Teague / Libby Lewallen
Taylorsville, NC, Pinehurst, NC
76
65
2nd Net
Denise Uitto / Vicki Cyr
McCormick, SC
82
66
3rd Net
Ellen Connors / Kit Simpson
Pinehurst, NC
77
66
Katherine DeVore / Betty Zvarich
High Point, NC, Fayetteville, NC
76
67
Lynn Roloff / Sook Hee Yang
Greensboro, NC, Jamestown, NC
76
69
Sherry Bowman / Patricia Camp
Southern Pines, NC
77
67
Carol Pitzer / Donna Rotondo
Pinehurst, NC
79
68
Bonnie Montgomery / Carmen Andia
Jamestown, NC, Whitsett, NC
79
67
Terry Rickson / Kristen Biety
Charleston, SC, Johns Island, SC
83
70
Karin Wu / Janet Myers
Charlotte, NC
83
69
Karen Smith / Rita Danker
Pinehurst, NC
85
69
Second Flight
Pos.
Players
City, State
Gross
Net
1st Gross
Em Clifford / Shawnee Yantorno
Sanford, NC
76
57
1st Net
Bonnie Parker / Jackie Nyberg
Pinehurst, NC
78
58
2nd Gross
Cheri Guidice / Diane Tate
Pinehurst, NC
81
65
2nd Net
Katherine Pieczynski / Jill Hemingway
Pinehurst, NC
82
64
3rd Net
Mary Sutton / Shirley Baker
Goldsboro, NC, Wilson, NC
85
65
Carol Bryant / Carol Owens
Wilson, NC
85
68
Nancy Yancey / Kathy Reynolds
Hickory, NC
86
68
Susan Cunningham / Cynthia Amicone
Bolivia, NC
87
66
Diane Lavigne / Lori Blakey
Chapel Hill, NC
87
70
Sara Thomas / Karen Walters
Cornelius, NC, Statesville, NC
87
67
Marti Elliott / Roni Hann
West End, NC
88
69
Sue Gibson / Barbara Gale
Leland, NC
91
71
Becky Parr / Linda Strohmenger
West End, NC
95
80
Third Flight
Pos.
Players
City, State
Gross
Net
1st Gross
Nancy Cooper / Sandy Dixon
Burlington, NC
77
63
1st Net
Benjie Fowler / Carol Brown
Wendell, NC, Raleigh, NC
84
61
2nd Gross
Gail Ford / Diane Negley
Pinehurst, NC
82
63
2nd Net
Jean Burns / Wilma Shaw
Irmo, SC, Lexington, SC
89
65
3rd Net
Franny Stewart / Romana Lyons
Pinehurst, NC
87
66
Nancy Neubeiser / Kathy Ceruti
Chapin, SC
86
66
Lynne Rice / Carmen Humenik
Bolivia, NC
89
68
Anne Bourne / Jean Peters
Pinehurst, NC
90
67
Sally Gauntlett / Tamera Elam
Hendersonville, NC
91
68
Julie Christianson / Tami Valentine
Hendersonville, NC
91
69
Mary Woodford / Deborah Levy
Pinehurst, NC
92
69
Patti Luckey / Pat Blunda
Pawleys Island, SC
95
72
Darlene Seguin / Cynthia Remington
Lexington, SC
96
72
Fourth Flight
Pos.
Players
City, State
Gross
Net
1st Gross
Susan Lamar / Ann Davis
Durham, NC
81
60
1st Net
Lana Yee / Carolyn Thompson
Pinehurst, NC
89
60
2nd Gross
Kim Jett / Debbie Bolden
Southern Pines, NC
89
63
2nd Net
Mary Anne Sovesky / Garnett Shlafer
Concord, NC, Huntersville, NC
90
62
3rd Net
Jill Robbins / Mindy Schult
Hendersonville, NC
93
62
Jo Williams / Peggy Cleary
Pinehurst, NC
89
62
Lynda Brophy / Cheryl Lands
Cornelius, NC, Davidson, NC
91
65
Susan Clark / Charlotte Kennedy
West End, NC
92
64
Freddy Ann Mastandrea / Pat Watterworth
Pinehurst, NC
92
63
Rebecca Nuckols / Margo Acomb
Wendell, NC, Raleigh, NC
93
72
Jeanie Sasser / Betty Musser
Whitsett, NC
96
70
Barbara Sjodin / Marie Ballard
Etowah, NC
99
73
Ellen Vincent / Leila Jones
Charlotte, NC
101
65
About the Race to the Carolinas Cup and Ladies' Four-Ball Play Days
The Race to the Carolinas Cup is a season-long points competition in which players accumulate points based on team finish and participation in CGA Ladies' Four-Ball Play Days.
Four-Ball Play Days are ladies-only four-ball (better ball) competitions that are conducted at member clubs across North and South Carolina. Play Days are designed for players of all skill levels and abilities. These events are flighted by team Handicap Index and include gross and net prizes. Most events will be a shotgun start and all events will include lunch.
Every team at every Four-Ball Play Day earns points in the Race to the Carolinas Cup based on their gross or net finish in their respective flight. Each team will also receive participation points. Team points will be split between players to apply to each player's individual standing in the Race to the Carolinas Cup. Players may play with any partner in any of the play days and earn points toward her individual standing. At the end of the Race to the Carolinas Cup regular season, the player with the most points will be named the Race to the Carolinas Cup champion. This award will be given at the year-end Carolinas Cup Tournament. Players in the Top 50 of the Race to the Carolinas Cup standings, as well as each gross and net flight winners at every play day, will be invited to participate in the Carolinas Cup Tournament at Kiawah Island Resort (Ocean). Players may compete with any partner that is also eligible for the tournament. The Carolinas Cup Tournament will be held on December 2, 2019 and will include a banquet and luncheon to celebrate the Race to the Carolinas Cup Champion as well as the Carolinas Cup Tournament winners.
More Information about the Race to the Carolinas Cup
2019 Ladies' Four-Ball Play Days Schedule
About the Carolinas Golf Association (CGA)
The CGA is a 501(c)(3) not-for-profit educational organization that was founded in 1909 to promote and to protect the game of golf in the Carolinas by providing competitions, education, support and benefits to golf clubs and golfers. The CGA is the second largest golf association in the country with over 700 member clubs represented by nearly 150,000 individuals.
The CGA annually conducts 48 championships and five team match competitions for men, women, juniors, and seniors. It also runs over 150 One-Day (net and gross) events as well as qualifying for USGA national championships. The CGA serves golf in the Carolinas with numerous programs such as: the USGA Handicap System; tournament management software and support; course measuring and course/slope ratings; agronomy consultation; answers about the Rules of Golf, Rules of Amateur Status, and Handicapping; Carolinas Golf Magazine; Interclub series; Tarheel Youth Golf Association; Carolinas Golf Hall of Fame; expense assistance for USGA Junior and Girls' Junior qualifiers from the Carolinas; and the Carolinas Golf Foundation (CGF). The CGF has distributed nearly $2,000,000 since 1977 to benefit Carolinas' golf initiatives including junior and women's programs.
For more information about the CGA, visit our website.
##30##