Brady Leads Carolinas Senior Women's Amateur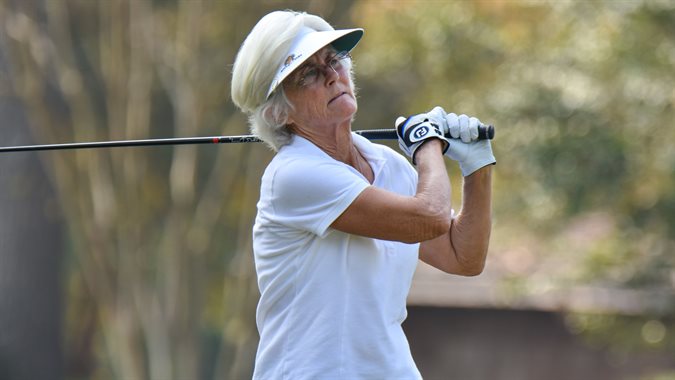 Peg Brady leads after round one of the Carolinas Senior Women's Amateur.
GASTONIA, N.C. (October 1, 2019) – First round results of the 21st Carolinas Senior Women's Championship at Gaston Country Club in Gastonia, N.C. on October 1, 2019.
Related: Championship Web Site | Starting Times | Scoring | History | Photos
Peg Brady of Stanley, N.C. takes the early lead at the Carolinas Senior Women's Amateur after a first round score of 2-under-par, 70.
Brady got off to what she described as a "mediocre" start on the front nine making three bogeys and only one birdie to make the turn at two-over par, but her finish was anything but mediocre. Brady made five birdies in her last six holes to shoot four-under-par, 32 on her closing nine.
"On the back nine things just started going at the pin and my putting really started improving," Brady said. "My irons were just going right where I was aiming. I Just felt calm, like I was in full control."
Brady credited a putting tip from her nine-year-old grandson to her improved putting but wouldn't share the secret.
"I was caddying for him in a U.S. Kids tournament and he gave me a tip that helped for sure," Brady said. "The greens here are like ours at home (Cowan's Ford Country Club) so I felt really comfortable. It's a beautiful course on a beautiful day. We had nice people to play with and we were all relaxed. It made it easy."
Brady will take a two-shot lead into Wednesday's final round over her nearest competitor, Brenda Kuehn of Asheville, N.C. Kuehn, a Wake Forest Sports Hall of Fame inductee, has taken a few years off competitive golf while focusing on her family. With her daughter, Rachel, leaving for college this fall, it freed her up to work on her game and play a bit more golf.
"I am trying to just have fun," Kuehn said. "I haven't played tournaments in three years and haven't played much golf in a while. So, my goal was to come out and just have a good time."
Kuehn's game obviously hasn't suffered much since her competitive peak. She came out of the gate strong with a birdie on the par-5, first hole but she followed it up with bogeys on her next three holes. She made one more bogey in her final 14 holes but more importantly, made three more birdies coming in to finish at even par, 72.
Two golfers are tied for third place at 2-over-par including six-time Carolinas Senior Women's Amateur champion, Pat Brogden of Garner, N.C. and the reigning Carolinas Senior Women's Player of the Year, Lea Anne Brown of Mt. Pleasant, S.C.
Four golfers, including the seven-time Carolinas Senior Women's Amateur champion, Patty Moore of Pinehurst, N.C. are tied for fifth at four-over-par. Jayne Pardus of Mt. Pleasant, S.C., Kerry Rutan of Daniel Island, S.C. and Kathy Binkley of Cornelius, N.C. are tied for fifth place after opening rounds of 76.
In the Carolinas Division, Carole Jones of Hillsborough, N.C. holds a two-shot lead after a round one score of 1-over-par, 73. Jones is leading the low Super Senior category after besting her age by one shot.
The championship is contested at 36 holes of stroke play with a Championship Division (approximately 5,378 yards) and Carolinas Division (approximately 4801 yards). Players have the option to compete in either the Championship Division or Carolinas Division. Players are pre-flighted within their division based on Handicap Index. The overall champion can come from any flight within the Championship division. The Carolinas division plays a shorter course and is ineligible for the overall championship.
Entry is open to any female amateur golfer who has reached her 50th birthday by October 1, 2019, maintains a residence in North Carolina or South Carolina, is a member in good standing of a club which is a member of the Carolinas Golf Association (CGA) and has an active GHIN® USGA Handicap Index® at a CGA member club.
21st Carolinas Senior Women's Championship
Gaston Country Club | Gastonia, N.C.
Round One Results