Date Set for NC Junior Golf Night Awards Banquet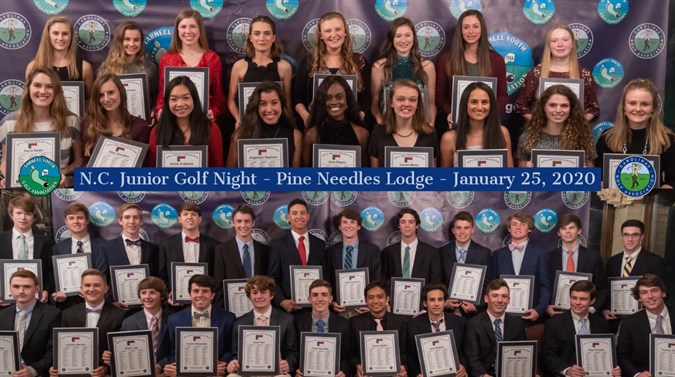 SOUTHERN PINES, N.C. (November 25, 2019) —The Tarheel Youth Golf Association (TYGA) and the Carolinas Golf Association (CGA) will award the 2019 North Carolina Junior Players of the Year and North Carolina All-State honors at the annual N.C. Junior Golf Night Awards Banquet on Saturday, January 25, 2020 at Pine Needles Lodge and Golf Club in Southern Pines, N.C.
These awards are given to the girls and boys from around North Carolina who have established themselves as the state's best junior golfers through a variety of competitive events in 2019.
The awards banquet will feature the USGA's Senior Director of Player Relations, Jason Gore, as the night's guest speaker. Gore competed on the PGA Tour for more than 20 years, amassing more than $6 million in career earnings. He is perhaps best remembered for having played in the final pairing at the 2005 U.S. Open at Pinehurst. He has served as a member on the PGA Tour's Advisory Council nine times.
"This is one of my favorite nights each year when we get to recognize all the hard work of not only these young golfers but also their families and coaches," said CGA Director of Youth Development Jason Cox. "I'm really excited to have Jason Gore speak to these young golfers as they continue to develop themselves as both better golfers and better people."
The Junior Player of the Year awards will recognize one boy and one girl who had the most successful year in junior and amateur golf events at local, state and national levels.The All-State teams will include 10 boys and girls on the first team, 10 boys and girls on the second team and 10 boys and girls on the third team.
The following criteria must be met to be eligible:
Must have played a minimum of five TYGA rankings events in 2019.
Must be 18 years of age or younger as of December 31, 2019.
Must not have graduated from high school.
The All-State awards will be determined by a combination of each player's scoring differential and the total points earned in the rankings events.
Formal invitations to the banquet will be mailed the first week of January 2020.