Remembering A Dear Friend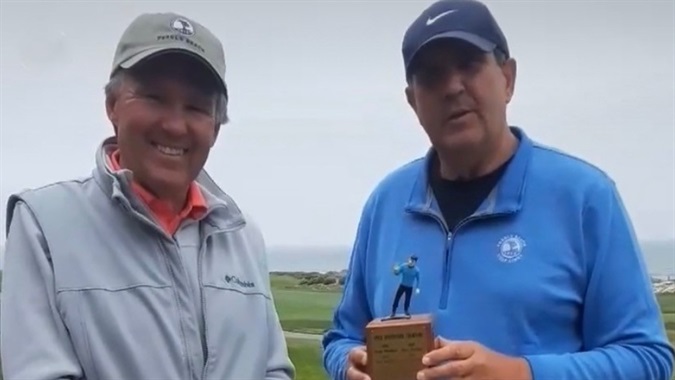 SOUTHERN PINES, N.C. - While golf may be most known for its most recognizable trophies, champions, and venues, many know the game for the lifelong friendships and stories that it creates. That's no different for Frank Potochney, George Potochney, Doug Schoenberger and their friend the late Todd Kinlaw.
The Potochney's, Doug and Todd had been playing golf together since 2003, with yearly buddies golf trips always the crown jewel in their life long relationship that was described as "Golf, Friendship, and Family," by Frank Potochney.
Of course a competition, while friendly in nature, needs something the winner can hold high from year to year, so the Quartet would play for the "Spock Cup," an ode to one of Star Trek's most popular characters.
For this foursome their trips were highlighted by destinations such as Hilton Head Island, Pawleys Island, and the golf rich area that is Myrtle Beach. Their last trip was a dream pilgrimage for any golfer, a flight out west to Pebble Beach.
The only drawback? It was their first trip without Kinlaw, who had lost a battle with Ewing Sarcoma, an aggressive type of bone cancer, on August 6th, 2020. For his family, friends, and the golf group that he left behind, Kinlaw's character still rings pure.
"He would always go out of his way for you," said Frank Potochney. "He epitomized what being a golf buddy is."
While this trip was made with heavy hearts and teary eyes, Kinlaw's presence was still with the now trio, as they left his spot un-filled as an ode to their friend, which wasn't the only tribute of the trip. The group in a memorial act for their friend, each teed up a ball, and drove it into the ocean on the 18th tee at Pebble Beach for Todd.
"He just fit right in with our group," said Potochney. "He was always the one up at five in the morning ready to go. He just completed the group, I can't really describe how important he was to us."
This tight knit group's relationship only bloomed as well, because of the nature of Todd's loving and supportive wife, Karen.
"She was always so supportive of Todd and having him go golf," said Potochney. "She always encouraged him. I know Karen was the one who pushed him into agreeing to come to the Pebble Beach trip before he passed. Todd was just quiet and humble. I still can't believe that he's gone."
Along with his wife Karen, Todd is also survived by his daughter Riley, father RC, sister Evelyn and his brother Riley.