US Open Local Qualifying - Pinewild CC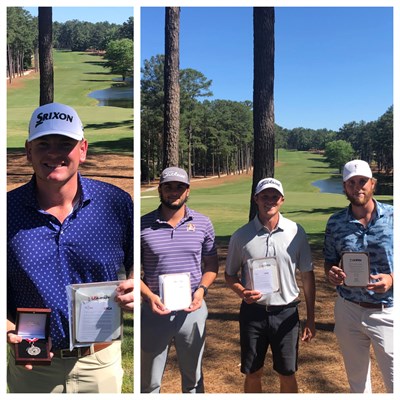 PINEHURST, N.C. (May 9, 2022) -- Final results from U.S. Open Local Qualifying at Pinewild Country Club's Magnolia Course in Pinehurst, N.C. on Monday, May 9, 2022. (7,251 yards, par 36-36--72).
Five qualifying spots and two alternate spots were available at this qualifying site.
Bryce Hendrix of Apex, N.C. earned medalist honors with a round of five-under-par 67. Ben Woodruff of Huntersville, N.C. qualified with a round of four-under-par 68. Three players shot rounds of one-under-par 71 to claim the final three qualifying spots: Christian Castillo of Parker, TX, Brandon Pierce of Covington, LA and A.J. Beechler of Pinehurst, N.C. Three players finished at even-par 72 and headed to a playoff to determine the alternate positions. Brett McLamb of Coats, N.C. will be the first alternate and Broc Everett of West Des Moines, IA will be the second alternate.
The qualifiers will advance to Final Qualifying on May 23 or June 6. The 122nd U.S. Open Championship will be played at The Country Club in Brookline, Massachusetts from June 16-19, 2022.
Hole-by-hole scoring can be viewed here.
US Open Local Qualifying Results
Pinewild Country Club, Pinehurst, N.C.
May 9, 2022
Pos.

Player

Affiliation

To Par

Total Score

Details

1

Bryce Hendrix (p)

Apex, North Carolina

-5

67

2

Ben Woodruff

Huntersville, North Carolina

-4

68

T3

Christian Castillo

Parker, Texas

-1

71

T3

Brandon Pierce (p)

Covington, Louisiana

-1

71

T3

August Joshua Beechler

Pinehurst, North Carolina

-1

71

The following players did not make the cut

CUT

Brett McLamb (p)

Coats, North Carolina

E

72

First Alternate

CUT

Broc Everett (p)

West des moines, Iowa

E

72

Second Alternate

CUT

Alexander Heffner

Harrisburg, North Carolina

E

72

CUT

Marshall Meisel

Chevy Chase, Maryland

1

73

CUT

Brendan Hunter (p)

Nashua, New Hampshire

1

73

CUT

Trevor Cone (p)

Charlotte, North Carolina

1

73

CUT

Collin Adams

Charlotte, North Carolina

1

73

CUT

Davis Womble

Winston-salem, North Carolina

2

74

CUT

Kenan Poole

Raleigh, North Carolina

2

74

CUT

Nicholas Mathews

Mebane, North Carolina

2

74

CUT

Charlie Barr

Salisbury, North Carolina

2

74

CUT

Timothy Conover (p)

Holly springs, North Carolina

2

74

CUT

Graham Chase

Charlotte, North Carolina

2

74

CUT

Garrett Risner

Holly springs, North Carolina

2

74

CUT

Jonathan Honeywell

Whispering pines, North Carolina

3

75

CUT

Jonathan Yaun

Minneola, Florida

3

75

CUT

Benjamin Shipp (p)

Duluth, Georgia

3

75

CUT

Chad Cox (p)

Charlotte, North Carolina

3

75

CUT

Matthew Doyle

Summerville, South Carolina

4

76

CUT

Brock Elder (p)

Climax, North Carolina

4

76

CUT

Ayush Bodhale

Huntersville, North Carolina

4

76

CUT

Bobby Dean

Charlotte, North Carolina

5

77

CUT

Charles Chapman (p)

Mount croghan, South Carolina

5

77

CUT

Grady Newton

Winston salem, North Carolina

5

77

CUT

Mehrbaan Singh

Ashburn, Virginia

6

78

CUT

Will Suddreth

Jamestown, North Carolina

6

78

CUT

Will Jones (p)

Pineshurst

6

78

CUT

Erich Johnston

Indian land, South Carolina

6

78

CUT

Adam Lauer

Pittsburgh, Pennsylvania

6

78

CUT

Matt Vick (p)

Pinehurst, North Carolina

6

78

CUT

Tyler Lail (p)

Danville, Virginia

6

78

CUT

Kevin Busteed

Mount holly, North Carolina

6

78

CUT

Connor Brown

Shelby, North Carolina

6

78

CUT

William Delano

Charlotte, North Carolina

7

79

CUT

Wesley Conover (p)

Raleigh, North Carolina

7

79

CUT

Anthony Spivey

Mccoll, South Carolina

7

79

CUT

Landon Taylor (p)

Ninety six, South Carolina

7

79

CUT

Travis Bryant

Southern pines, North Carolina

7

79

CUT

Timothy Driver

Holly springs, North Carolina

7

79

CUT

Jonathan Schram (p)

Winona lake, Indiana

7

79

CUT

Benjamin Peters

Winston salem, North Carolina

7

79

CUT

Brady Arnold (p)

Owatonna

8

80

CUT

Jennings Glenn

Raleigh, North Carolina

8

80

CUT

Jonathan Dudley (p)

Whitsett, North Carolina

8

80

CUT

Ryan Macri

Wake forest, North Carolina

8

80

CUT

Will Straub (p)

Davidson, North Carolina

9

81

CUT

Aaron Williams (p)

Huntersville, North Carolina

9

81

CUT

Timmy Gannon

Charlotte, North Carolina

9

81

CUT

Jesse Vensel (p)

Winston-salem, North Carolina

9

81

CUT

Noah Maness

Troy, North Carolina

10

82

CUT

Connor White

Charlotte, Pennsylvania

10

82

CUT

Randy Joyner (p)

Concord, North Carolina

10

82

CUT

Austin Alexander

Rutherfordton, North Carolina

10

82

CUT

Nick Popely (p)

Raleigh, North Carolina

11

83

CUT

Will Dull

Charlotte, North Carolina

11

83

CUT

Ethan Castle (p)

Phoenix, Arizona

11

83

CUT

Ben Esposito (p)

Pittsboro, North Carolina

11

83

CUT

Trey Morse

New orleans, Louisiana

12

84

CUT

Solomon Park

Martinsville, Virginia

12

84

CUT

Nate Eaton (p)

Raleigh, North Carolina

13

85

CUT

Matthew Ferriero

Charlotte, North Carolina

13

85

CUT

Michael Neece

Gastonia, North Carolina

13

85

CUT

Anthony Colombino (p)

Palm beach gardens, Florida

14

86

CUT

Kory Arnold

Aurora, Colorado

14

86

CUT

Nate Honeywell (p)

Whispering pines, North Carolina

23

95

WD

Jason McPherson

Columbia, South Carolina

-

WD

NC

Johnny Leonard (p)

Waxhaw, North Carolina

-

NC

NC

Billy Jansto

Pinehurst, North Carolina

-

NC

CUT

Brad Fritsch (p)

Holly springs

-

DNF

CUT

Thomas Deal

Cornelius, North Carolina

-

DNF

CUT

Will Blalock (p)

Gastonia, North Carolina

-

DNF

CUT

Troy Kennedy (p)

Fort mill, South Carolina

-

DNF